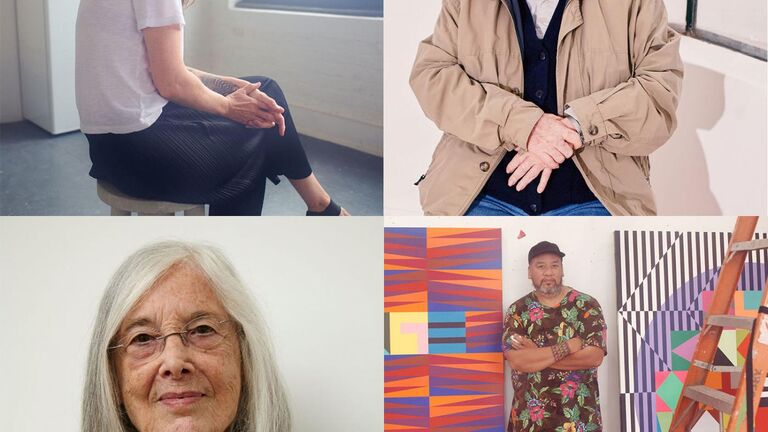 Four SAIC Alums Included on Artsy's "Vanguard 2019"
Four SAIC alums are featured in Artsy's annual list of the 50 most influential contemporary artists, "Artsy Vanguard 2019: The Artists to Know Right Now." Artsy selected 50 out of 600 artists, who were nominated by leading curators and art world professionals. Among the selected, Genesis Belanger (BFA 2004), Jeffrey Gibson (BFA 1995), Diane Simpson (BFA 1971, MFA 1978), and Teresa Burga (MFA 1970, HON 2018), were featured in three categories: "Emerging," "Newly Established," and "Getting Their Due." These categories recognize a myriad of artists at different career stages and their engagements with various media. 
In the "Emerging" category, the ceramic works of Belanger, which employ "matte surfaces [and] trompe l'oeil aesthetics" on mundane objects such as eggs, matchsticks, hot dogs, and flower vases were presented. In May 2020, Belanger will have a solo show at the Aldrich Contemporary Art Museum in Connecticut. 
In the "Newly Established" category is the fall 2019 Visiting Artists Program Distinguished Alumni Lecturer, Jeffrey Gibson (BFA 1995) was included. Gibson's paintings and punching-bag sculpture meld text, Native American art, and Western fashion to address abstraction and the history of America. Gibson is also featured in the 2019 Whitney Biennial.
In the "Getting Their Due" category are Diane Simpson (BFA 1971, MFA 1978), and Teresa Burga (MFA 1970, HON 2018). According to the article, Simpson's sculptural works intermingle with domestic and industrial materials to "allude to the labor of women and to traditional forms of femininity." And the most impressive aspect of Burga's practice according to Artsy is that "she has been questioning technology and information in her art since the 1970s."