Stepping into historically homogenous spaces to unite people through their differences, create conversation inclusive of more voices, and honor history takes a sort of courage not unknown to SAIC alums and MacArthur "genius" grant recipients Jeffrey Gibson (BFA 1995) and Walter Hood (MFA 2013). Gibson is a member of the Chocktaw and Cherokee nations, and his work brings forward the history and culture of Indigenous people and traditions to show that native people "exist, are present, and contribute." Hood, a landscape and public artist, fosters unity by creating ecologically sustainable public spaces that honor communal histories and empower marginalized communities. Over their careers, Gibson and Hood have used the power of art and design to lift up the voices of others and create representation among those who have often been overlooked.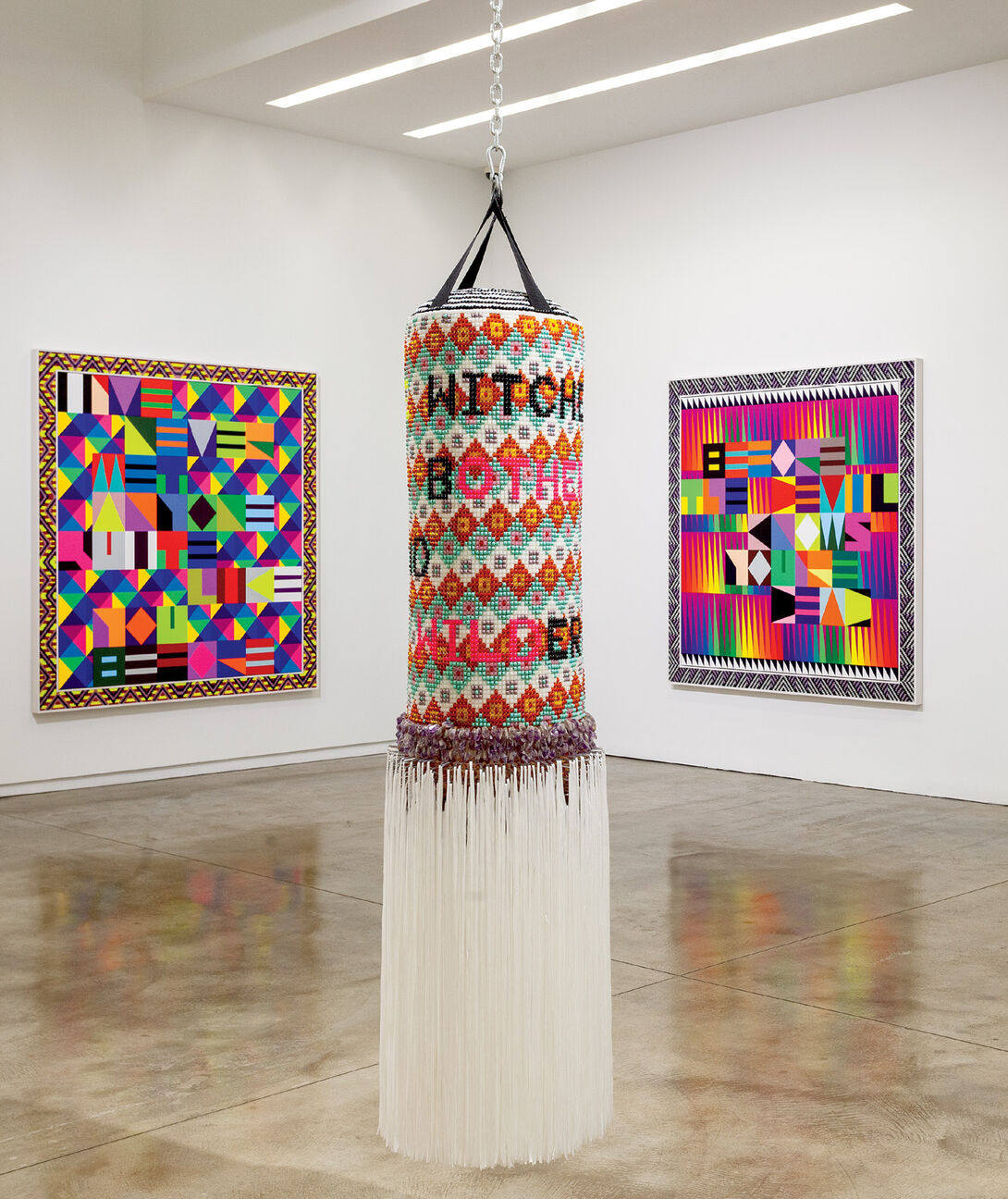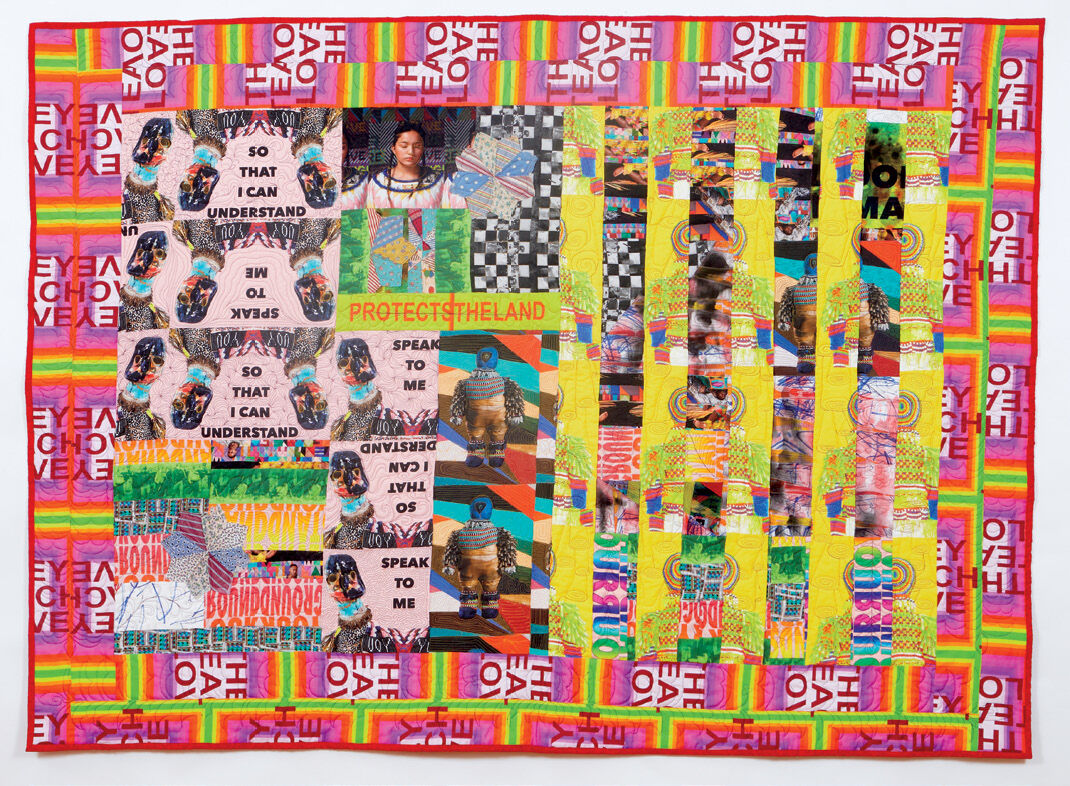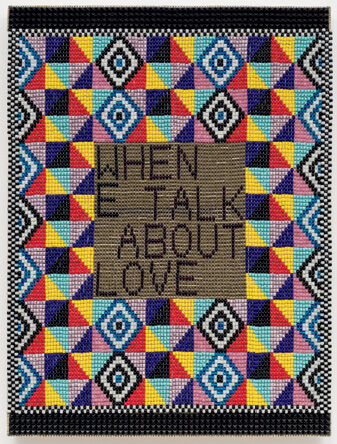 Jeffrey Gibson
For CAN YOU FEEL IT, a solo exhibition of new work, Gibson presented 14 paintings and sculptures, including the debut of a never-before-shown body of quilted works. Included in the exhibit are three new works from Gibson's ongoing punching bag series (2013–present).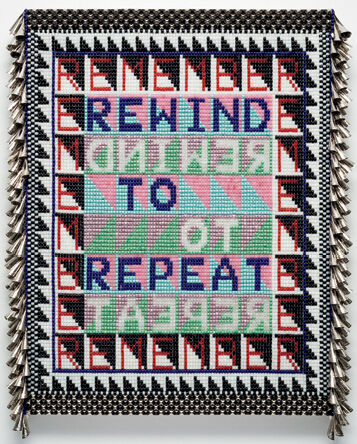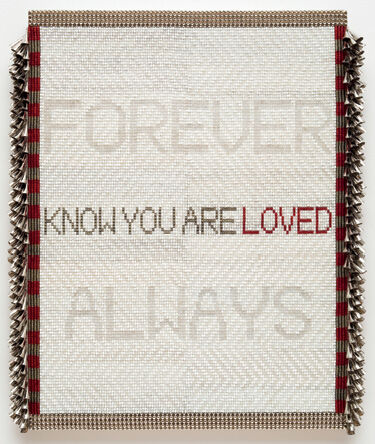 Appropriating iconic Everlast punching bags as sculptural supports, Gibson mobilizes bead work, weaving, tassels, and other material interventions to transform objectified targets for abuse into conceptual symbols of strength and beauty. Gibson's jubilant and ever-evolving practice blends the aesthetic heritages of Native America, rave culture, and punk rock, breathing new life into traditions of modernist abstraction. CAN YOU FEEL IT was on view September 20 to December 21, 2019, at Kavi Gupta gallery.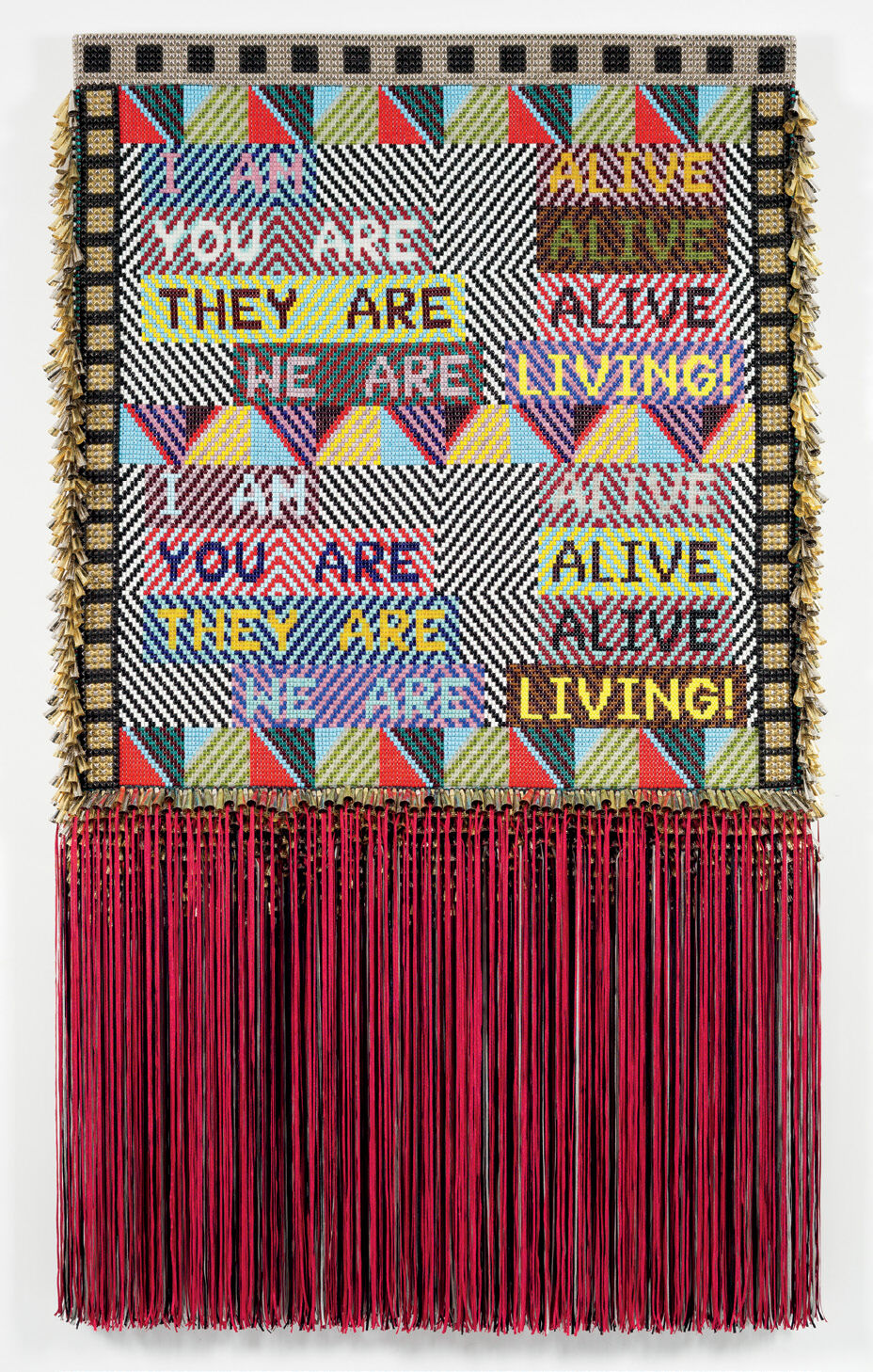 Walter Hood
Walter Hood's recent projects reflect his interest in the role of sculpture in public space. Carry On, a glass art wall in the San Diego International Airport, displays hundreds of photographs of personal objects superimposed over abstracted x-rays of carry-on bags. The wall is a portrait of San Diego through the objects carried, suggesting the myriad stories told by the contents of one's luggage.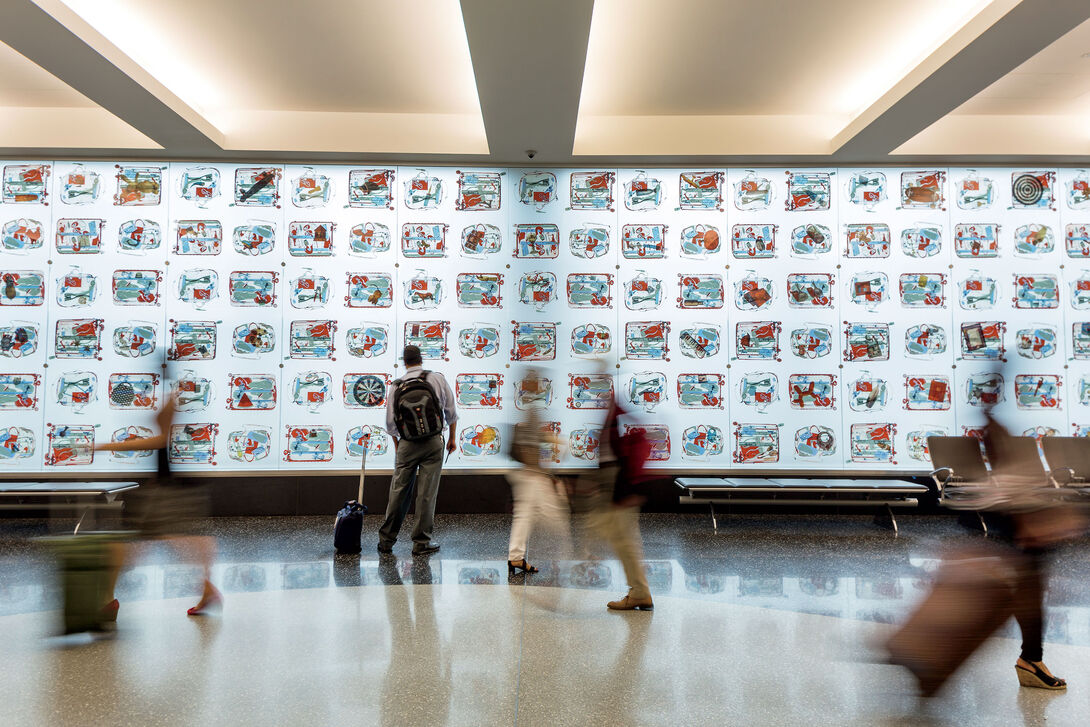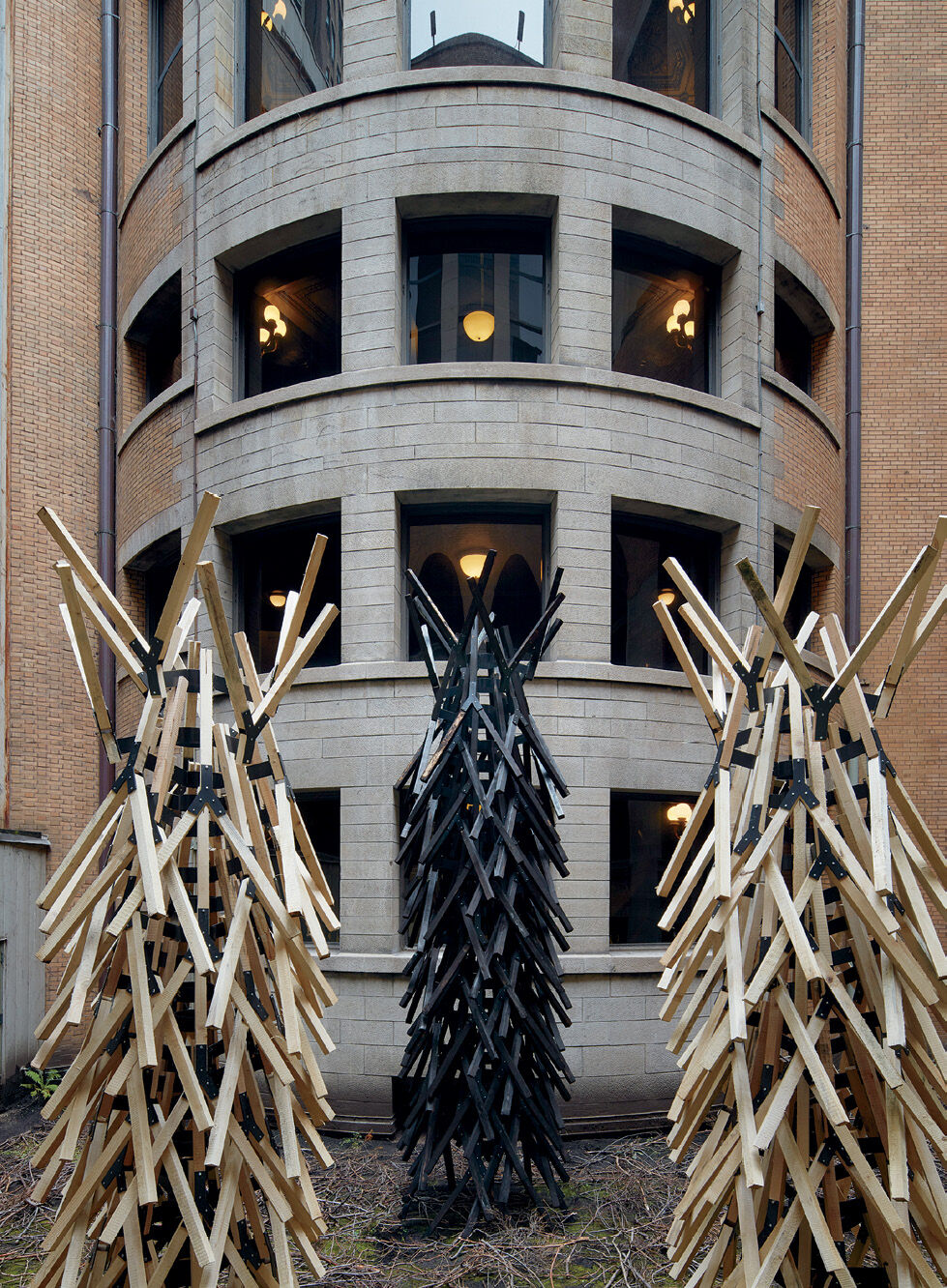 For the landscape surrounding the forthcoming International African American Museum, to be built on the site where nearly 40 percent of enslaved Africans arrived in this country, he has designed a memorial garden filled with native grasses and featuring a tidal pool. Hood is broadening the ways in which a place can be transformed by intervention in the landscape and by imbuing social justice and equity into public spaces that make past and present community lifeways visible.