Through the Looking Glass
Students use augmented reality to build virtual installations, prompting conversations with art of the past.
by Emily Margosian (MA 2015)
Climb the grand staircase to the Art Institute of Chicago's second level, then head toward the museum's iconic collection of 19th-century masters to find a collection of work where a group of SAIC students have installed hidden, digital art that engages and transforms art history. To the naked eye, Ferdinand Hodler's painting Day (Truth) shows an emaciated woman, her hands raised as if clutching an invisible object. Those who dare view the image through a smartphone screen are rewarded with another work of art. In Cassandra Davis' (MFA 2017) digital interpretation of the image, the painting is animated as the woman's hands fill with fabric, and a shroud of billowing gray silk envelops her form.
Davis created her artwork in the fall 2015 Virtual Installation course taught by Claudia Hart, Associate Professor of Film, Video, New Media, and Animation. Hart and her students built an augmented- reality application called the Romantic App, which integrates digital images and animations into a selection of 40 paintings from the 19th and 20th centuries in the Art Institute of Chicago's galleries of European Painting and sculpture.
Image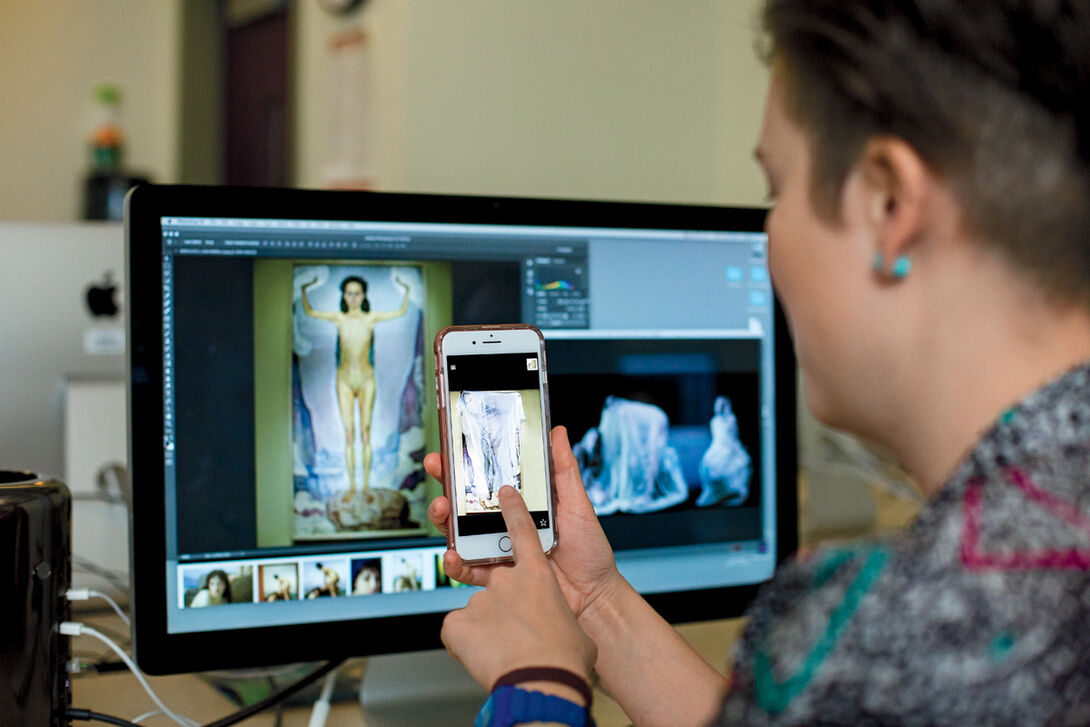 "Photography impacted nearly all art making in the 1800s," Hart explains. "It helped facilitate the beginnings of abstraction. You can see the influence of technology in the impressionist paintings and pointillism. Today everyone feels that computers have created another paradigm shift. So this [app] is a new way of being in dialogue with these works."
Powered by Layar, an augmented-reality browser for mobile phones, the Romantic App can be accessed for free by anyone with a smartphone. Its transformative magic is triggered when it scans an artwork, prompting the app to display student-created animations on the viewer's screen. Download Layar and scan the images in these pages to see the animations.
In another striking example of the app's virtual effects, Jarad Solomon (MFA 2015) fused two Monet paintings hung side-by-side in the gallery. With a tap of the screen, the paintings jump across the boundaries of their frames and merge into one interconnected landscape. Solomon saw the app as a natural extension of his work, which centers on the relationships between divergent works of art.
"I was already playing with an idea where I was trying to do formal analyses of paintings and then build a child painting out of the two," Solomon explains. "Like, if an Andy Warhol painting of Mao had sex with a Picasso painting of a fisherman, what would their child look like?"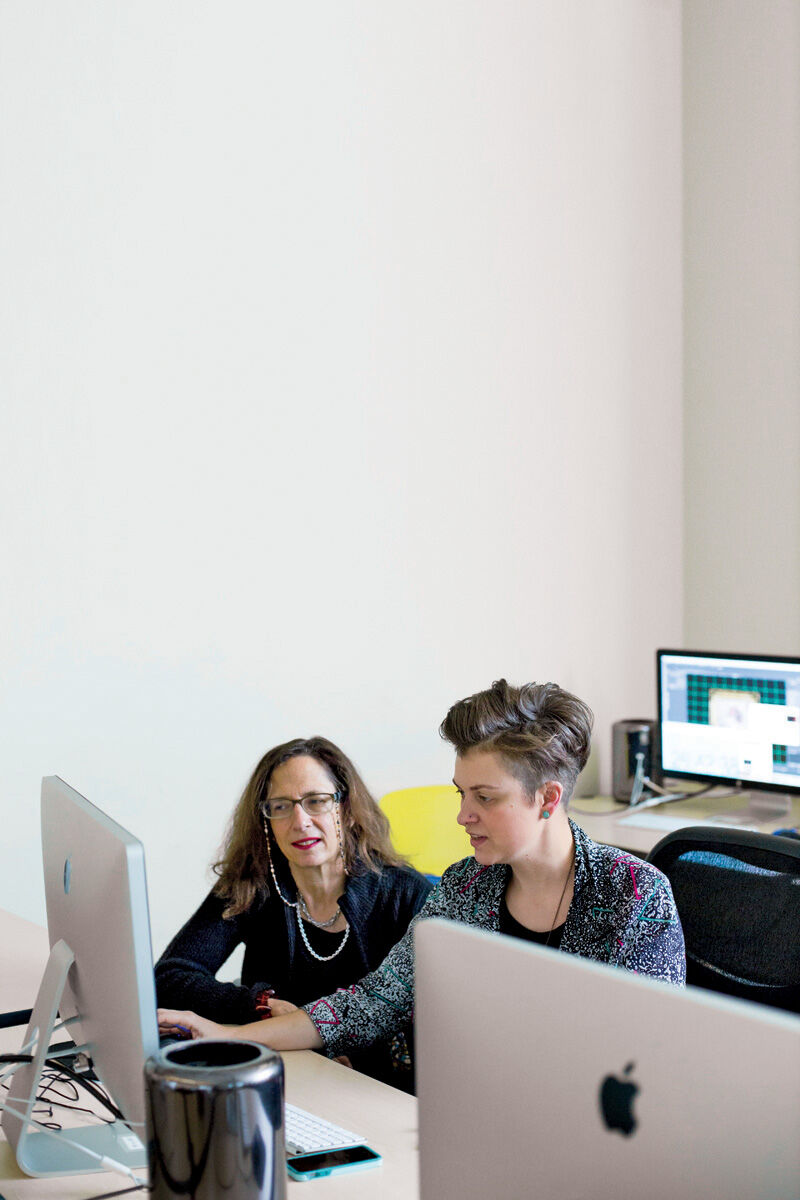 There were a lot of artists of color and women in this class who wouldn't be showcased in a place like the Art Institute, but we found a way in through this app."
Solomon's playful approach attracted him to Hart's teaching style. In all her classes, Hart encourages her students to experiment with their approach to canonical art and theory. Often challenging students to question prescribed methods to thinking and making, her improvisatory methodology is how she became a pioneer in the early days of new media.
"When I learned this stuff, there were no tutorials," Hart explains. "I had to self- teach, but I wasn't restricted by an overly determined set of rules. I actually think tutorials are harmful to artists, and I teach my students to disrespect them. So break it! Break the technology."
In breaking the boundaries of new technology, the students connected to their 19th- and 20th-century counterparts.
"It's a powerful tool because you're essentially canonizing work, but with the ability to say something about it," Davis says. "I personally found it poignant that there were a lot of artists of color and women in this class who wouldn't be showcased in a place like the Art Institute, but we found a way in through this app."
Through the lens of the Romantic App, Antoine Étex's Bust of the Duke of Orléans beholds a crowd of women in hijabs, while Seurat's A Sunday on La Grande Jatte parodies the bustling groups of viewers frequently blocking the painting. While the act of repurposing technology for art making can be political, the virtual work projected through the app carves out its own critical space—one in which there is infinite room to engage and critique.
This spring the Virtual Installation class will create their work in conversation with the Riot Grrrls exhibition at the Museum of Contemporary Art Chicago through June 18.
SEE IT YOURSELF
1. Download the free Layar app on your smartphone or tablet from the Apple App Store or Google Playstore.
2. Open the app and place your device over one of the following images.
3. Tap the screen. The app will scan the image and play the student animations.