Talking to Action (Hablar y Actuar)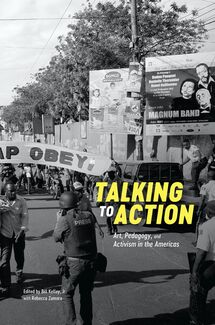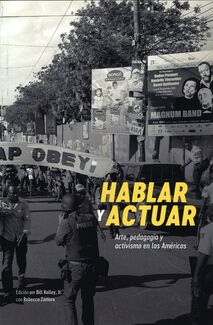 Art, Pedagogy, and Activism in the Americas (Arte, pedagogía y activism en las Américas)
Bill Kelley, Jr. with Rebecca Zamora
With Contributions by Maria Fernanda Cartagena, David Gutiérrez Castañeda, Bill Kelley, Jr., Grant Kester, André Mesquita, Karen Moss, Jennifer Ponce de León, and Paulina Varas.
Talking to Action: Art, Pedagogy, and Activism in the Americas is the first publication to bring together scholarship, critical essays, and documentation of collaborative community-based art making by researchers from across the American hemisphere.  The comprehensive volume is a compendium of texts, analysis, and research documents from the Talking to Action research and exhibition platform, part of the Getty's Pacific Standard Time: LA/LA initiative, a far-reaching and ambitious exploration of Latin American and Latino art in dialogue with Los Angeles.  While the field of social practice has had an increasingly high profile within contemporary art discourse, this book documents artists who have been under-recognized because they do not show in traditional gallery or museum contexts and are often studied by specialists in other disciplines, particularly within the Latin American context. Talking to Action: Art, Pedagogy, and Activism in the Americas addresses the absence of a publication documenting scholarly exchange between research sites throughout the hemisphere and is intended for those interested in community-based practices operating within the intersection of art, activism, and the social sciences.
Spanish language version available at https://press.uchicago.edu/ucp/books/book/distributed/T/bo28429556.html.