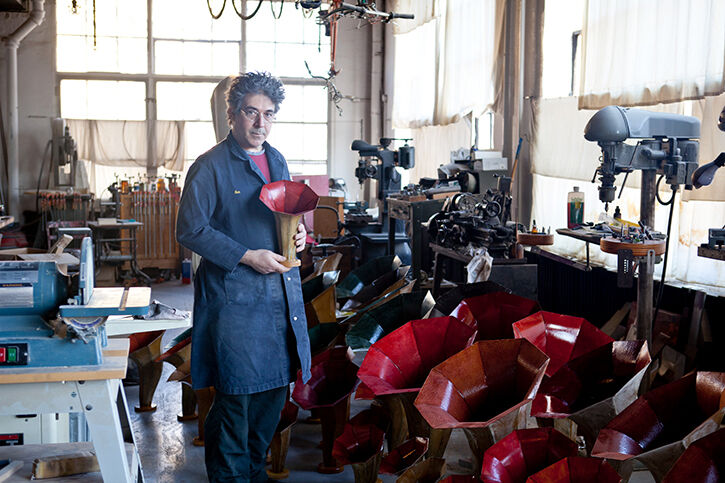 by Jeremy Ohmes

In a stout, industrial warehouse on Chicago's West Side, Ian Schneller is building a garden of sound. The SAIC alum (MFA 1986) is surrounded by the tools of his trade: wires, strings, cables, soldering irons, tubes, fuses—everything a luthier, sculptor, and sonic craftsman needs. The shelves of his expansive workshop are lined with wood cutouts, casts, and headstocks; the floors are coated with a half-inch of sawdust; and broken-down guitars and amps are scattered around the space anxiously awaiting the repairman's attention.
In front of the east-facing wall of Specimen Products (the shop that Schneller has run for 25 years) sit rows and rows of octagonal-shaped speakers dappled in sunlight. In various sizes and colors, the single-horn speakers look like an army of phonographs or, more appropriately, a field of poppies sprouting from the workshop floor. Schneller gingerly picks one of the smallest ones—a Hornlet—and explains the finer points of its aesthetics and functionality. 

"I started building these forms about 12 years ago, experimenting with fluted and tapered shapes," he says. "The octagon is a very elaborate shape that happens in nature over and over again. It's close to a circle, which is ideal for the expansion of sound waves, but tends to be floppy. But when flutes are imposed onto it, the sound becomes amazingly rigid and alert. This is how I landed on the eight-sided speaker horn, and I've been doing variations on these ever since."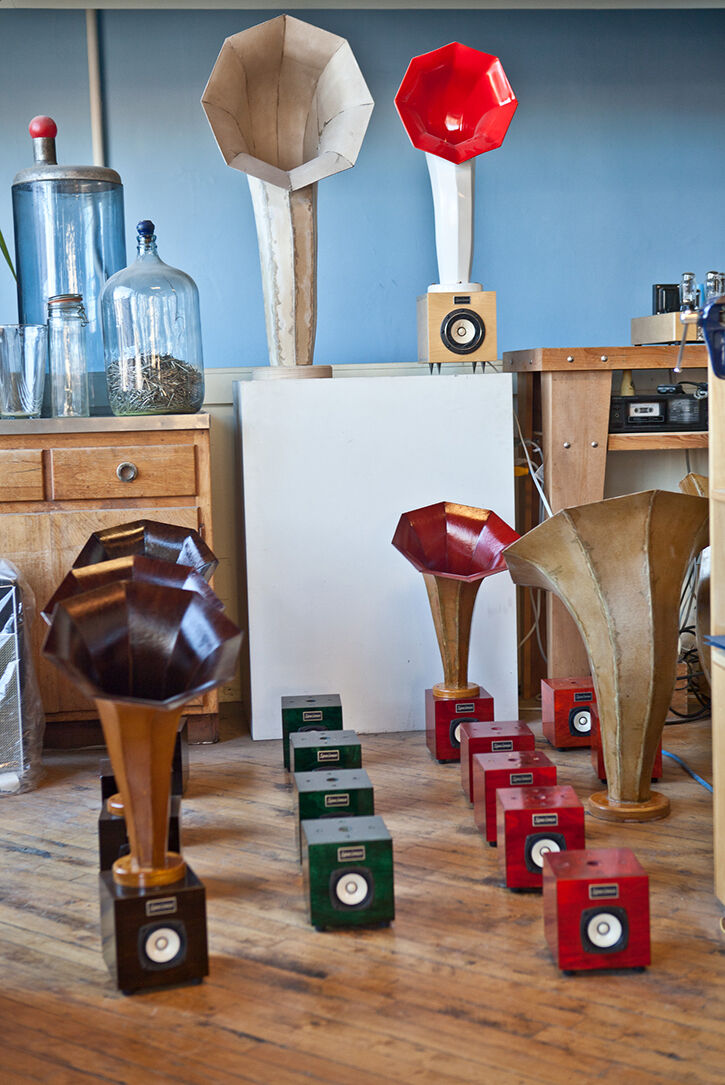 Made out of recycled newsprint, dryer lint, baking soda, and shellac, Schneller's single-horn speakers are hand-layered during a process that is arduous, yet important in imparting each one with its own unique character. This technique makes them look like they've grown into their shapes, and offers Schneller the opportunity to create different sizes—from the 19-inch Hornlet to the 26-inch Hornling to the eight-foot XL Horn and even the Janus Horn (a spinning double horn speaker). 

"They're visually arresting," he acknowledges. "But the sonic impact is the true thing. The utility still reins as a very important aspect of this visual form. To marry the two together is one of my biggest goals." 

This utilitarian philosophy has always been at the heart of Schneller's work. While studying sculpture at SAIC, he expanded on this concept by taking full advantage of the school's interdisciplinary structure and zigzagging from performance to sound and sculpture, from the foundry to electronics and new media. His work evolved into designing and building stringed instruments and amps.
Often his art put him at odds with faculty and other students. "Much of the popular post-modern work at the time was simply things like eggs glued to a wall with a lengthy explanation as to why that was a good thing. The utility of my pieces was in direct conflict with those things," he says.

After graduating, Schneller tried to take part in the art circuit—showing his work in galleries in Chicago and New York. But his stringed, functional sculptures were met with resistance. "There was an abject refusal of the utilitarian aspects of these constructions," he says. "I saw them as a grand, historic art form, but they fell with a resounding thud in the art world. So I waved bye-bye to that world."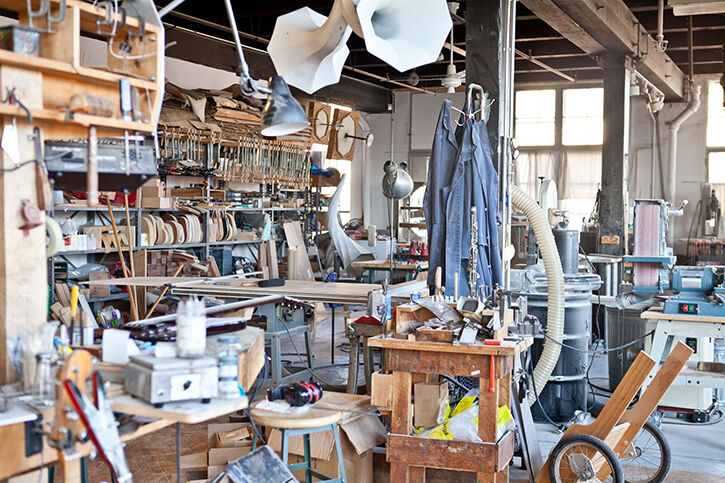 Inspired by Chicago's rich tradition of instrument making, he opened Specimen in 1986 in a factory on the South Side. Since then the shop has moved from an old Salvation Army building on Madison Street to a storefront in Wicker Park to its current location in Humboldt Park. Over that time Schneller added repairman, inventor, instructor, shopkeeper, and businessman to the artist and luthier hats he was already wearing. He also began to notice the shortcomings of his customers' newer instruments and amps as he repaired one after the other. 

"I saw a growing number of needlessly elaborate designs on the market," he bemoans. "And I became convinced that a more minimalistic approach was much-needed." So he dusted off a 1930s, simple technology—the vacuum tube triode—and applied that to his own 50-watt tube amplifier, which has become the template for all of his work. He says some might call it antiquated utility, but he believes that this simplicity is the key to superior sound quality. "These tube amps can stay plugged in 24 hours a day for years, and they will continue to function beautifully without disruption," he says. 

Schneller's single-horn speakers are rooted in this tried-and-true technology, and they are perhaps the epitome of the concepts he holds near and dear to his heart: art, design, and utility. Others would agree. They have become a hit with audiophiles who are looking for not only a sleek design, but also a true representation of sound—whether for a home stereo system, recording studio, or show space. 

Musicians like garage raconteur Jack White and indie-folk minstrel Andrew Bird are huge fans of Schneller's work. Bird has played numerous shows with the speakers, gracing the stages of Carnegie Hall, Chicago's Lyric Opera House, Hollywood Bowl, David Letterman, Conan O'Brien, Austin City Limits, and the 2010 Ted Conference. During these shows the seeds were sown for what would become a much bigger collaboration between Bird, Schneller, and his speakers. 

The sculptor and the multi-instrumentalist met each other 12 years ago when Bird brought his electric guitar to Schneller for some repair work. Schneller had just built some early prototypes of the speaker, and he knew they were useful in amplifying traditionally difficult-to-amplify instruments, such as violins, banjos, and cellos. Knowing Bird as a violin virtuoso, he invited him to try out his new invention. He recalls, "Andrew took me up on it, and for several hours he played and listened, listened and played from different perspectives in the room. He really had them run the gauntlet from a sonic standpoint. Finally he looked up and said I think I can use these."
After using the speakers on stages in concerts and clubs, Bird and Schneller aspired to move beyond the traditional, front-of-house set-up of most venues. They wanted to create a sonic field where every person in the audience could have a different aural experience and vantage point. So they took their idea to New York's Solomon R. Guggenheim Museum in 2010 and created an audio exhibition called the Sonic Arboretum. In the debut, Bird performed to a sold-out crowd, projecting his cinematic jazz-Gypsy-folk through a ground covering of speakers arranged on the museum's rotunda. The performance was such a success that the duo decided to bring the exhibition to Chicago's Museum of Contemporary Art (MCA) in December 2011. 

At the MCA, in addition to two performances, the Sonic Arboretum also includes a month-long exhibition with site-specific pieces that Bird recorded for the 75 speakers in the space. On the night of the second sold-out show most people crowd around the stage. Others mill about admiring the sound sculptures with reverence and wonder. Bird hops to the stage, picks up his violin, and plucks out a melody. He loops it and then bows the violin, loops that, and then whistles, looping again, and then taps on a glockenspiel—until a whimsical symphony lays a bed for his voice. 

The audience stands in awe doing double takes as a whistle, violin pluck, or series of chords pops up in one place, vanishes, and then materializes somewhere else. After a couple songs people begin to participate. They slowly walk around, catching a fleeting melody from the hedgerow of Hornlings, surrendering to the body-engulfing bass from the gigantic XL Horns, or perking up at the lilting notes from the flowerbed of speakers sprouting in the middle of the museum. 

At the end of this plot, the double-horned Janus speaker spins in and out of time with the music, splashing sound across everyone close by like a Leslie organ speaker or, as Schneller describes it, "a carousel of screaming kids." Schneller stands in front of his oscillating invention with a contented smile. Perhaps he is remembering how his art was once deemed too utilitarian for the art world. Maybe he is relishing the fact that his art now draws sold-out audiences to major museums. Or perhaps he is just planning how to make his garden grow.

See more of Ian Schneller's work at specimenproducts.com.