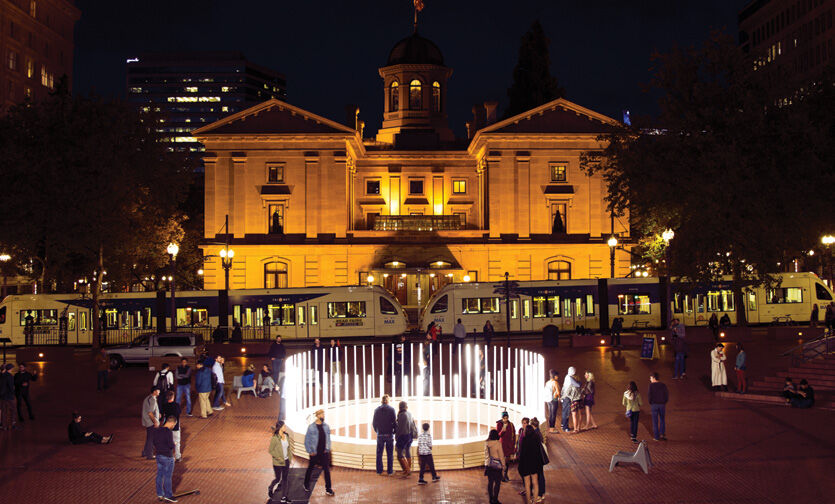 Artists and designers transform spaces and perception with sound
by Brontë Mansfield (MA 2017)
There's technology in Ray Bradbury's 1953 science fiction novel Fahrenheit 451 that predicted something unimaginable in the era of turn-dial radios and black-and-white televisions. "And in her ears the little Seashells, the thimble radios tamped tight, and an electronic ocean of sound, of music and talk and music and talk coming in," Bradbury writes. Over a half century later, electronic sound is all around us: in our wireless earbuds, booming from movie theater speakers, and stirring our emotions in retail and corporate environments. Bradbury's imagined world is here, and today's artists and designers are taking us even further into the future by shaping the immersive sound experiences all around us.
Sound has always been at the vanguard of new and alternate ways of experiencing the world. The medium of sound art has its roots in a single performance in 1952, a year before Ray Bradbury published his famous novel. The composer John Cage created a piece titled 4'33" in which a pianist sat at his instrument at a concert hall in Woodstock, New York, for four minutes and 33 seconds without playing a note. To Cage, the silence and all of the sounds in the room—the shuffling of feet, the wetting of lips, the nervous whispers—were the music, were the art.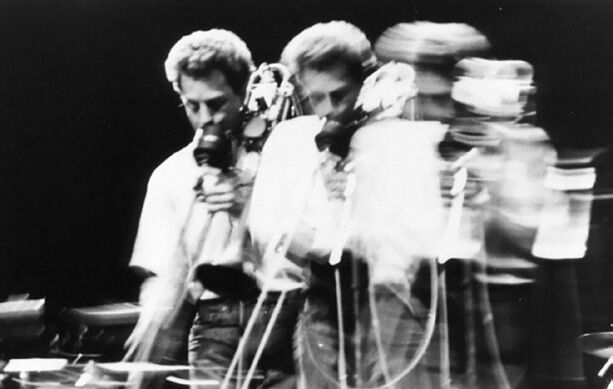 "Coming up in a world immediately after Cage [made me realize] basically anything was possible," says Professor Nic Collins, chair of SAIC's Sound department. Collins is known for creating new sounds by making his own instruments and hacking into existing hardware. In his book, Handmade Electronic Music, Collins teaches readers how to create sound and music with things like self- constructed microphones and circuits. Seeing the potential for breaking new sonic ground all around, he even hacks electronic children's toys, turning them into instruments. Speaking about his own work as a sound artist, Collins says, "I never had to think about 'Is it art? Is it music? Is it for galleries?'"
This breakdown of the boundaries between artistic media paved the way for the arrival of sound art in the '70s and its flourishing in the '90s. It continues to encourage sound artists to take new sonic experiences outside the concert halls and galleries and into everyday life.
"There's a sense of sound surfacing in culture," Ethan Rose (MFA 2013) says. "[Sound] is very conducive to the way people are living at the moment. You can listen to a podcast while you're working. You can listen to sound while you're on public transportation or walking down the street."
Rose runs Parallel Studio, a sound-focused design studio based in Portland, Oregon, that works with clients like Nike, Adidas, and Nokia. The company is currently building audio for workspaces. "A problem within open-office floor plans—which are ubiquitous now—is you can hear everyone talking around you, and it's distracting," Rose explains. In the past, offices would pipe in white noise to mask the aural clutter, but Parallel Studio creates sounds that move through a space. "We can spatialize the sound so that ocean waves crash across the floor plan of the office," says Rose. "In one area, you might hear a bit of a light breeze through grass. We can put a little creek through the space and have a gentle sound of birds coming in and out at different times of day."
In contrast, Rose's company also helps create immersive sensory experiences. For the launch of a new Nike shoe, Rose collaborated on a pop-up: "You walk in, put on these shoes, walk over this floor, and clouds are exploding under your feet on an LED screen. You turn a corner, and there's a room full of feathers hanging from the ceiling. You go run on a treadmill in the next room, and there's animated characters that are emulating your movements. Super over the top!" He laughs. "But our part was to bring in spatial audio and create unique soundtracks for each of those experiences."
[Sound] is very conducive to the way people are living at the moment. You can listen to a podcast while you're working. You can listen to sound while you're on public transportation or walking down the street."

Ethan Rose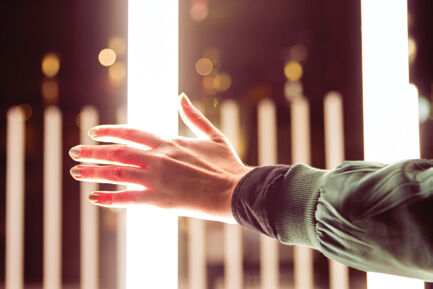 Another Sound department graduate, Austen Brown (MFA 2015), is interested not only in building sound for specific spaces, but transporting an audience to a particular time and place through his multisensory installations. "I've always been interested in notions of geography and urban planning and more theoretical ideas of space," says Brown.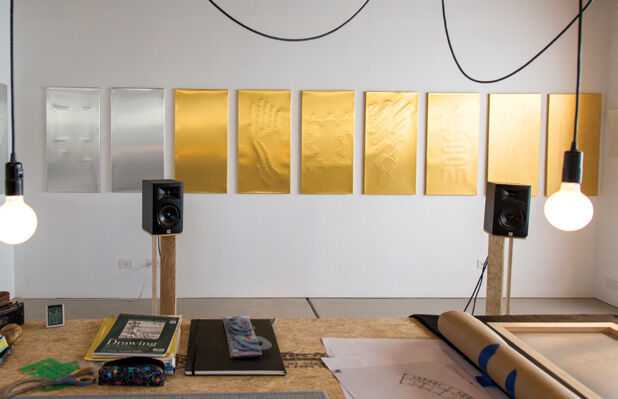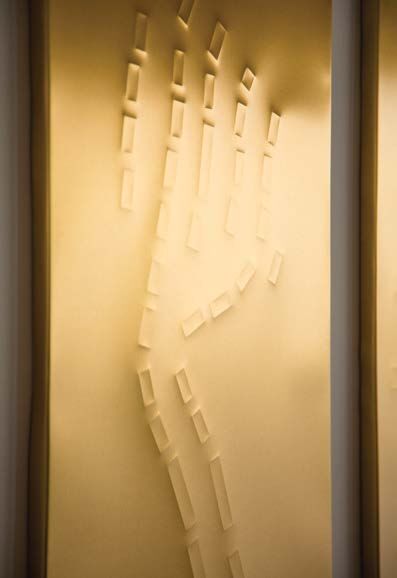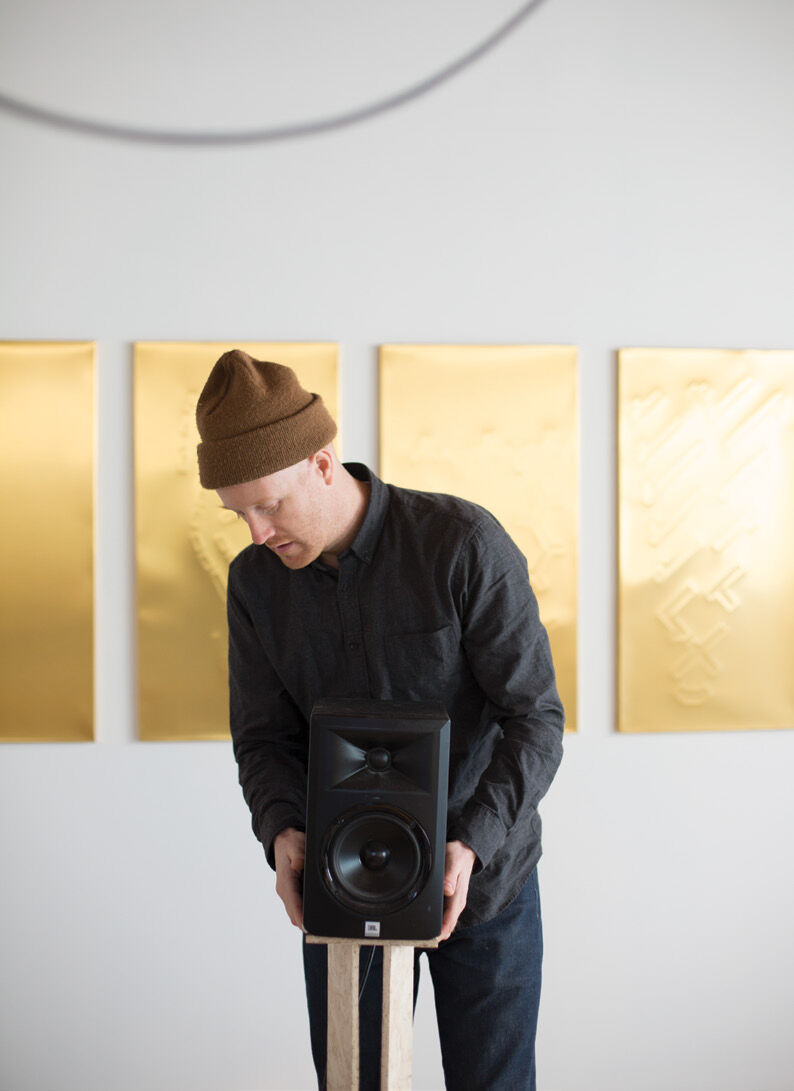 During graduate school, Brown traveled to North Dakota to record the sounds and stories of oil fields and the people who work them, then designed a multimedia installation capturing the socioeconomic ramifications of oil drilling in the rural state. With experience in building or installing sound in a variety of environments, Brown now works building exhibitions for SAIC's Sullivan Galleries and continues to make his own work in a studio he built in his backyard. His current project includes 30 metallic panels embossed with designs inspired by the French-Swiss architect Le Corbusier. They will be exhibited with recordings made in federal housing projects. These visual and sonic experiences point to the future of sound as a medium. Rose predicts that immersive sound experiences coupled with our culture of headphones, "[will] lead to a more augmented reality, a place where sound is going to very much become stronger in its media presence."