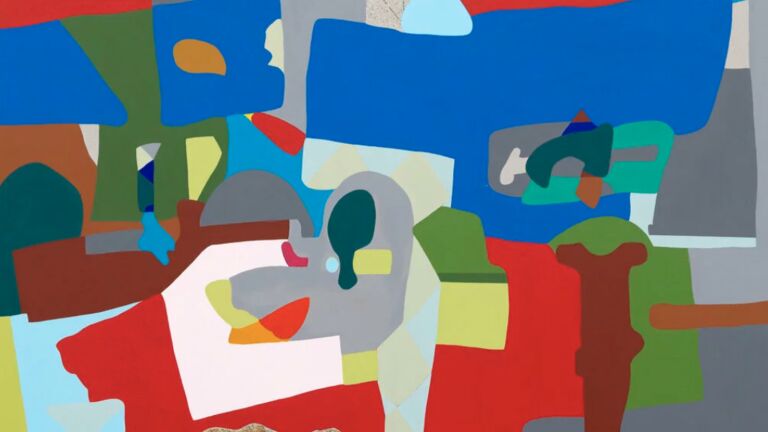 Candida Alvarez, Licking a Red Rose, 2020. Acrylic on linen; 80 1/4 × 68 1/8 in. (203.8 × 173 cm). Collection Museum of Contemporary Art Chicago.
SAIC Community Members Exhibit Work at the Hyde Park Art Center and Museum of Contemporary Art Chicago
In honor of National Hispanic Heritage Month, Hyperallergic highlighted exhibitions at the Hyde Park Art Center and Museum of Contemporary Art Chicago featuring School of the Art Institute of Chicago alums. Multiples and Multitudes is William Estrada's (BFA 2000, MA 2015) first-ever solo exhibition. It showcases multi-media works that feature Estrada's socially-engaged practice. Estrada has been working with local communities in Chicago for the past 20 years to create accessible art projects such as Mobile Street Art Cart, a printing studio on wheels.
The MCA's current exhibition, entre horizontes: Art and Activism Between Chicago and Puerto Rico, features work by Ramón Miranda Beltrán (MFA 2012), Nora Maité Nieves (MFA 2010), Ángel Otero (BFA 2007, MFA 2009), Eduardo Rosario (MFA 2019), Marisol Plard Narváez (MFA 2011), Edra Soto (MFA 2000), Arnaldo Roche Rabell (MFA 1984), Beatriz Santiago Muñoz (MFA 1997), Bibiana Suárez (BFA 1984, MFA 1989), Sebastián Vallejo (MFA 2009), and Omar Velázquez (MFA 2016). Each artist has both a connection to Puerto Rico and Chicago and uses paintings, photography, installations, and more to illustrate their heritage. A major theme of the exhibition is the relationship between art and activism with works of art focusing on local events such as Division Street and Humboldt Park rebellions.
Both exhibitions will be on view for the remainder of National Hispanic Heritage month.