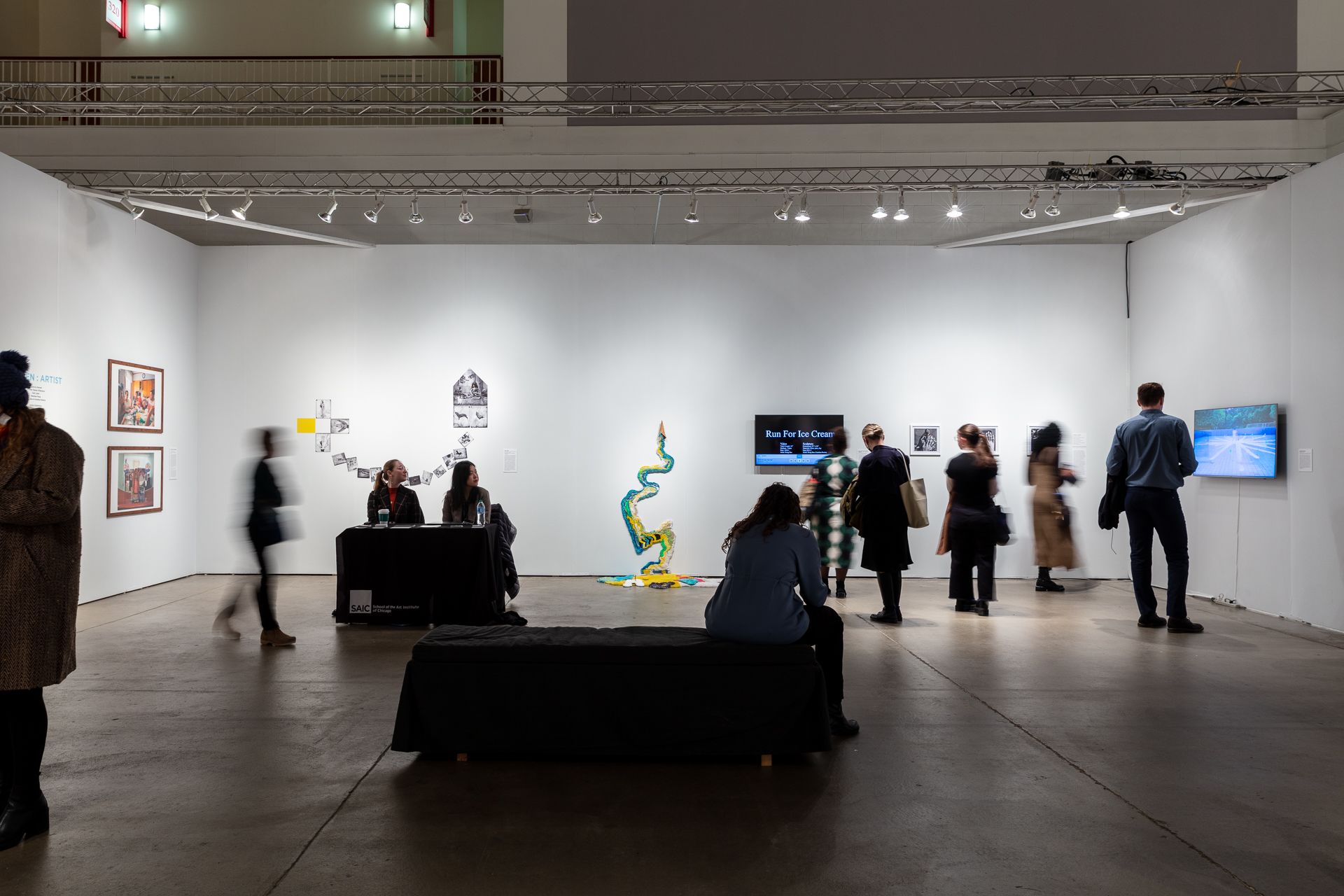 Visitors take in the art at SAIC's Alumni Booth at EXPO Chicago.
Visitors take in the art at SAIC's Alumni Booth at EXPO Chicago.
Every year, EXPO Chicago hosts more than 100 international art exhibitors presenting some of the leading voices and work from established and emerging artists at Navy Pier's Festival Hall.
Though the event draws artists from around the world, EXPO is also a true testament to Chicago's local contemporary art community, including dozens of participants from the School of the Art Institute of Chicago (SAIC). Here are some of our favorite works from SAIC faculty and alums featured at EXPO 2022.
SAIC Alumni Booth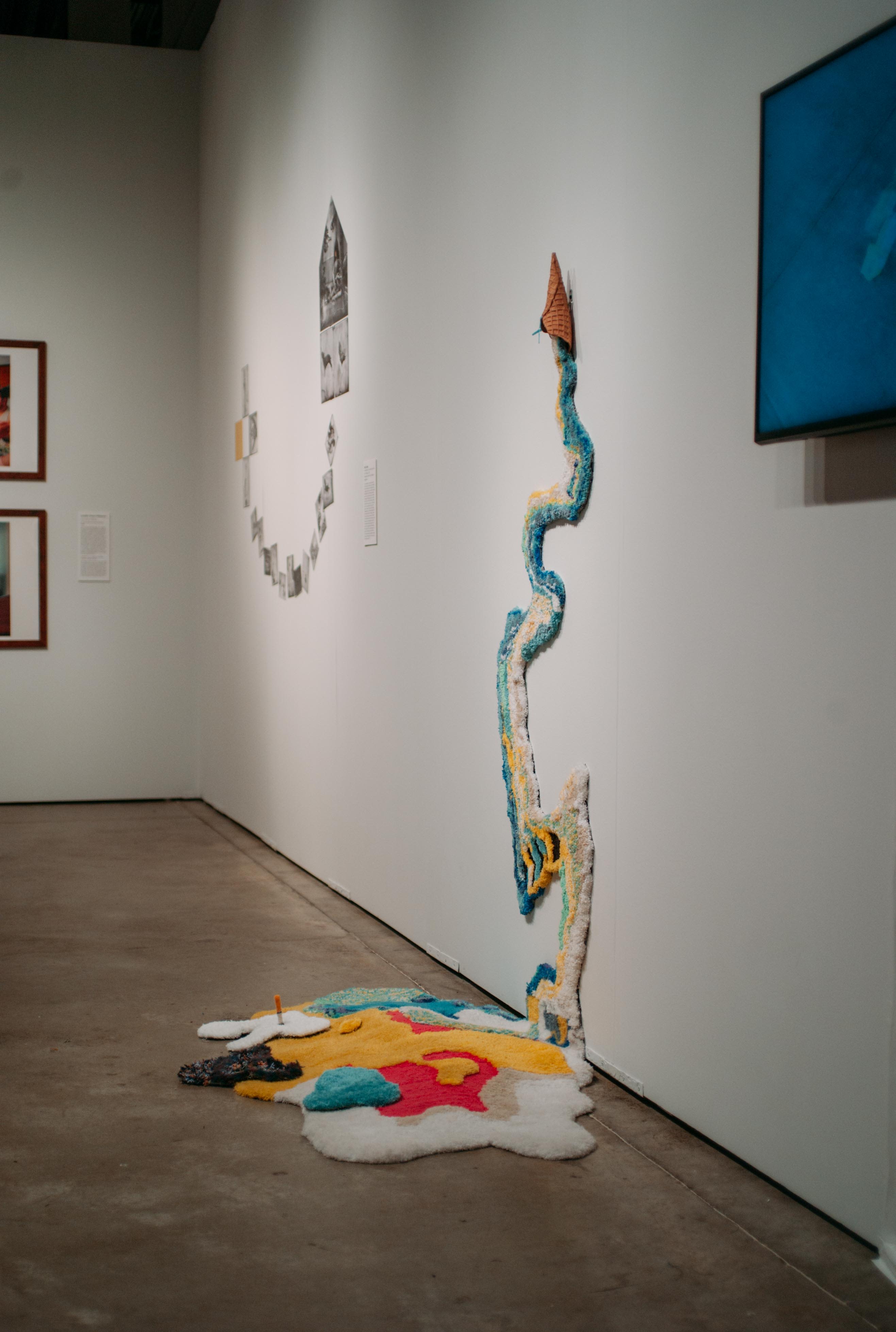 SAIC's Alumni Booth exhibited the work of a dozen SAIC alums and was organized by Assistant Professor, Adj. Cortney Lederer (MA 2009) and the graduate student curatorial team of Jane Grossman, Benita Nnachortam, Sarah Pendley, Reilly Ribeiro, and Jiani Zhu. The booth featured works in various mediums, all under the theme of Citizen: Artist. An additional online component allows viewers to experience the artwork from home.
Professor Candida Alvarez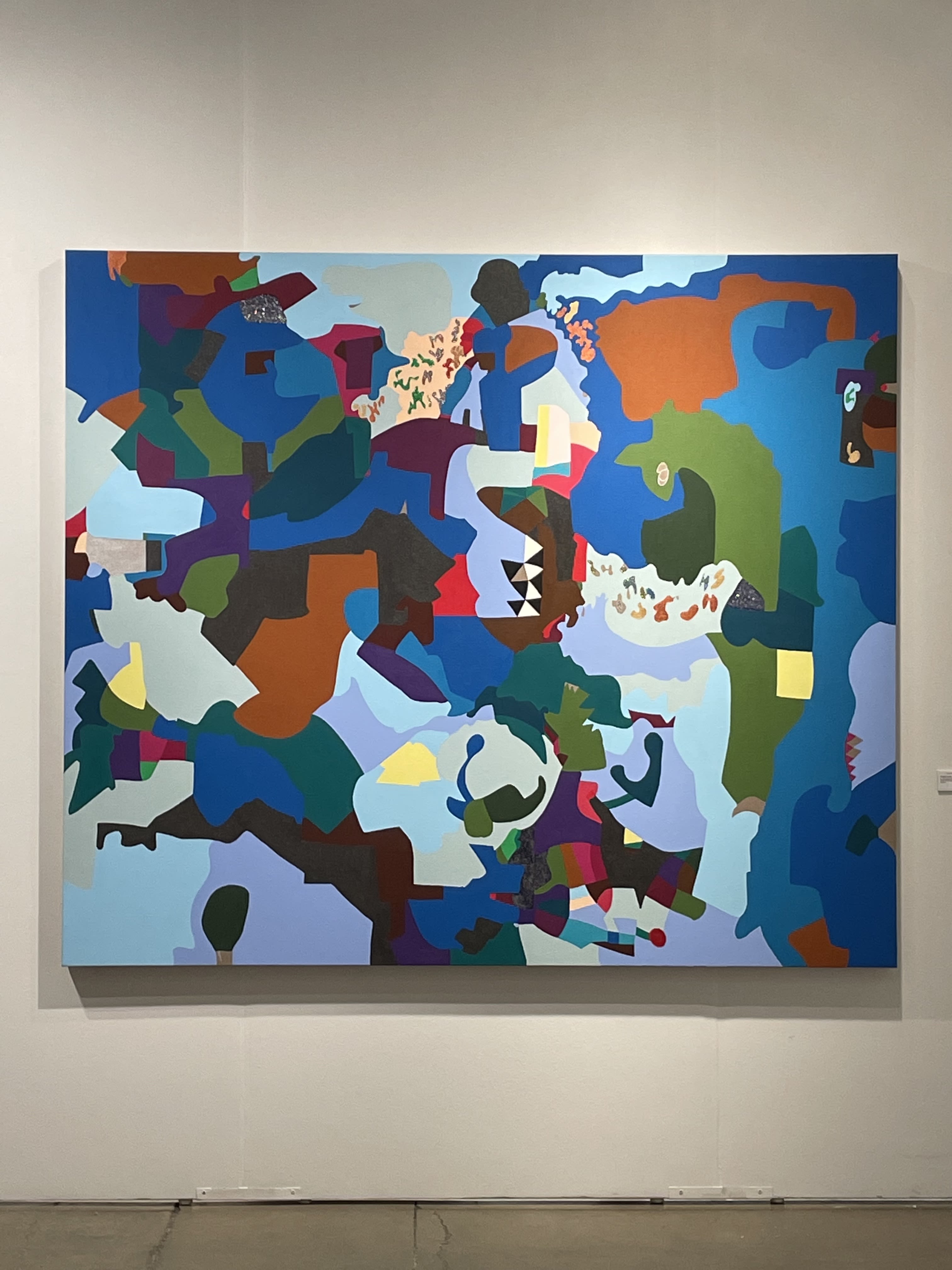 Renowned artist and SAIC faculty member Candida Alvarez, who was most recently recognized by the American Academy of Arts and Letters, works in many mediums, but she's best known for her vibrant abstract paintings—and that's exactly what she exhibited in gallerist Monique Meloche's (SAIC 1991-94) booth at EXPO 2022. Her bright and large are you listening to this (2022) incorporates acrylic paint, metallic marker, and liquid glitter.
Lecturer Edra Soto (MFA 2000)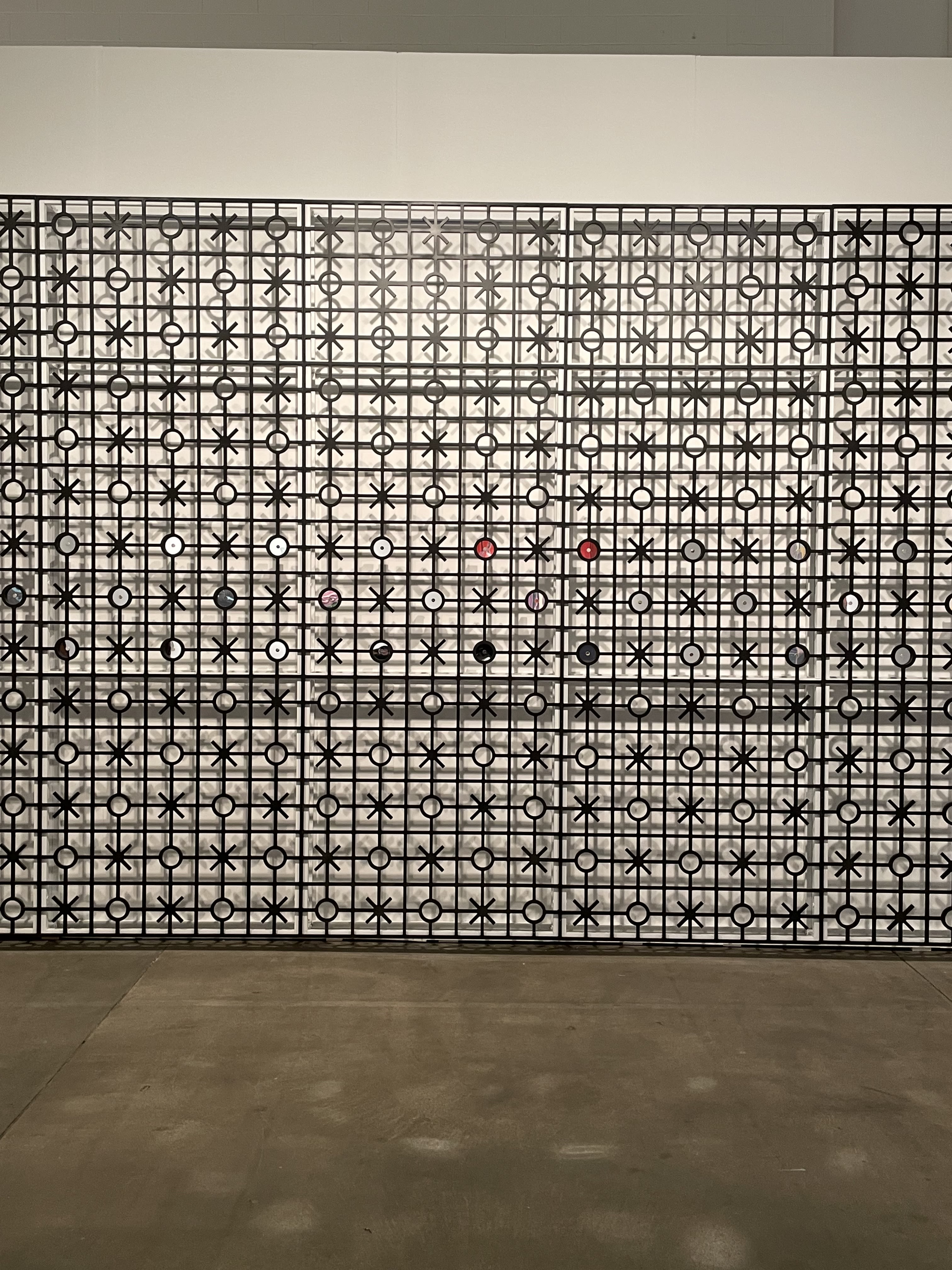 Lecturer Edra Soto began her GRAFT series in 2013, and this year, she brought the project to EXPO's IN/SITU installation. The large structure echoes ironwork grills from working-class neighborhoods, reflecting back on the architecture of slavery and Spanish colonialism.
Jeffrey Gibson (BFA 1995)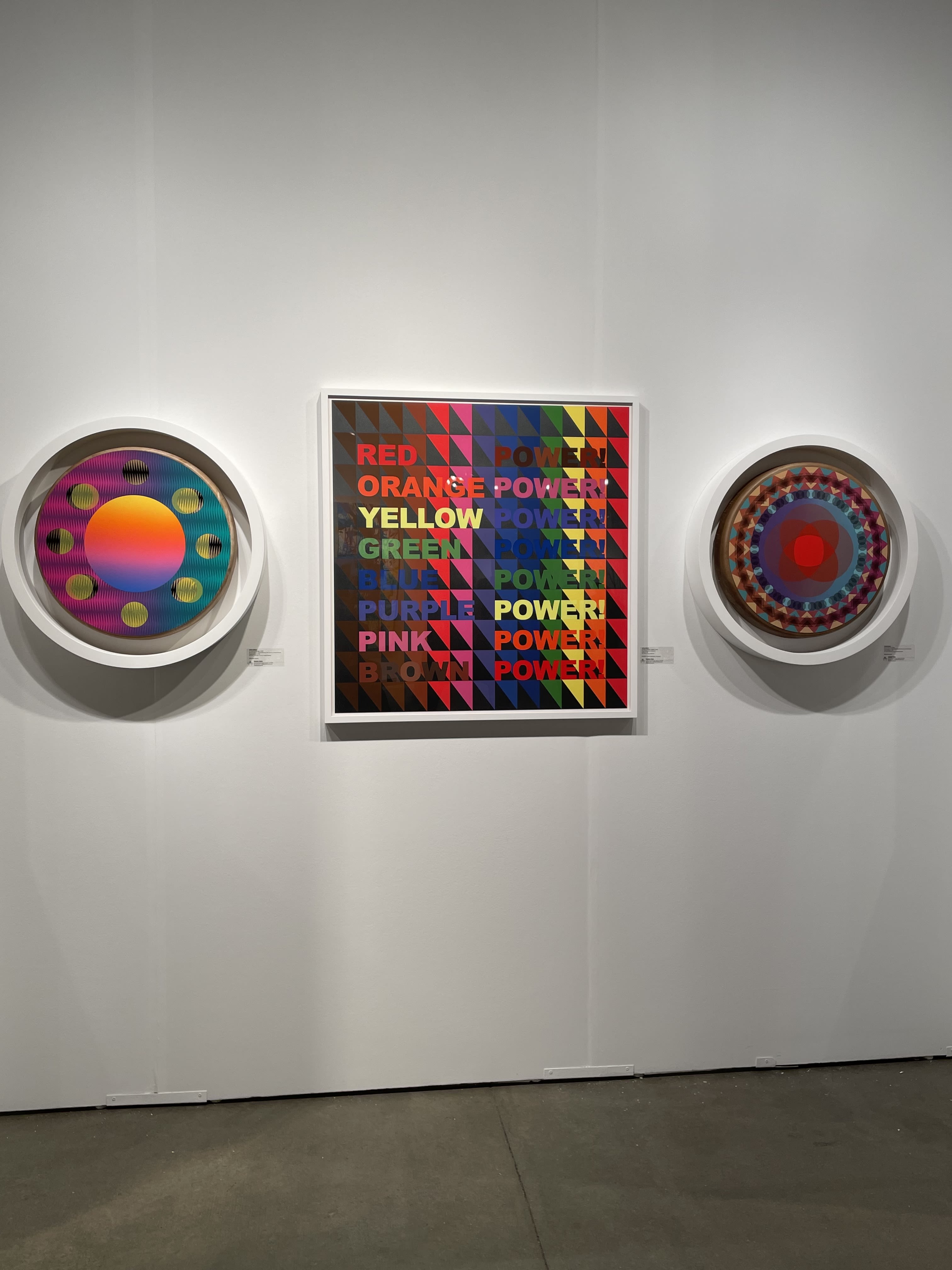 In his art, alum Jeffrey Gibson meshes his Mississippi Choctaw heritage alongside urban inspirations like nightclubs, raves, and graffiti. POWER! POWER! POWER! (2020) pairs woodblock printing and screen printing for a striking overlap of words, colors, and geometric shapes.
Margaret Wharton (MFA 1975)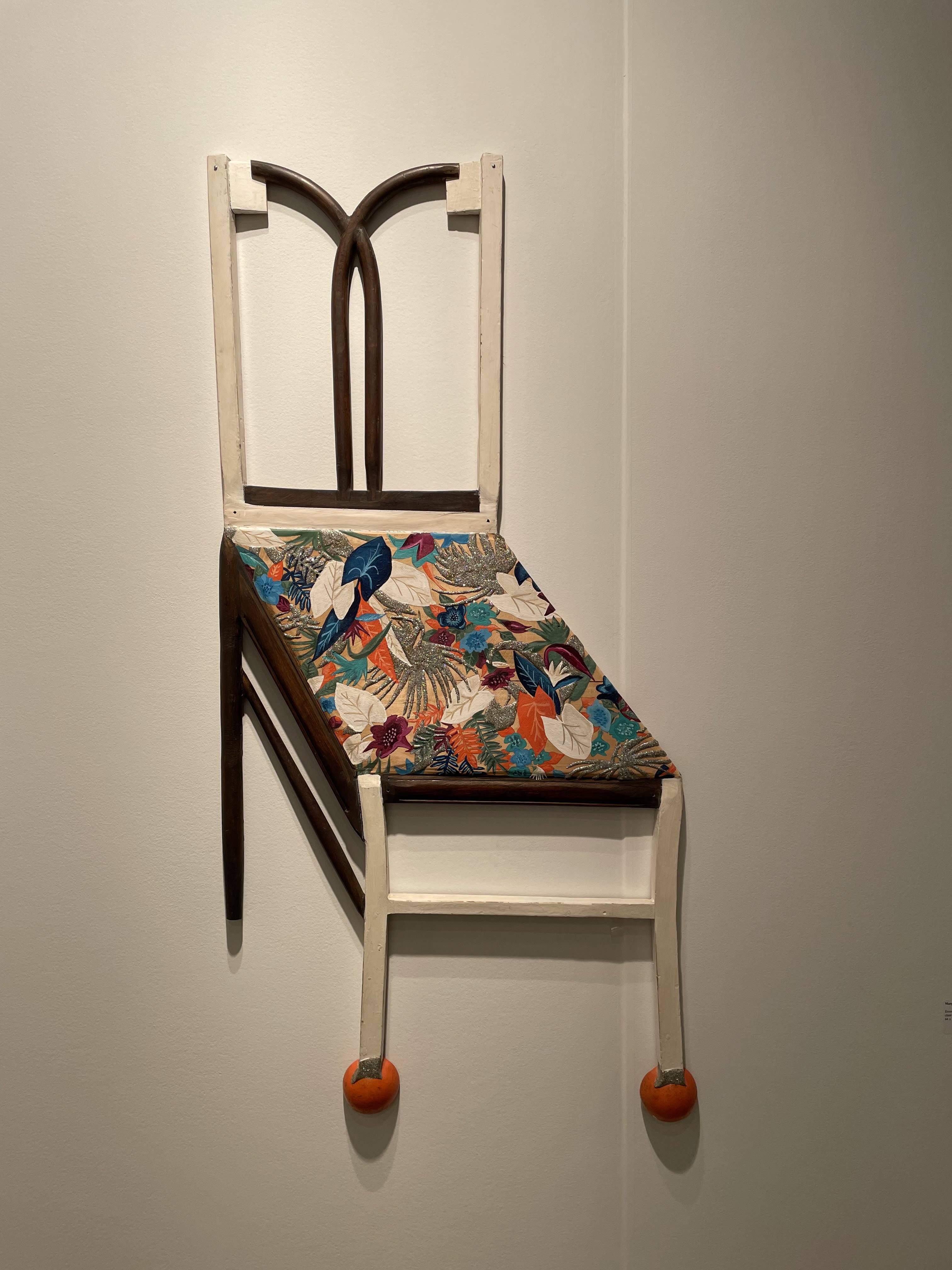 The late alum Margaret Wharton's sculptures of deconstructed everyday objects imbue the mundane with a sense of whimsy and humor. Essence of Chippendale (1985) features a suspended chair, flattened to two dimensions, exhibited by the Jean Albano Gallery booth, which was curated by Professor Lisa Wainwright.
There were too many great works to list, but you can read more about the work of SAIC's faculty and alums in the stories below.
The 9 Best Booths at Expo Chicago: From Dazzling Peacocks to New 'Vogue' Covers Honoring Black and Indigenous Women Activists: ARTnews spotlights Associate Professor José Lerma's portraits at the Nino Mier Gallery booth and Professor Candida Alvarez's paintings at the Monique Meloche booth. read more
The 10 Best Booths at EXPO Chicago 2022: Artsy celebrates alum Orkideh Torabi's (MFA 2016) work at Half Gallery's booth, alum Dan Oliver's work (MFA 1991) at Over the Influence's booth, and Elijah Burgher (MFA 2004) and Joe Houston's (SAIC 1982–84) work at P.P.O.W's booth. read more
EXPO 2022: Special Exhibitions Inhabit the Periphery of the Art World: Newcity showcases Associate Professor, Adj. Marzena Abrahamik's portraits of CPS students. read more ■
{{[http://www.saic.edu/news/alums]ALUMS}} {{[http://www.saic.edu/news/artconnectsus]ART CONNECTS US}} {{[http://www.saic.edu/news/facultystaff]FACULTY & STAFF}}