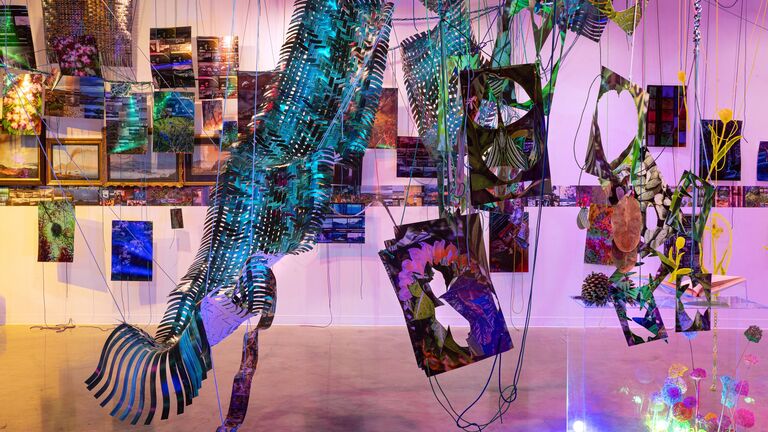 October 2023: Faculty and Staff Accomplishments
Associate Professor Aimee Beaubien's exhibition Into the Hothouse is on view at George Mason University's Gillespie Gallery of Art through November 10. The exhibition invites viewers to explore connections between photographic images, the natural world, and the complexities of visual representation through an immersive site-specific installation.
Lecturer Sonya Bogdanova's exhibition Second Sun is on view at Northern Illinois University's Backspace Gallery through October 15. She is also one of the "noise translators" at the Green Noise exhibition through the Granite City Art and Design District, where artists explore sounds and objects in various artmaking collaborations.
Associate Professor Kate Dumbleton was featured in the Chicago Sun-Times for her work as the Hyde Park Jazz Festival artistic director.
Director of Programming at the Gene Siskel Film Center Rebecca Fons' annual art/film event, Destroy Your Art, took place at the Music Box Theatre on September 26. The event received recognition from the Chicago Tribune.  
Assistant Professor Salvador Jimenez-Flores received an ArtPrize 2023 Public Project Grant for his outdoor installation, Caminantes. The grant provides  $20,000 for large-scale artwork to be showcased in Grand Rapids, Michigan.
Visiting Artist Lali Khalid will be the keynote speaker at the Society for Photographic Education conference happening at Columbia College Chicago on October 21. 

Visiting Assistant Professor Donato Loia organized the cinematic gallery presentation Bill Morrison: Cycles & Loops, in which the artist finds and redeploys lesser-known and forgotten moments from film history. The exhibition debuted at the UT Austin Visual Arts Center and is now on view at Colby College Museum of Art through December 31.

Lecturer Dylan Palmer's glass piece, Cloak, was acquired by the Corning Museum of Glass and will be installed in December 2023.

Professor Mechtild Widrich discussed her book Monumental Cares on Art Journal Open. On October 10, Widrich will share the presentation "Monumental Cares: Commemoration and Activism in Contemporary Art" at John Hopkins University.