Networking and Collaborating
Image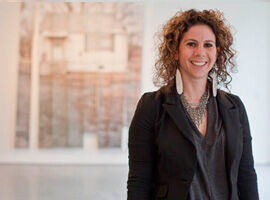 Interview by Rae Ulrich (BFA 1990)
Alum  Cortney Lederer (Dual MA 2009) took a few moments out of her busy day to share her current practice and her thoughts on the importance of networking and collaborating and how this has impacted her own professional experience.
Tell us about your current work.
I serve as the Director of Exhibitions and Community initiatives where my main responsibility is the management of two artist residency programs, BOLT Residency and HATCH Projects and oversight of the programmatic aspects of community partnerships and special projects.
BOLT Residency is a juried, one-year artist studio residency program for emerging, contemporary artists. The program functions as an incubator program—taking on a holistic approach to the development of residents' artistic careers through providing: studio work space, exhibition programming, marketing support, professional development opportunities, and creative community. 
HATCH Projects is a juried one-year exhibition cooperative created to provide an artist community and professional network for contemporary and emerging Chicago artists. HATCH artists collectively produce three public programs, partake in gallery operations, and participate in three professionally curated group shows throughout the year with direct oversight and support from CAC staff. 
As a student when did the importance of networking and collaborating become apparent to you?

I entered graduate school in my thirties—after two undergraduate degrees—with a really clear sense of the need for a creative community to help me to identify the direction of my career. The need for networking and collaboration was in fact part of my interest in attending graduate school at SAIC. 

What are your own thoughts on the importance of networking and collaborating across disciplines? Why is this particularly important in the arts?

The importance of networking and collaborating across disciplines is critical toward building new audiences, inspiring new ideas, and creating more opportunities and resources to expand artists' creative practice and professional careers. Most importantly, networking and collaborating connect artists to creative communities.

Do you maintain any ties to the SAIC community, and do you feel your SAIC education or the connections you made at the school play a part in your current career? 

I am still very connected to the SAIC community as many of my peers stayed in Chicago and are working as gallery directors, program directors at nonprofit arts organizations, and are museum curators. I am still very connected to them both socially as well as professionally. I have invited many of them to conduct studio visits with CAC artists, curate exhibitions, and collaborate on citywide cultural events. 

Do you have any advice for SAIC alumni who are just starting their career or who trying to boost their career?

My advice to SAIC alumni is to take advantage of the resources the school and Chicago provide and to use these resources to navigate your way toward your career goals.

Chicago's arts community is incredibly supportive and entrepreneurial. Become involved with organizations such as Chicago Artists' Coalition, threewalls, Hyde Park Art Center, I AM LOGAN SQUARE, the Chicago Cultural Center, SHOP, and other key organizations that are committed to supporting those in the creative field. Stay connected to colleagues and professors from SAIC—take them to coffee, share ideas and collaborate—in essence, continue to network, as maintaining a creative community will always a play a critical role in your professional career.