by Jason Foumberg (MA 2006)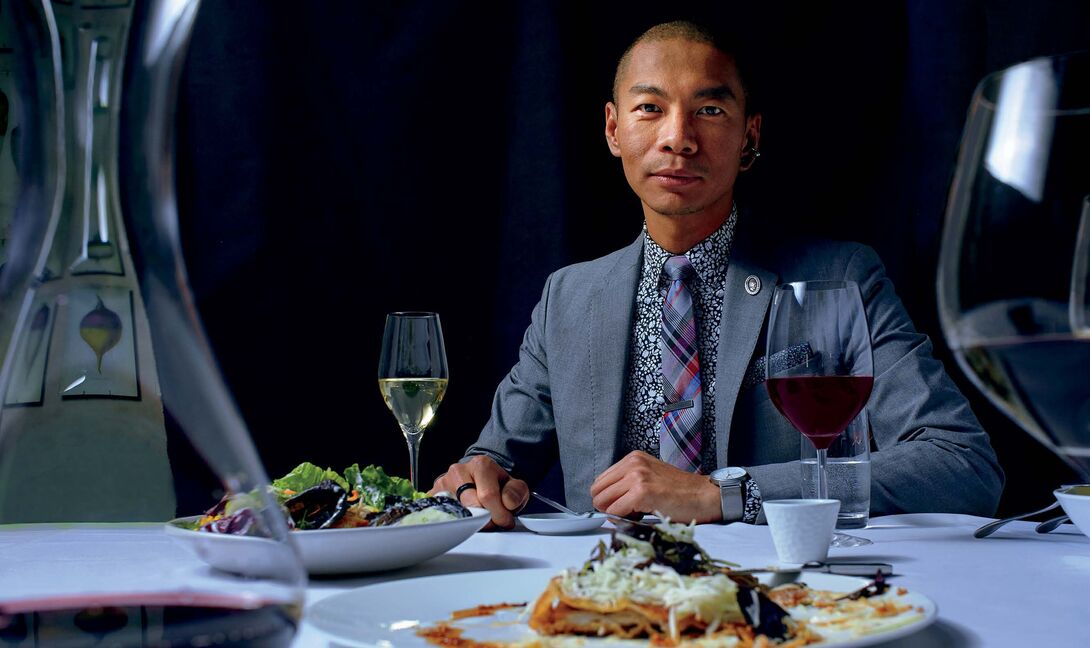 The recent food evolution taught us that a wine pairing, snifter of scotch, or a pint of beer can be as heady as an expressionist painting.
In this environment, a new artistic role has emerged: the curator of taste, one who cultivates sensual, thoughtful, and social experiences beyond the glass. Unsurprisingly, many of today's top sommeliers, mixologists, and brewers found their start in the art world—but the conversation around art and alcohol has come a long way since absinthe was the spirit du jour for Toulouse-Lautrec and his hedonistic entourage.
"You can sit down with a nice cocktail that was made with care, and it can really transport you," says Joseph Hernandez, deputy editor of food and dining at the Chicago Tribune, who has observed a shift in local cocktail culture toward "slowing down and enjoying complexity."
Celebrated as sommelier of the year by Food and Wine magazine in 2017 for being a "perpetual student" of his craft, Arthur Hon (SAIC 1999–2004) composes climactic, surprising, even emotional moments in his wine tasting menus at Union Square Café in New York City, where guests can follow fried chicken with champagne—"but you can't have an intense moment all the time," says Hon; "there needs to be a duality at play and a return to something familiar during the tasting journey. I get really into creating reactions for my guests. 'What do I want them to feel?'" he asks himself.
[Conceptual art] asked 'why is it art, and what defines art as art?' That is the same way I think about wine. Everything is purposeful, and I find that very freeing.

Arthur Hon
Hon knows that aesthetic experiences begin with the senses but end with the mind. Conceptual art was a favorite subject for Hon at SAIC. "It asked 'why is it art, and what defines art as art,'" he reflects. "That is the same way I think about wine. Everything is purposeful, and I find that very freeing," he says.
While studying visual communication and graphic design at SAIC, Hon worked at restaurants by night. He soon realized that the problem-solving techniques practiced during studio critiques with his teachers and peers translated well to wine, a business that values social acumen and creative intentions. Hon worked as beverage director and sommelier at the Michelin-star rated Sepia in Chicago for 10 years before relocating to New York in 2017.
"I have always felt I was an outsider looking in," reflects Hon, "because being a wine professional was never really what I planned on doing at all." Having studied painting, drawing, and classical piano from an early age, Hon was headed toward an artistic life. "Composition came naturally to me," he says, which today translates to matching wines with food, and even the unique palates of diners with individual varietals. "In my heart I'm still an artist," says Hon.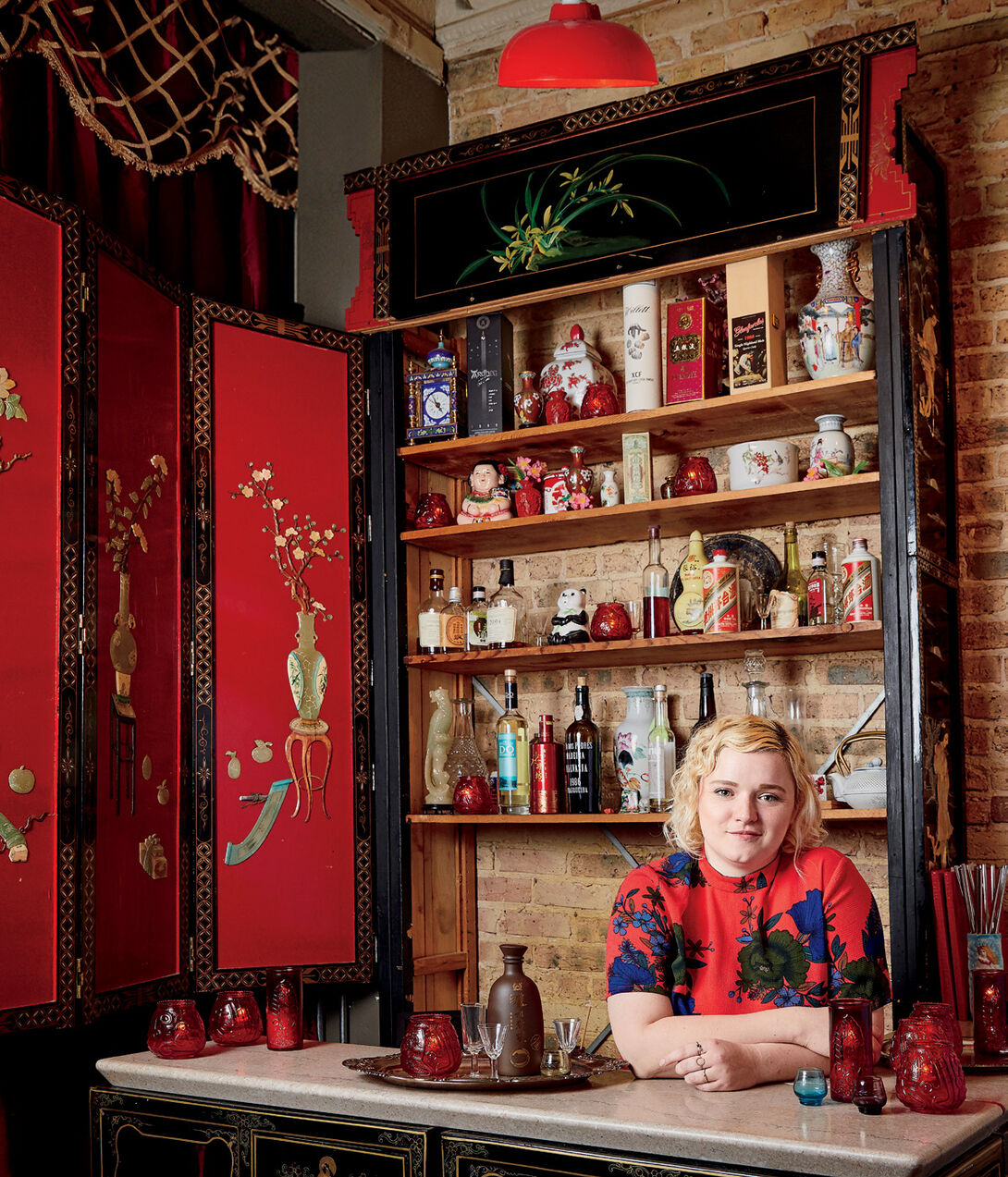 Contributing to a field with thousands of years of history means one must acknowledge that history while championing its contemporary issues. This is how Annie Beebe-Tron (MFA 2015) approaches cocktail mixology at the renowned Macanese restaurant Fat Rice in Chicago where they are beverage director. After interning in the studio of New York artist Janine Antoni, who has famously sculpted chocolate, Beebe-Tron says their own artwork was often rooted in sensations of touch and texture. They studied time-arts like film and performance which, they say, are forms of empathy: "A great film helps us live someone else's life for two and a half hours."
Beebe-Tron took a second job as host to make ends meet while working at an art gallery. "To be honest," Beebe-Tron reflects, "when I traveled around the world, I would be more interested in restaurants than the galleries. I really understand a place through its food and beverage. And I would connect to people that way by striking up a conversation."
Now Beebe-Tron's cocktail program at Fat Rice is inspired by those travels. They highlight spirits from India and China, countries that are not traditionally canonized in the martini-centric history of cocktails.
Working with the chef, Beebe-Tron gathers kitchen odds and ends, like unused herbs and citrus peels, to infuse house-made herbal spirits, thereby limiting the restaurant's waste stream. Even their cocktail names are playful, like the International Mr. Leather, a nod to Chicago's LGBTQ leather subculture. "It's smoky and soft," Beebe-Tron says of their invention.
A recent favorite find of theirs is sotol, "a cousin of mezcal that tastes like a hot dusty road from where I grew up in Arizona," says Beebe-Tron. Seeking ever richer and deeper evocations of place through taste, they say, "I call them cocktails with an opinion. They have a mind of their own." Beebe-Tron was recently featured in Bon Appétit magazine for their one-of-a-kind cocktails.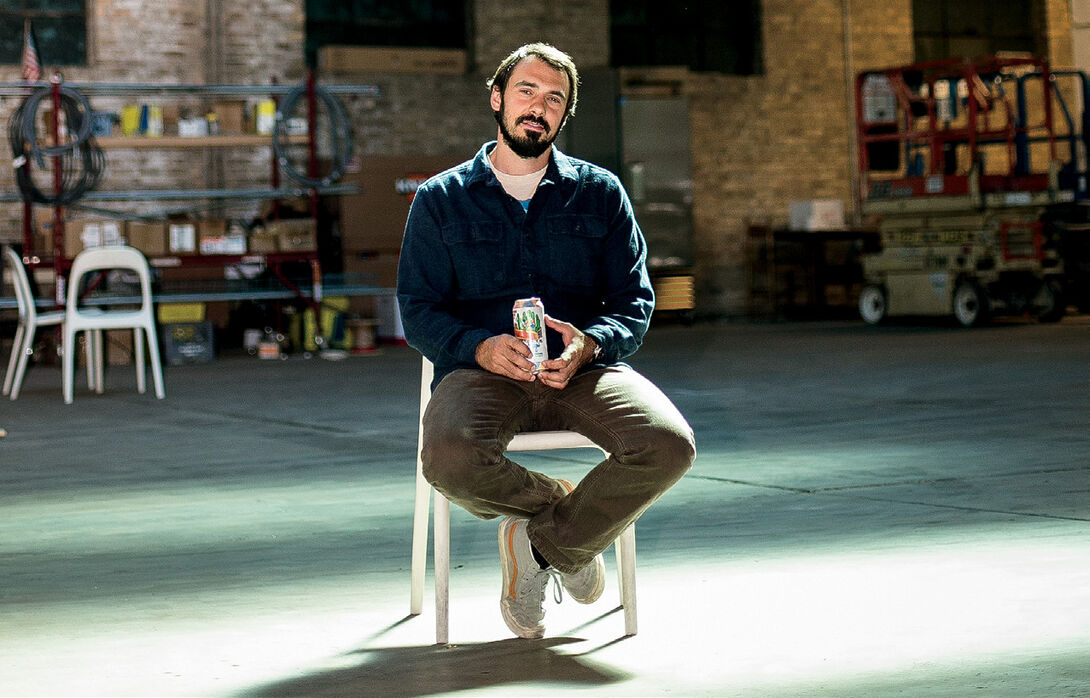 When Gabriel Magliaro (BFA 2003), founder of Half Acre Beer Company, began experimenting with home brewing after graduating from SAIC, little did he know that his pale ale would become one of the most popular craft beers in Illinois. The creative process often stimulates Magliaro, a former glass blower who likens a perfect beer recipe to the discipline of documentary photography. "With a camera," he says, "you directly convey what you see, and you get out of the way for your viewers." The raw ingredients shine in Half Acre's varietals like Daisy Cutter, known for its hoppy bite and prairie-like aroma—Magliaro recommends drinking it in his outdoor beer garden.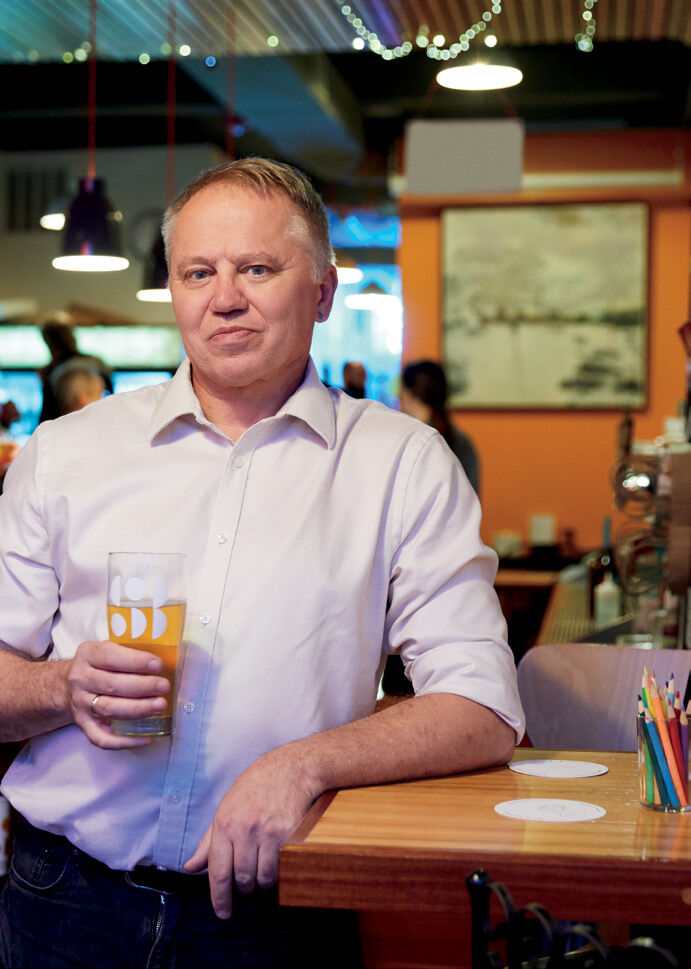 We do a lot of sensory evaluation and trial and error, which is also what I do in my studio."

Shawn Decker
Sketchbook Brewing Co. had a similar grassroots beginning. Cofounded by longtime SAIC professor and sound artist Shawn Decker, the Evanston-based brewery initially took the form of a community art project, bringing together neighbors around live music, conversation, and small-batch beer made with local ingredients. "Beer is our Art," reads Sketchbook's motto. Decker credits the growth of his brewing business to adventurous drinkers seeking ever-stranger flavor combinations, like Sketchbook's sour and sweet gose made with freshly pureed peaches."Our taproom becomes a testing ground because we can see what peoples' responses are," says Decker. "We do a lot of sensory evaluation and trial and error, which is also what I do in my studio."
Decker, like Hon, is no stranger to conceptual art. Whether a work is seen, heard, touched, smelled, or tasted, art takes on new meaning when it is experienced by others.