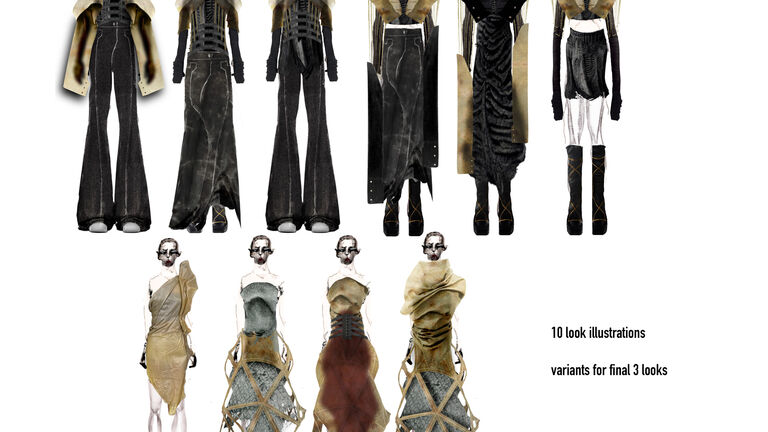 Making the Cut: Two SAIC Students Receive CFDA Scholarships
By Caitlin Abigail Cooner
While the fashion industry has been under scrutiny for its wasteful practices and exclusionary tendencies, sustainability, accessibility, and diversity are priorities for young designers who wish to move fashion toward a more positive future. The Council of Fashion Designers of America (CFDA) is following suit with their Design Scholar Awards. Students were asked to create a sustainable collection or one that prioritizes accessibility and diversity, and out of more than 300 applicants, School of the Art Institute of Chicago (SAIC) students Jules Gourley and Tristan Scott Riggs were awarded scholarships.
Both Gourley and Riggs are not only intentional about the materials that they use in their collections; they also create work that disrupts the binary of menswear and womenswear. As they enter their senior year at SAIC, both artists find that the interdisciplinary and inclusive nature of the Fashion Design department has allowed them to cultivate their unique voices. After graduating, Gourley and Riggs hope to continue working in the fashion industry and learning from like-minded designers who are pushing the envelope.
 
Jules Gourley: Long Live Leather
Gourley's collection Cicada was inspired by their experience serving in the US Navy. "These garments and footwear represent the body's physical trauma going through the military," said Gourley. "It's supposed to be a dynamic between the body's organic shaping and sharp, defined shapes found in naval warships or military architecture."
Gourley is intentional about using sustainably sourced materials in their designs. In order to counteract the fast fashion industry, Gourley wants to be able to say exactly where every single material they use comes from, especially leather. "I think it's better to create things that can last for generations, like leather can, especially in sustainable means from tanneries, rather than letting those skins end up in the landfill and just create carbon emissions."
Gourley sourced transparent horse leather, which uses the centuries-old Tuscan tradition of vegetable tanning, as well as Ecco leather, which comes from an innovative tannery using processes such as internal water recycling, to create their collection. These fabrics, along with sustainably sourced denim and other leathers, make up shoes, outerwear pieces, and a dress emblematic of cicada shells. They're inspired by bespoke footwear makers and the Horween Leather Company in Chicago, who are fighting fast fashion with their eco-friendly production system.
Since leather is a material that has remained popular in fashion for generations, Gourley hopes that designers who continue working with leather will prioritize sustainability. Collections like this exemplify the potential for fashion to be high quality, long-lasting, and sustainable. 
 
Tristan Scott Riggs: Alternative Attire
Riggs' collection Peeking At Your Privacy draws from their own experience of body exploration, presenting five outfits made from a combination of traditional fabrics and ready-made materials. Their collection focuses on covering and uncovering the body and balancing the delicate interplay of sensuality, mystery, and self-discovery. Riggs was inspired by vintage gay pornography and film noir. "The garments, like characters in a noir narrative, skillfully balance concealment and exposure, offering wearers a sense of liberation and allure," they shared.
The fabrics used in Riggs' collection, such as denim and shirting fabrics, are inspired by the classic jeans and button-down shirts worn in vintage gay pornography, yet Riggs queers these traditional looks by creating intricate silhouettes and incorporating unconventional materials. For example, Riggs transforms a classic white button-up into a dress in which the back functions as blinds that can be raised or lowered through pleating and hand-set grommets.
Riggs has even created a dress out of actual window blinds, proving that clothing does not need to be limited to fabric. "I've tried my hardest to explore materials that are more unconventional, because part of my work's goal is to get across that you can really put anything on your body and style it correctly," they said.
Riggs has found that fashion has become more DIY, making it possible for work like theirs to thrive. They are inspired by brands such as Maison Schiaparelli for their use of unconventional materials, as well as JW Anderson for incorporating queer perspectives into their collections. Rather than gatekeeping designing, Riggs believes that anyone should be able to create clothing from whatever materials they can find.