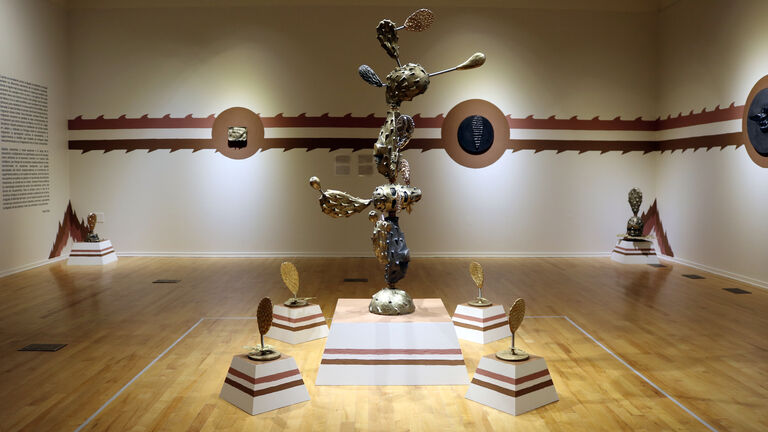 Hybrid Portraits: Salvador Jiménez-Flores' New Solo Exhibition at the National Museum of Mexican Art
By Caitlin Abigail Cooner
Located in the heart of Pilsen, the National Museum of Mexican Art (NMMA) is a special place for Assistant Professor Salvador Jiménez-Flores. After decades of working with the museum in various capacities, Jiménez-Flores is debuting his new solo exhibition eagle, serpiente, nopalli in its galleries. Not only does he hope this exhibition will give audiences an insight into his practice as a multimedia ceramicist, he also wants it to encourage attendees to explore everything the NMMA and its surrounding neighborhood have to offer.
Jiménez-Flores tells us about his inspirations behind this vast collection of work as well as his love for the National Museum of Mexican Art.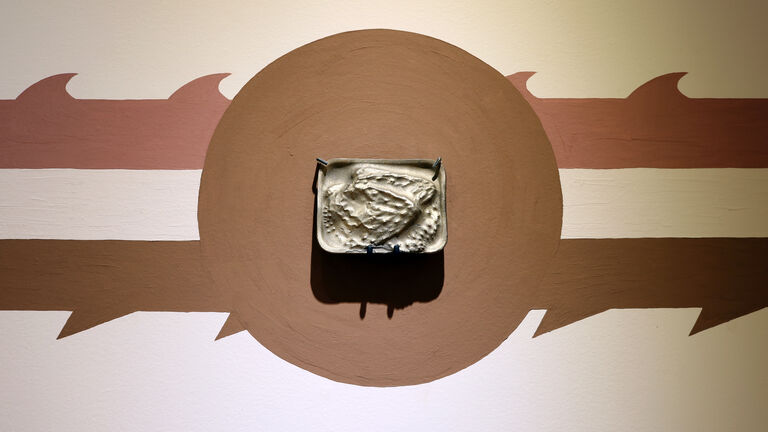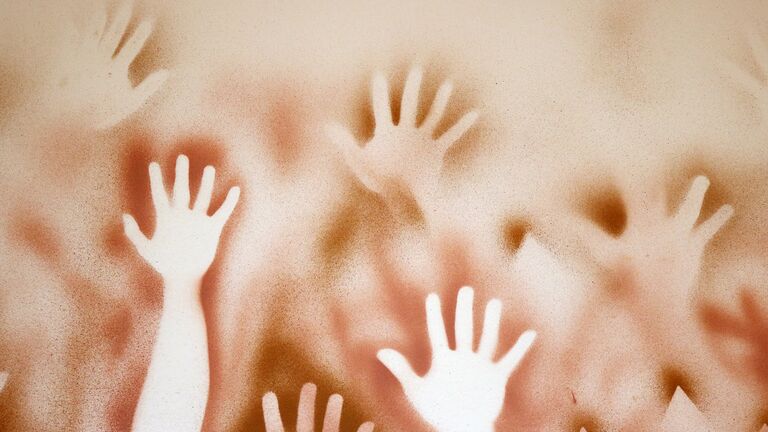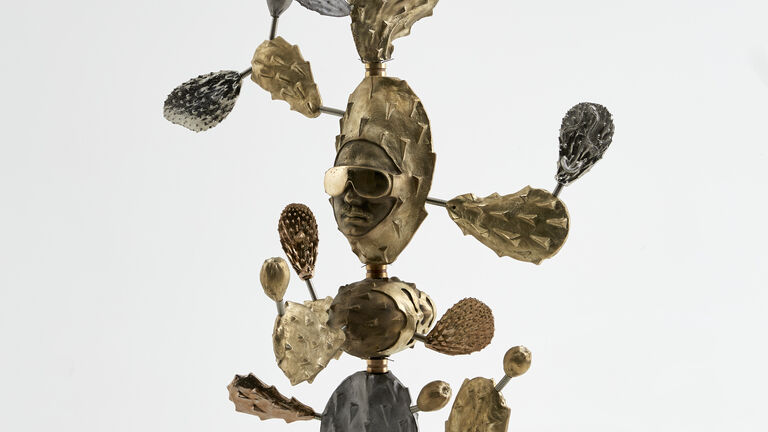 Tell us about the exhibition. What were your key inspirations? 
I have always been fascinated by Pre-Columbian artwork. I am amazed by the sophistication of the craft and storytelling through imagery. I am intrigued by the Pre-Columbian peoples' way of life, beliefs, myths, and intense connection to the earth. Their clay and stone sculptures inspired me to start working with clay in order to give physical form to my personal experiences. Additionally, my work reveals a hybridity drawn on elements of Afro-Futurism, Funk Ceramics, and Rasquachismo. From Robert Arneson's satiric comedy and powerful ceramic self-portraits to the music and films by Sun Ra and Mexican singer-songwriter Rodrigo González, also known as the "Nopal Prophet," I am drawn to how these artists created their own imaginary world through their art.
What did you want to explore? 
I create hybrid portraits that represent my anxieties of living in a constant state of double consciousness where I feel like my identity is divided into parts. The challenge of being bicultural and bilingual is that I live concurrently in two different worlds. I adapt to both worlds, but adapting involves losing some part of myself in order to grow. I embrace these two worlds in my art, melding visual and cultural references from both to produce artwork with a magical realism twist.
Additionally, my body of work seeks to expand contributions to the artistic and scholarly explorations in politics of national identity and double consciousness within histories of colonization, migration, and the idea of "the other" in American life. By deploying aesthetic movements like Chicano-Futurism through the production of conscious installations as well as studio-based and public art, I highlight the struggles and complexities of the diverse experiences of Latinx people living in the United States.
In putting together this exhibition, did you learn anything new about your practice?
As this exhibition goes up, I am preparing my tenure packet and public presentation for my final review. Doing these two things at the same time helps me to define my artistic practice as an amalgamation of artist, citizen, and educator. As an artist, I use my craft to address issues that affect my community, create awareness, and propose actions through my art. As a citizen, I believe that social change starts within oneself and takes community relationships to manifest the change we want to see. As an educator, I impact the lives of my students in positive ways, inspiring new generations of artists to continue as guides for forthcoming generations—creating an unbroken chain of shared knowledge. In my work, the fusion of these three roles—artist, citizen, educator—is significant because together they create the synergy that I need to stay hopeful, curious, and playful and take risks.

You have worked with the National Museum of Mexican Art many times before this. What makes this collaboration exciting for you?
The National Museum of Mexican Art will always have a very special place in my heart. I still recall going there for the first time in the early 2000s. Javier Chavira had a solo exhibition showcasing outstanding, beatifically crafted drawings and paintings. As a college student, to see artists who look like me exhibiting their works in this museum was very inspirational. This was the first time I felt represented, validated, and empowered by the art at a museum in the United States. I remembered thinking to myself: I will work as hard as it takes to have my work in this museum.
What is a work of art at the National Museum of Mexican Art that everyone needs to see?
I recently completed an art residency at the Museum of Glass in Tacoma, Washington. This was my first time working with glass and I had an amazing time. I have always admired the complex, chaotic, and humorous work by De la Torre Brothers. Einar and Jamex De la Torre create mixed media work with blown glass sculpture and installation art. Their sculpture, The Visionary (2001), at the NMMA is one everyone needs to see.
What do you want audiences to take away from this exhibition?
I want the audience to experience the art at the various galleries at the museum and through the artwork they will learn about the many struggles, overcomes and contributions of the Latinx community. The museum has free admission and you will always find amazing food in Pilsen before or after your visit.