Fall into Art: SAIC Alumni at EXPO
Image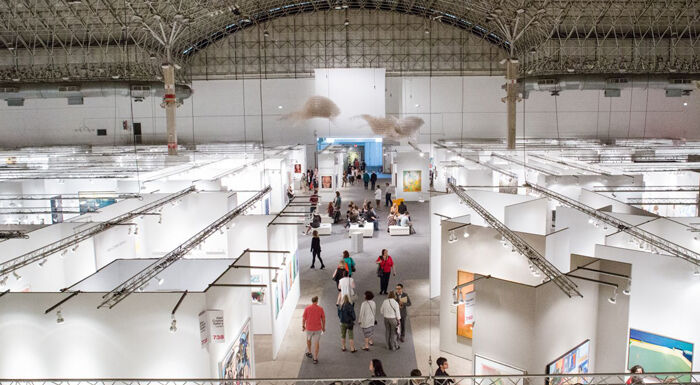 by Micco Caporale (MA 2018)           
As summer fades into fall, there's one Chicago tradition that marks the season change as much as the leaves: EXPO CHICAGO. Every mid-September, EXPO partners with local and international leaders in contemporary and modern art to present challenging programming and dynamic exhibitions that advance the art historical dialogue. SAIC is among those partners, sponsoring programming and an exhibition as well as offering the richness of SAIC's students, alumni, and faculty. 
This year is no exception. From September 13 to 17, the full force of SAIC's community will be on display in and around EXPO. The event kicks off with a performance by Stephanie and Bill Sick Professor of Fashion, Body and Garment Nick Cave, working with local architect Jeanne Gang (HON 2013) on the first live production in a series called Here Hear Chicago.
On the main floor of the exhibition hall, the School will host a booth as part of EXPO's special exhibitions. Curated by artist and alum Sadie Woods (MFA 2016), SAIC will present work from recent graduating classes across departments that highlights the School's critical, interdisciplinary approach to art making.
SAIC also partnered with EXPO to facilitate /Dialogues, a series of panel discussions and presentations. Leading artists, curators, designers, and other arts professionals will share their thoughts and engage critical dialogue on contemporary art's most provocative issues. Stephanie Cristello (BFA 2013); Associate Professor Romi Crawford (Visual and Critical Studies, Liberal Arts); and artist David Hartt (MFA 1994) will be some of the /Dialogues participants.
Of the artists shown, alumni Sanford Biggers (MFA 1999), David Hartt (MFA 1994) and Alex Chitty (MFA 2008) will have work in IN/SITU, a collection of large-scale works and installations in the main Festival Hall exploring the politics of time. Ali Subotnick (MA 1997) curated this year's video program, These Restless Times, as part of Conversations at the Edge, an initiative of the Film, Animation, Video, and New Media department. And Assistant Professor of Fashion Design Cheryl Pope (BFA 2003, MDes 2010) has a piece in EXPO Sound, an inaugural show of audio pieces that will play over EXPO's sound system throughout the week. Many SAIC alumni will be featured by the galleries that represent them, too.
On Friday, September 15, there will be a citywide open gallery night in conjunction with EXPO called Art After Hours. During this event, Lilli Carré (BFA 2006) will be showing at Western Exhibitions. Cassie Tomkins (BFA 2011) will show work at Spudnik Press. Susan Giles (MA 1997) and Jeroen Nelemans (MFA 2007) will be showing at The Mission. Anna Kunz (BFA 1991) will show work at McCormick Gallery. Alumni-run galleries such as LVL3, THE FRANKLIN, and Monique Meloche will also be participating.
"When people graduate from SAIC," says Stephanie Cristello, Editor-in-Chief of EXPO's THE SEEN ­and EXPO's Director of Programming, "they disperse all over. International artists are SAIC artists.The exposition's programming has to do with these roots, and how they relate to the contemporary art moment and art vanguard. Many of our programs capitalizes on our relationship with SAIC."
SAIC strives to produce artists and cultural innovators that truly engage with the world beyond the School's walls. While its impact can be seen daily in Chicago, the scope of SAIC's influence can be seen annually at EXPO CHICAGO.