Image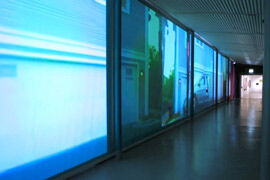 by Anjulie Rao (MA 2014)
The last decade witnessed a new way that we experience the world around us; social media and mobile technology has allowed us to share our lives and tell our own stories in unprecedented ways. With every Instagram photo of unusual sightings on the train, and every video shared online, technology has allowed us to transmit our experiences and tell stories with renewed vigor.

Nadav Assor (MFA 2010) taps into visual storytelling through his art practice, which explores the visual and digital transmission of experience through digital media, installation, and performance. With his work, Assor not only investigates an individual's subjective experience, but also how that translates into a broader context through technology's ability to mediate between geography, body, and the human story.
Generally, Assor's work involves a performance that is documented via a video camera worn by the participants. His 2012 work, Feelers, documents an interaction between two performers: a healer and a security guard take turns examining each other's bodies through physical and verbal interaction.

In this specific work, the video camera is strapped to the heads of both individuals and mediates the interaction. The lens points toward the eye of the performer, mere inches away from the cornea. Thus, the captured video is not a direct filming of the performance; rather, it is a recording of the reflection on the eye of the performer. 

The piece is visceral: watching a conversation take place upon the glistening surface of an eyeball is difficult to stomach. As viewers, we are able to experience both performers simultaneously, literally seeing one in the other. 

Assor's most recent exhibition at the Hyde Park Art Center also dealt with technology as a mediator of experience. Stripping (2009–present) is a performance captured on video, which takes footage from Assor's bike ride through urban Chicago neighborhoods. The camera is strapped to his bicycle, pointing sideways, and records footage of his ride. 

The frames of this footage are then pasted together and shown consecutively, similar to the military practice of creating aerial pictures of enemy territory by flying overhead and taking consecutive photographs and "stripping" them together.

Assor appropriates a military process and transfers it—including the more controversial elements—to a relatively harmless activity: riding a bicycle. He says, "There's a lot of similarity between [this work] and their military counterparts…It is prevalent, not talked about, and not used in the civilian sector…it is fascinating, and deeply troubling."

In this context, Assor's work discusses mapping as more than visualizations of geography; by using digital media, he creates a map of urban environments that he says is "all-seeing and all-penetrating." The work communicates the immediacy of one's experience of geography: the roughness of a bike ride and the real-time experience of traffic. While spotlighting the inherently political implications of surveillance, his work maintains a first-person experience of geography.

Assor's work astutely captures how technology allows us to share our own stories, to intimately document, in an almost voyeuristic fashion, our experiences and interactions. The process is candid and raw; it is a demonstration of how, as Assor articulates, "…A human being inserts their own personalities and glitches…[it is] ultimately lo-fi and patched together." Our stories, too, are lo-fi yet rich with meaning and experience, an overwhelming quality that comes through clearly in Assor's practice.