A Look at SAIC's Endowed Professorships and the Benefactors behind Their Excellence
by Jeremy Ohmes
An endowed professorship is more than just an impressive title. It is an acknowledgement of intellectual leadership and an endorsement for future impact. SAIC's endowed professors are inspirational forces whose influence radiates outward—through the classroom and studio and across the city and world. With or without the title, they are continually shaping the current dialogue on art and design—but their endowment provides an extra bit of prestige and enables them to advance their teaching, thinking, and making.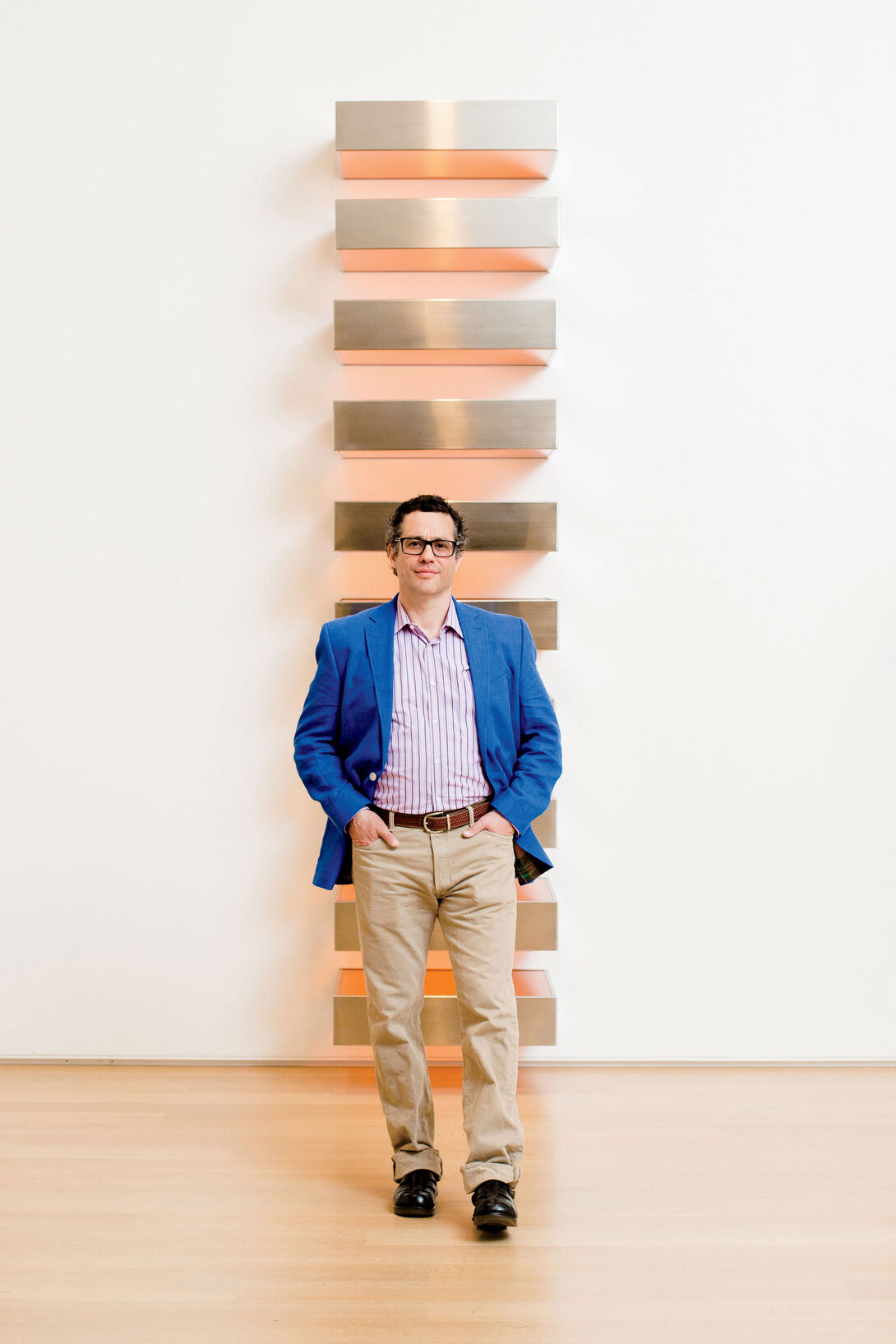 David Raskin, Mohn Family Professor of Contemporary Art History
Katrina Mohn (MA 2014) was mentored by art historian and Professor David Raskin in SAIC's Art History, Theory, and Criticism program. Her father, Jarl Mohn, was so impressed by her academic experience that he endowed a professorship and a graduate fellowship. Mohn, who is the President and CEO of National Public Radio, says, "SAIC and Professor Raskin were instrumental in shaping my daughter's understanding of the art world…and they offered our family a sense of community that extends much further than the city of Chicago."
"The Mohn Family gift is particularly special for my department because it also supports the continuing education of our master's students," says Raskin, whose scholarship focuses on modern and contemporary art in relation to earlier contemporary practices. "The graduate fellowship helps SAIC recruit the most impressive students, and brings them into a formal mentoring relationship as part of their studies. The Mohn Family Fellows are directly involved in my research and teaching, and carry the honor of this award with them throughout their careers."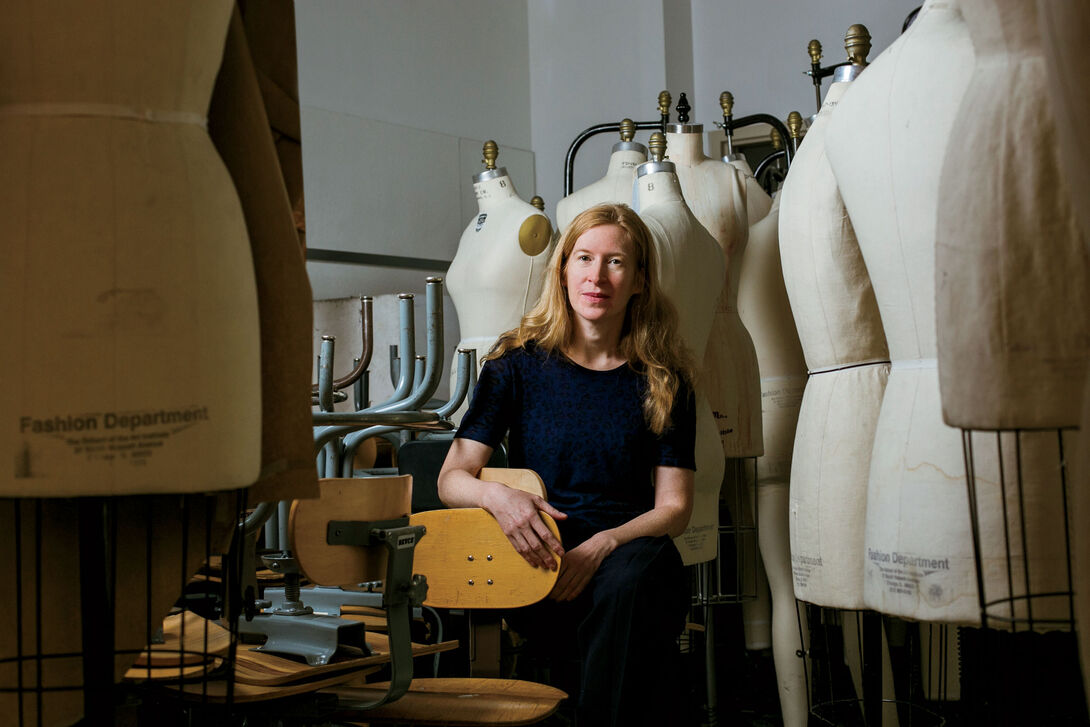 Anke Loh, Sage Foundation Chair of Fashion Design
Melissa Sage Fadim has a strong affinity for SAIC's Fashion Design program. Through her Sage Foundation, she has supported the department's students and faculty in a number of ways: theannual Sage Foundation Scholarship, the Sage Studios for Fashion Design, which display student work in a professional setting, and the Sage Foundation Chair of Fashion Design.
SAIC Associate Professor and fashion designer Anke Loh has served as the Sage Foundation Chair for four years. She says the Sage Foundation gifts support the department's mission to redefine fashion and what a fashion designer can be—dovetailing with her own interest in merging fashion, art, and technology. "The niche of wearable technology is especially rare, so as a result, funding can pose challenges," notes Loh. "Without the Sage support, my research into integrating wearable computing into fashion and accessories with interactive mobile technology would not have been possible."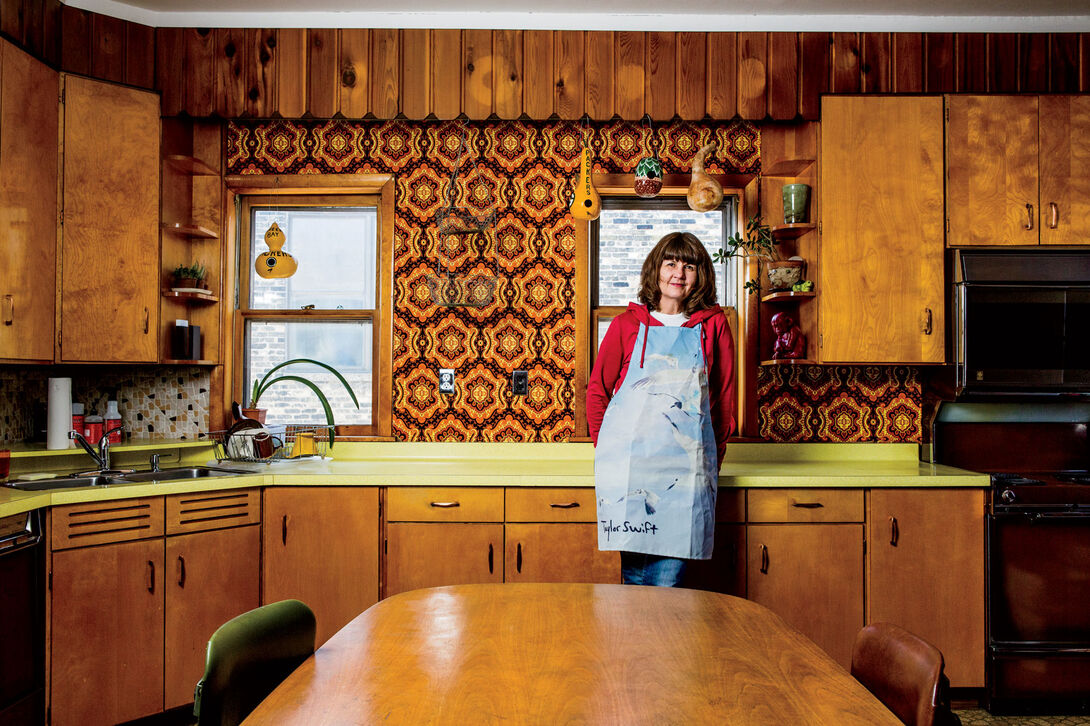 Michelle Grabner, Crown Family Professor in Painting and Drawing
In 2016 Paula and James Crown, Nancy and A. Steven Crown, and the Crown Family Philanthropies endowed a full professorship in the Painting and Drawing department. Michelle Grabner, a faculty member since 1996, was appointed the inaugural Crown Family Professor. A former student of Grabner's, Paula Crown (MFA 2012) referred to her mentor as "a contemporary multihyphenate: artist, teacher, and scholar."
Grabner, who was cocurator of the 2014 Whitney Biennial, addresses the ideas of orderliness, routine, and the domestic environment in her work. She notes the award has offered her "the freedom to test conventions and to advance contemporary art and discourse both inside and outside the classroom." Ironically, Grabner once applied to SAIC's MFA program and was not accepted. To this, the renowned artist often tells her students: "Perseverance and hard work are not clichés but in fact yield success."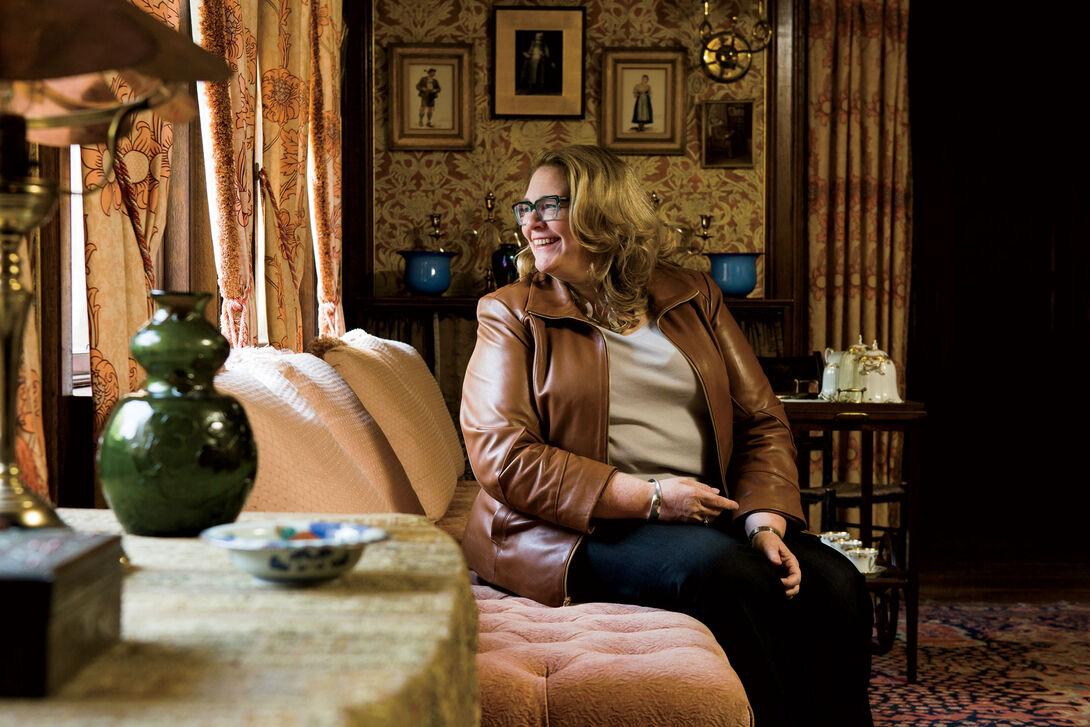 Anne T. Sullivan, FAIA, John H. Bryan Chair of Historic Preservation
SAIC Board of Governor Emeritus John H. Bryan has supported historic preservation throughout Chicago for more than 20 years. He has worked to protect threatened places like the Lyric Opera House and Orchestra Hall and Mies van der Rohe's Farnsworth House while supporting stewardship of historic sites through his named chair position in SAIC's Historic Preservation program.
As the second John H. Bryan Chair of the Master of Science degree program, Anne Sullivan teaches courses in historic building materials, building pathology, and sustainable preservation practices. But more importantly she collaborates with SAIC students and alumni on professional restoration projects, including the historic Chicago Bascule Bridges and the Glessner House Museum in Chicago's Prairie Avenue historic district. The endowed chair provides Sullivan the funds to attend international conferences and expand her knowledge of building materials, construction typology, and conservation practice, which benefits her students. She says, "All my professional experiences are funneled into the classroom."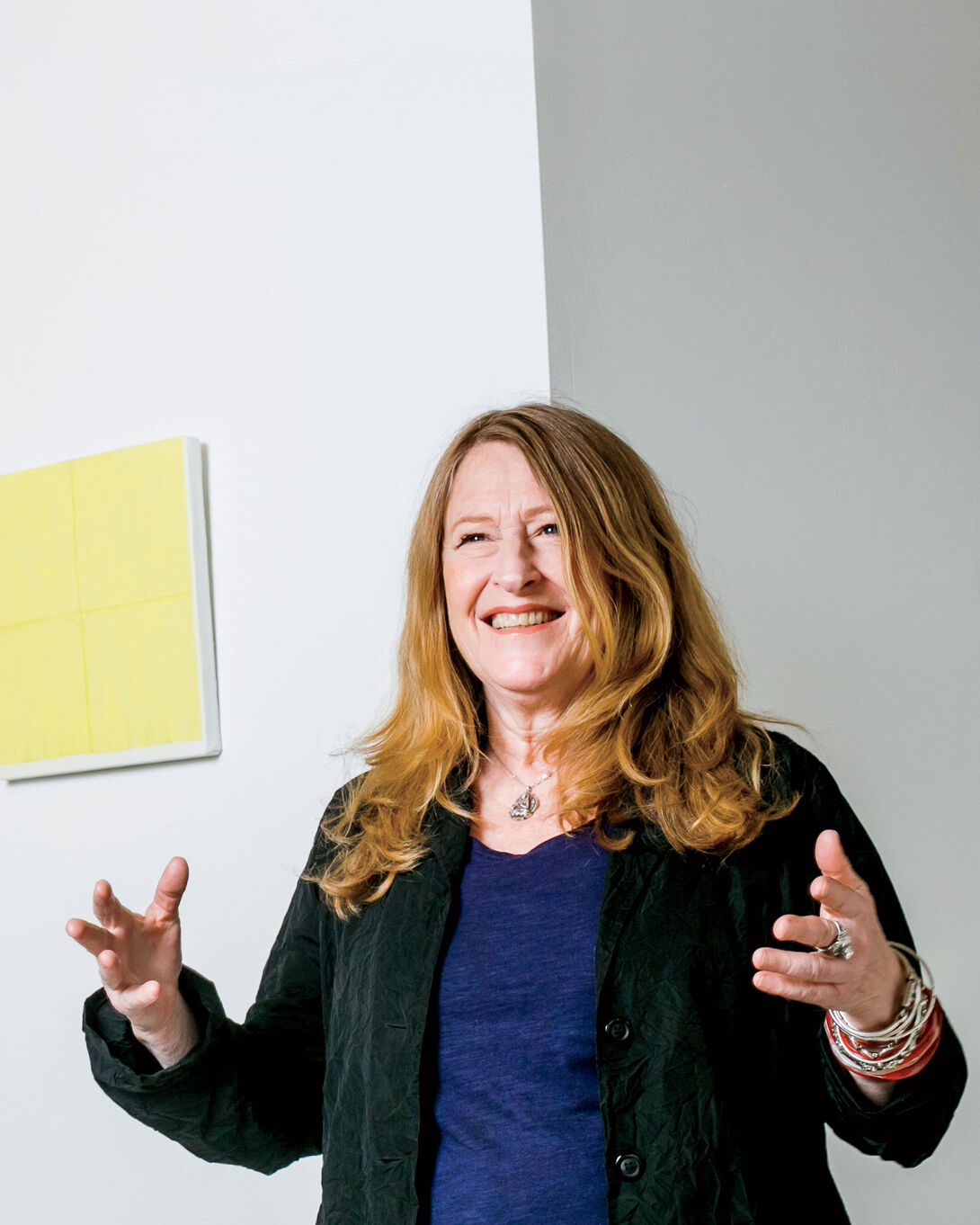 Susanna Coffey, F.H. Sellers Professor in Painting
It is fitting that when Mary Morely Sellers established the F.H. Sellers Professorship in Painting at SAIC in 1939 in honor of her late husband, she also bequeathed a portrait of his great grandmother to the Art Institute of Chicago. Today, as the oil painting of Olivia Simes Morris (1790–1838) by James Peale hangs in the museum, Professor Susanna Coffey, an acclaimed painter whose unflinching self-portraits explore gender, appearance, and personhood, occupies the professorship named for Morris' great-grandson.
In 1998 Coffey was awarded the professorship following the influential painter and collagist Ray Yoshida (BFA 1953), who taught at the School for nearly four decades. The Sellers Professorship provided Coffey with more resources with which to pursue her art and academic careers. "An endowed professorship confers an enhanced status; it opens doors both nationally and internationally." says Coffey, who brings her experience and connections back to SAIC each year to share with students and colleagues.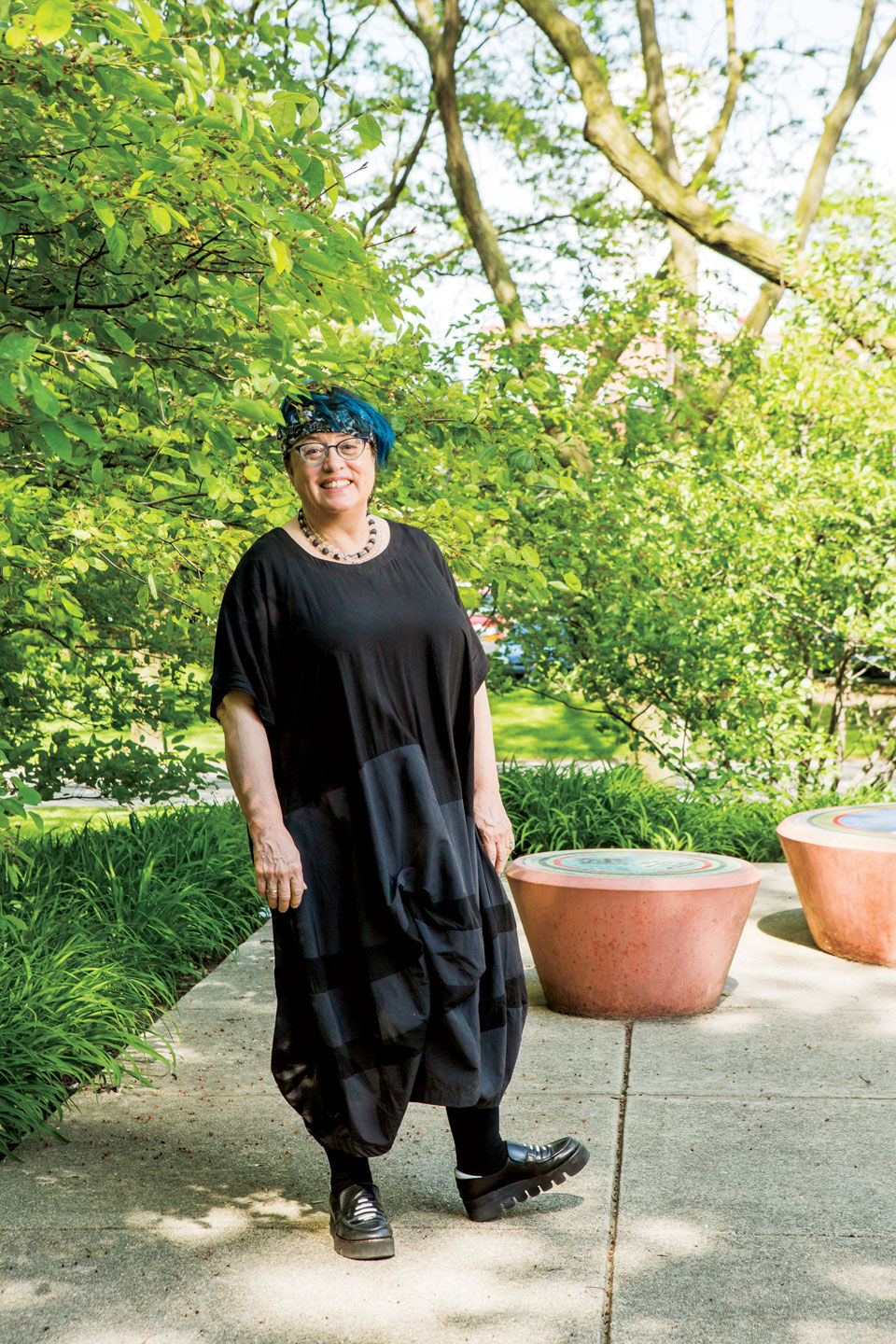 Olivia Gude, Angela Gregory Paterakis Professor in Art Education
SAIC alum and Professor Emerita Angela Paterakis (BFA 1954) taught at SAIC for almost 50 years, including serving as chair of the Division of Education from 1963–71. Paterakis was an ardent supporter of art education. She established a network of arts educators to serve school children and worked for more than 60 years to ensure all Illinois schools had access to the arts.
As the first Angela Gregory Paterakis Professor in Art Education, Olivia Gude is an artist who has created many public mosaics, murals, and events in collaboration with various intergenerational communities and an educator whose articles and presentations have shifted possibilities of curriculum in K-12 school art education. She is determined to live up to the standards Paterakis set for teaching, scholarship, and service. She says, "I've always been a researcher whose work is stimulated by 'thinking together' with students. As I support SAIC students in manifesting their visions of a renewed culture of visual art education, together we develop insights into how 21st-century art education might evolve."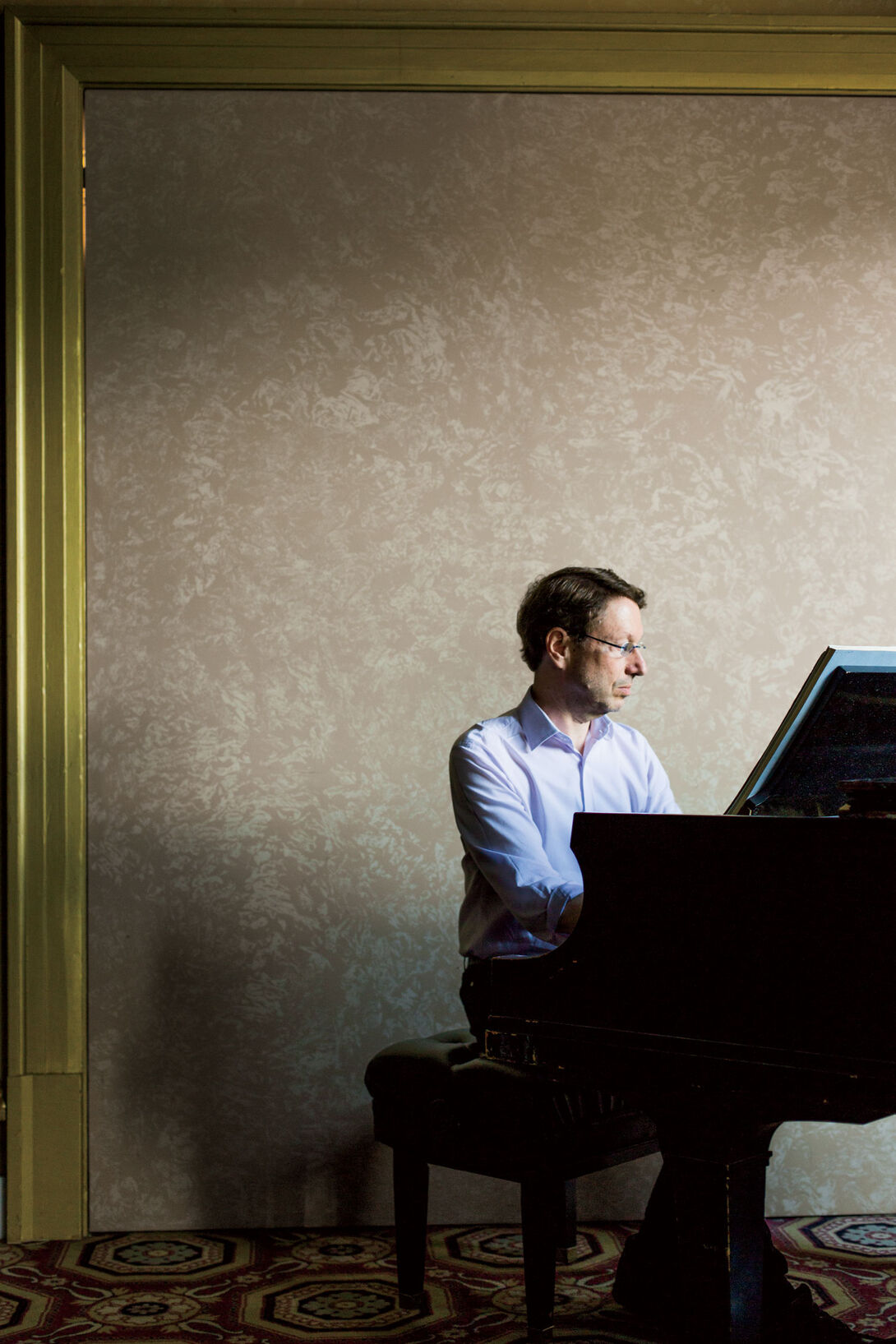 Jim Elkins, Emily Crane Chadbourne Professor of Art History, Theory, and Criticism
From 1918 to 1957, art collector Emily Crane Chadbourne was a major donor to the Art Institute of Chicago, gifting 2,225 works of art to the museum that range from Byzantine art and Persian ceramics to Egyptian mummy portraits and drawings by Henri Matisse. The diversity of Chadbourne's collection parallels the diversity of her namesake professor's research and work.
A prolific writer, critic, historian, and Professor in SAIC's Art History, Theory, and Criticism and Visual and Critical Studies programs, Jim Elkins was awarded the named professorship in 2004. Over his career, he has written about photography, Renaissance painting, the relationships between science and art, and analyses of modern and contemporary piano music. "With four endowed professors, we've been able to make some very innovative hires in the last several years," says Elkins. "We offer more than 200 courses each semester, and we now have a department that is comparable in diversity of subjects to any art history department worldwide."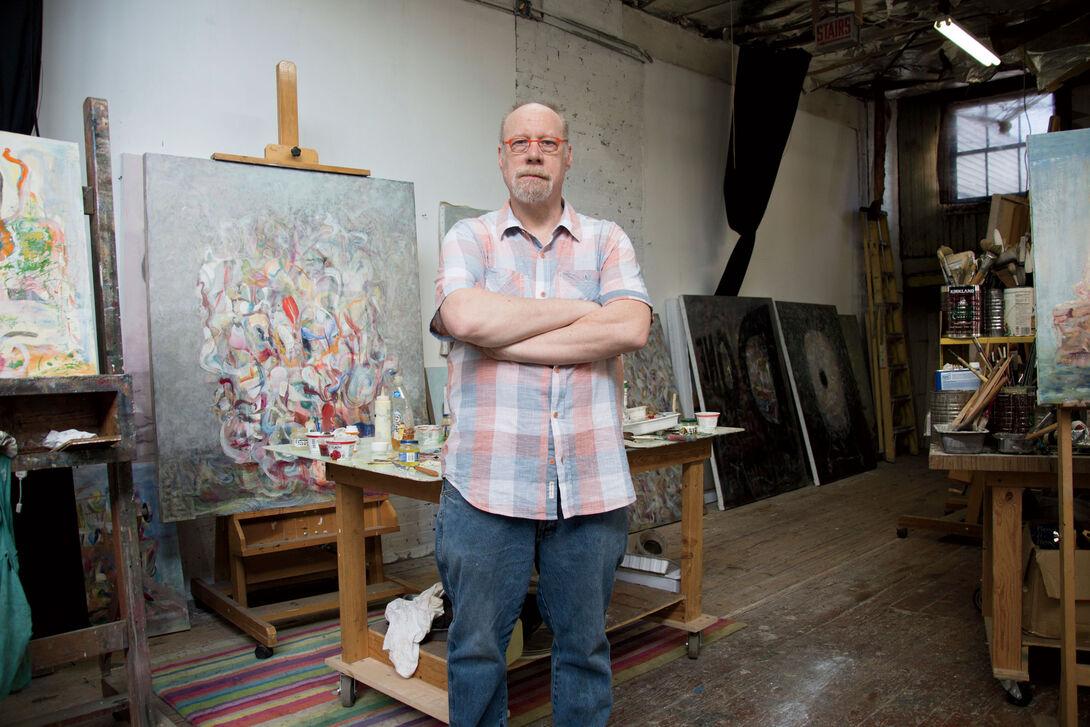 James Lutes, Frederick Latimer Wells Professor of Painting and Drawing
Frederick Latimer Wells had bravery in his blood. A governing member of the Art Institute of Chicago in the early 1900s, he never served in the military, but he was a descendant of a commander in the American Revolution, a soldier in the War of 1812, and an officer in the Civil War. The current Frederick Latimer Wells Professor of Painting and Drawing, Jim Lutes (MFA 1982) might have internalized his benefactor's kinship with courage.
Lutes, who has been a member of the School's faculty since 1983, creates work that expresses a tension between opposing forces, namely figuration and abstraction. He has exhibited in two Whitney Biennials (1987, 2010) and Documenta IX, as well as numerous solo exhibitions. He has received grants from the National Endowment for the Arts (NEA) and the Louis Comfort Tiffany Foundation in addition to a Guggenheim Fellowship. Unlike many painters, Lutes makes all his own paints, media, and supports from scratch, and shares his knowledge of the craft with students, alumni, and colleagues alike.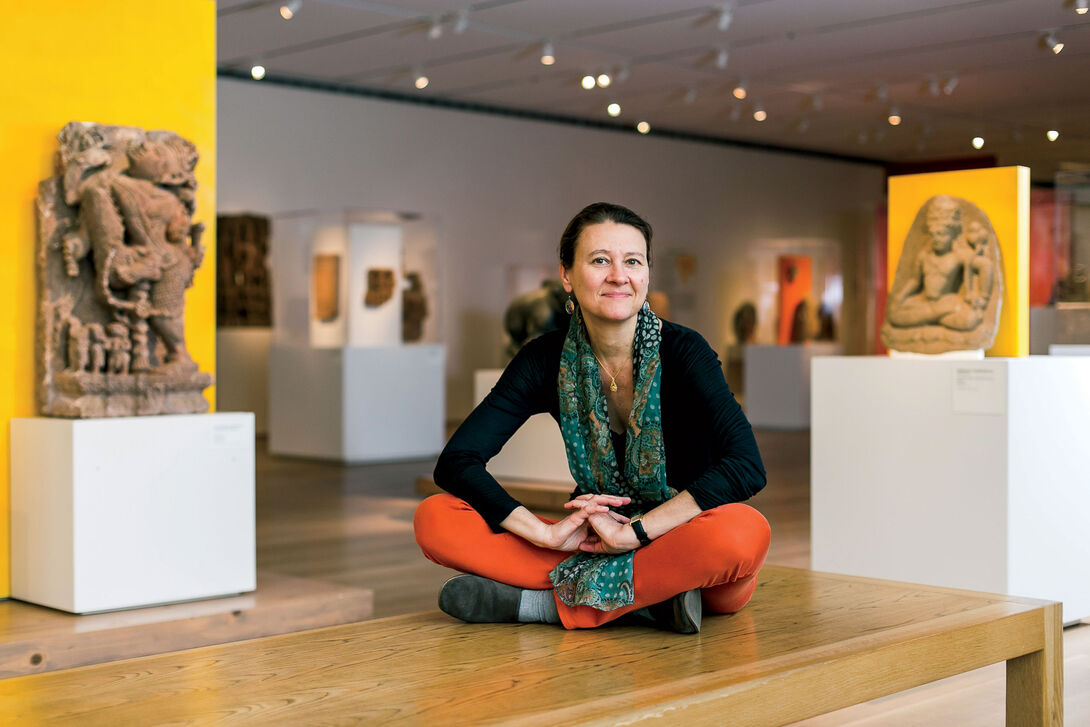 Nora Taylor, Alsdorf Professor of South and Southeast Asian Art History
The collection of James and Marilynn Alsdorf contains hundreds of works representing the cultures of India, the Himalayas, and Southeast Asia. Marilynn, an Art Institute of Chicago Life Trustee, and her late husband James, a former chairman of the Board of Trustees, played a significant role in building and shaping the museum's holdings.
The Alsdorf Galleries of Indian, Southeast Asian, Himalayan, and Islamic Art are an essential teaching resource for Nora Taylor, the recipient of the art patrons' endowed professorship. "My area of expertise is a very specialized field. There are not that many of us Southeast Asian art historians in the US," notes Taylor. "This professorship has enabled me to carry out that specialization without having to conform to a more conventional art historical category. I am able to teach my specialty and more importantly, I am able to learn from young artists from Southeast Asia who have come to study at SAIC."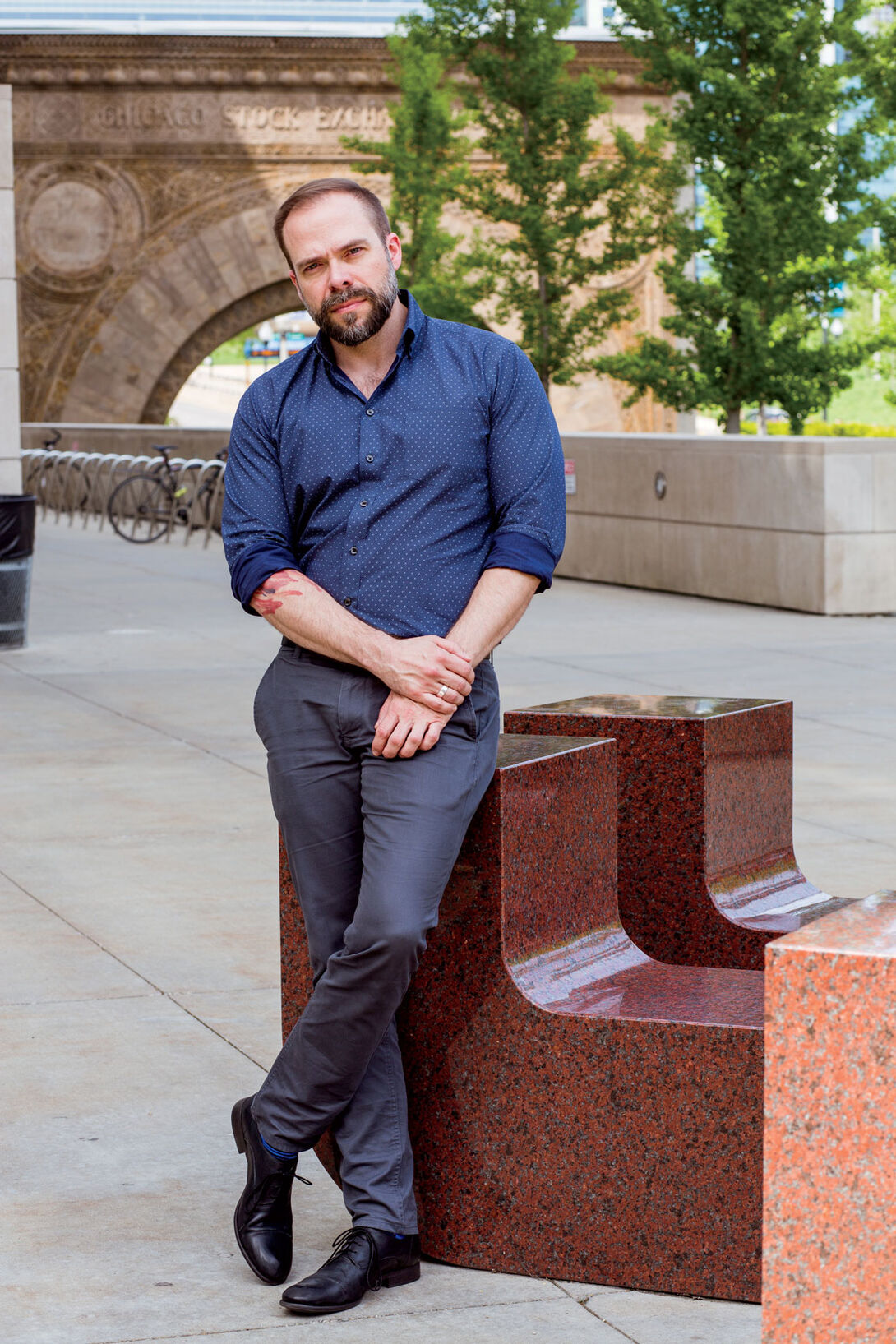 David Getsy, Goldabelle McComb Finn Distinguished Professor of Art History
Goldabelle McComb Finn seems like she was destined to bestow her unique name to someone. Finn attended SAIC in the early 1920s where she studied painting and drawing, and took art history classes with the esteemed Professor Helen Gardner. Finn endowed her professorship in 1994, and the first to hold the position was another influential art history professor, Robert Loescher.
After Loescher passed away in 2007, art historian David Getsy was named to the professorship— which has enabled him to further his research on queer theory, transgender studies, and histories of sculpture and performance, as well as contribute to the growth of the School's art history department and its offerings. He says, "I felt an obligation to continue Loescher's commitment to building a world-class art history department that benefited from being both in a major art school and connected to a major encyclopedic museum. He started the path to embracing non-Western and global art histories, and we can now proudly say we are one of the most global art history programs in the world."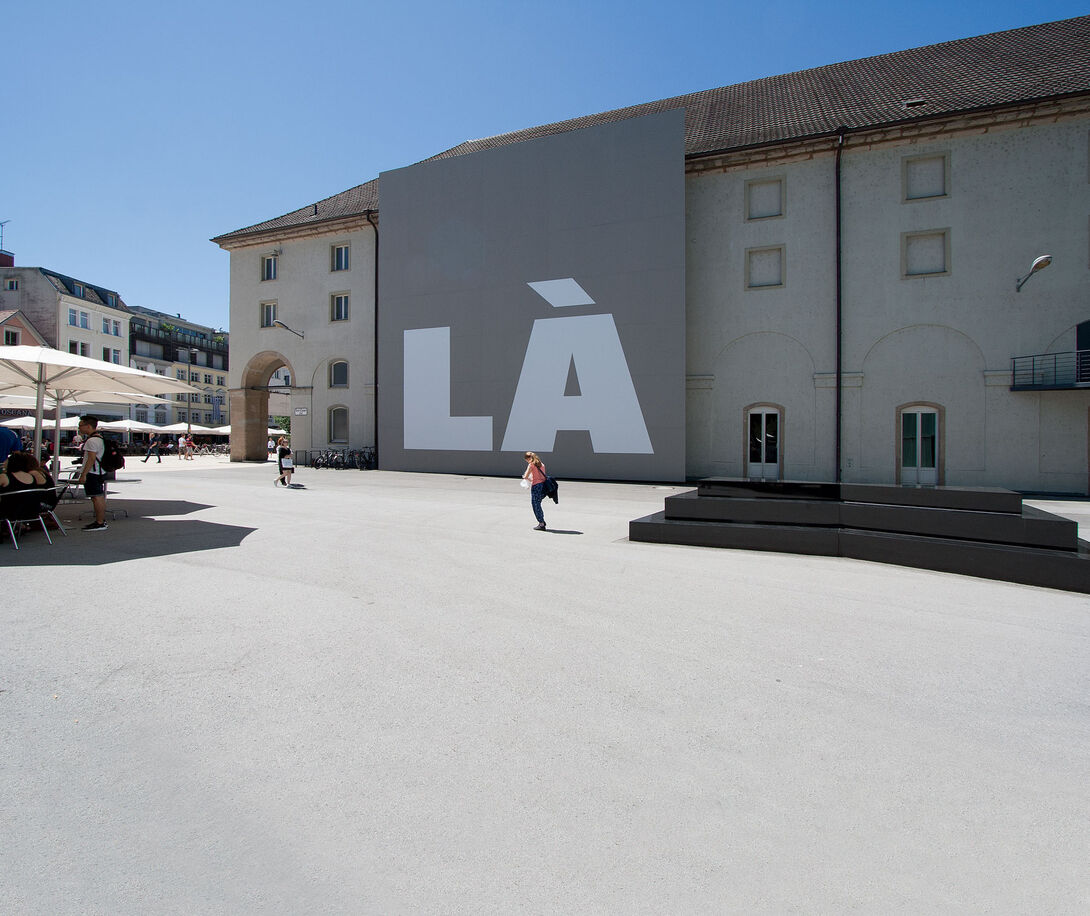 Gaylen Gerber, Patrick J. and Dania L. Leemputte Family Professor
Patrick Leemputte, founder of MindSet Health and Wellness, took Saturday classes with Adjunct Professor Karl Wirsum (BFA 1962, HON 2016), member of the notorious Hairy Who artists who set the stage for Chicago's art scene in the 1970s. Wirsum's classes inspired Leemputte and his wife, Dania, to establish a family professorship in the Department of Painting and Drawing. The Leemputte Family Professorship was awarded to another influential painter, educator, and SAIC alum Gaylen Gerber (MFA 1980).
Gerber explores the presence (or absence) of the artist within his work as a way to focus the viewer's attention on the situation of an artwork. He titles his paintings "backdrops" and "supports" depending on their size. With backdrops, he often literally layers the work of other artists over his own, introducing difference to his otherwise monochromatic supports. In contrast, Gerber sometimes uses supports to impose monochromes over the work of others artists. Gerber joined SAIC's faculty in 1987 and teaches multilevel classes in the Department of Painting and Drawing. Throughout his career, he has exhibited at and been seen in a number of esteemed institutions and exhibitions, including the 2014 Whitney Biennial.