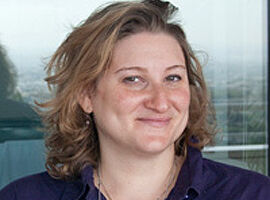 In her forthcoming book, Live Form: Craft as Participation, art historian and SAIC alum Jenni Sorkin (BFA 1999) discusses the confluence of gender, pedagogy, and labor histories around women in the 1950s. She pays particular attention to a group of proto-feminist women potters from Black Mountain College, focusing on the external factors and art world exclusions that pushed female artists into the world of craft. As a preview to her Distinguished Alumni Lecture on November 2, SAIC caught up with Sorkin to talk about why these women were "hippie before the word hippie happened" and how art historians are not all that different from artists.

How did you become interested in feminist art?
After graduating from SAIC, I went in a different direction than most BFAs go, and I decided not to make art. I worked at the Museum of Contemporary Art in Los Angeles on a really significant feminist art exhibition called WACK!: Art and the Feminist Revolution that opened in 2007. I began working on that show as a research assistant and project coordinator starting in 2001. It put me in direct contact with a lot of artists from the 1970s who'd been neglected—women artists whose work had not entered museum collections. They were under the radar, and it was a generation that had basically been forgotten, but had been incredibly influential. So feminist and gender research became really important to me at that time and I decided to pursue a doctorate in art history at Yale.

Your upcoming book is about a group of ceramicists, but your background is in fiber. 
The research stems from my work in fiber. At SAIC I was introduced to fiber theory, and this early proto-feminist generation of women is something that I knew about early on. I ended up writing a book about ceramics, but that was sort of happenstance. The next book project will be about fiber; I have no doubt because that's been sort of my origin point for this history. That's been a really important part of my background, having come through my education initially trained as a maker, and thinking about weaving and histories of cloth, thread, and textiles, and the social significance of textiles. 

How do you connect the historical perspective of craft to its current context? 
The book makes a direct link between the social participation practices that are now very current in the art world where many artists are spending their time and energy making community-based work or gathering groups of artists or facilitating events for public participation—to a generation of artists who have been forgotten…This much earlier generation of women who are virtually unknown was doing the exact same kind of work in the 1950s but has been overlooked and basically swapped out for the generation of 1960s male practitioners. These women definitely challenged social conventions by doing really simple things such as living off the grid, getting divorced, making their own money, and those were simple acts of rebellion that were unfathomable to most of the American population at the time in which they were living. They were hippie before the word "hippie" happened.

Explain your work as an art historian.
I've been engaged in significant archival research for most of the last six to seven years. I've spent hours, days, and months in the Black Mountain College archives, combing through papers, articles...first-hand archival research. Those are my materials as an art historian—those are the materials from which I work. And then I try to piece together an engaging narrative or history. I think of it as a kind of story-telling through what I'm doing.