2010s
Model, artist, and activist Emily Barker (SAIC 2010–15) was featured in Vogue discussing her image and publicity on Instagram.
Jesse Berlin (BFA 2004) was profiled by the Arizona Daily Star in a series about local artists.
Tyler Blackwell (BFA 2013) curated two exhibitions at Blaffer Art Museum in Houston this past fall: Paul Mpagi Sepuya and Jacqueline Nova: Creación de la Tierra.
The New Art Dealers Alliance presented a new contemporary art fair last fall, the Chicago Invitational. Alums that participated included Josh Dihle (MFA 2012), Tony Lewis (MFA 2012), Raven Munsell (Dual MA 2014), Jack Schneider (BFA 2014), and Vincent Uribe (BA 2013).
Daniel Granitto (BFA 2014) is included in the 10th issue of Friend of the Artist, an international, juried collection of works by contemporary artists presented as a hardcover book.
Brett Hanover's (BFA 2010) film Rukus was been screened at South by Southwest, Anthology Film Archives, SF Indie Fest, the Nashville Film Festival, and the American Fringe series at the Cinémathèque Française.
David Heo (BFA 2014, MFA 2018) was featured in Chicago magazine about his solo exhibit at Boundary Gallery in Chicago and the origins of his art career.
Molly Hewitt's (SAIC 2010–14) film Holy Trinity premiered at Chicago's Music Box Theater in September.
Joel Kuennen's (MA 2010) piece "How to lose someone," a poetic guide to experiencing loss and understanding the absence of someone you love, was published by the Creative Independent.
Benjamin Larose (MDes 2016) won second place in the 2019 Miami University Young Sculptors Competition.
Nick Mahshie's (MA 2017) work was on view in Mt. Sinai Skolnick's Surgical Towers in Miami Beach, Florida through February 2020.
Betelhem Makonnen (MFA 2019) was announced as the recipient of the third annual Tito's Prize.
Viraj Mithani (BFA 2015) had work in the exhibition Boomerang at Tao Art Gallery in Mumbai, India, curated by Sneha Shah (BFA 2015), and was also featured in Elle Decor India.
Alejandra Alonso Rojas (Post-Bac 2012) was announced as a finalist of the 2019 Council of Fashion Designers of America (CFDA)/Vogue Fashion Fund, and Xiang Gu (MDes 2019) and Emily Shen (MDes 2019) were named CFDA Fashion Future Graduate Showcase recipients.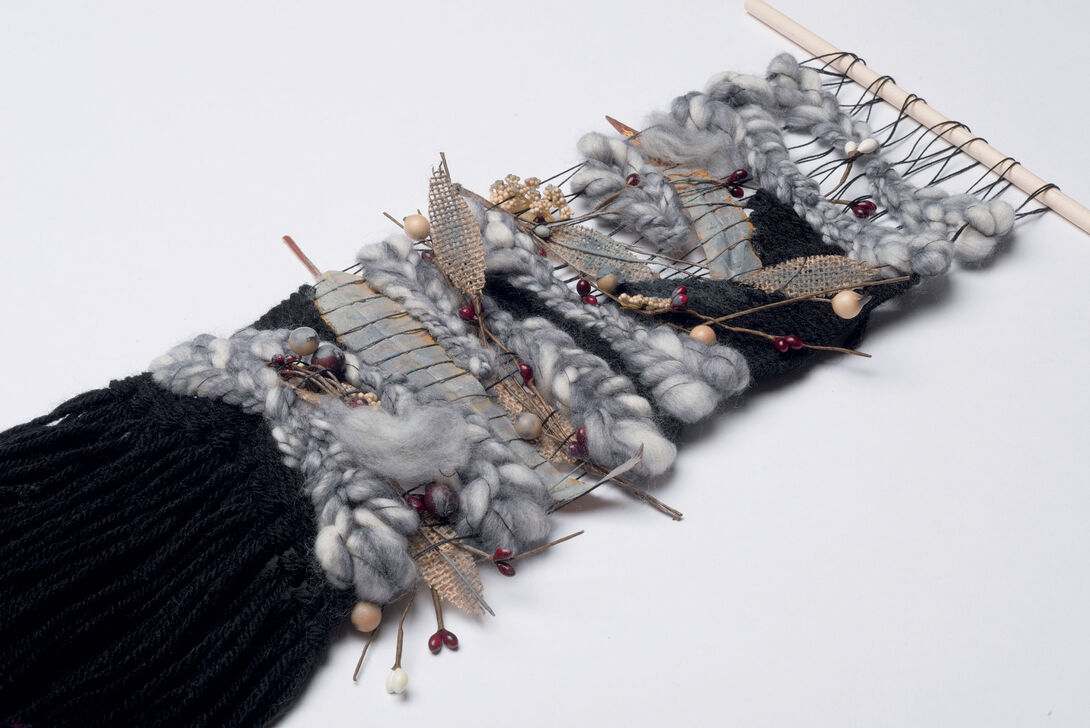 Adam Liam Rose (BFA 2012) was appointed co-director of Ortega y Gasset Projects.
Sniedze Rungis (BFA 2004) was announced winner of the Kalamazoo Ladies Library Association's stained glass window design contest.
Negin Sharifzadeh's (BFA 2010) solo show Appearance Stripped Bare was exhibited at A.I.R. Gallery in Brooklyn.
Ayesha Singh's (MFA 2018) work was featured in the inaugural exhibition at the CEPT University Sculpture Park in Gujarat, India.
Sumakshi Singh (MFA 2003) was featured in Vogue India for her dreamlike installation for the Hermès store at the Chanakya in New Delhi, India.
Darryl DeAngelo Terrell (MFA 2017) was named a 2019 Kresge Artist Fellow.
Orkideh Torabi (Post-Bac 2014, MFA 2017) was featured by Galerie discussing her artwork.
Americans for the Arts, in partnership with the Joyce Foundation, and the American Express Foundation announced Gibran Villalobos (Dual MA 2015) as one of Chicago's "Inaugural Arts & Culture Leaders of Color Fellow."
Zipiao Zhang (BFA 2015) was included on Forbes' "30 under 30 Asia 2019" list
2000s
Genesis Belanger (BFA 2004), Teresa Burga (MFA 1970, HON 2018), Jeffrey Gibson (BFA 1995), and Diane Simpson (BFA 1971, MFA 1978) were featured in Artsy's annual list of the 50 most influential contemporary artists.
Kate Dumbleton (MA 2008) was included on Newcity's annual "Music 45" list for her work as executive director of the Hyde Park Jazz Festival.
Nia Easley (BFA 2006, MFA 2018) was featured in Block Club Chicago discussing her project researching the history of an area within Avondale, which was once a Black settlement.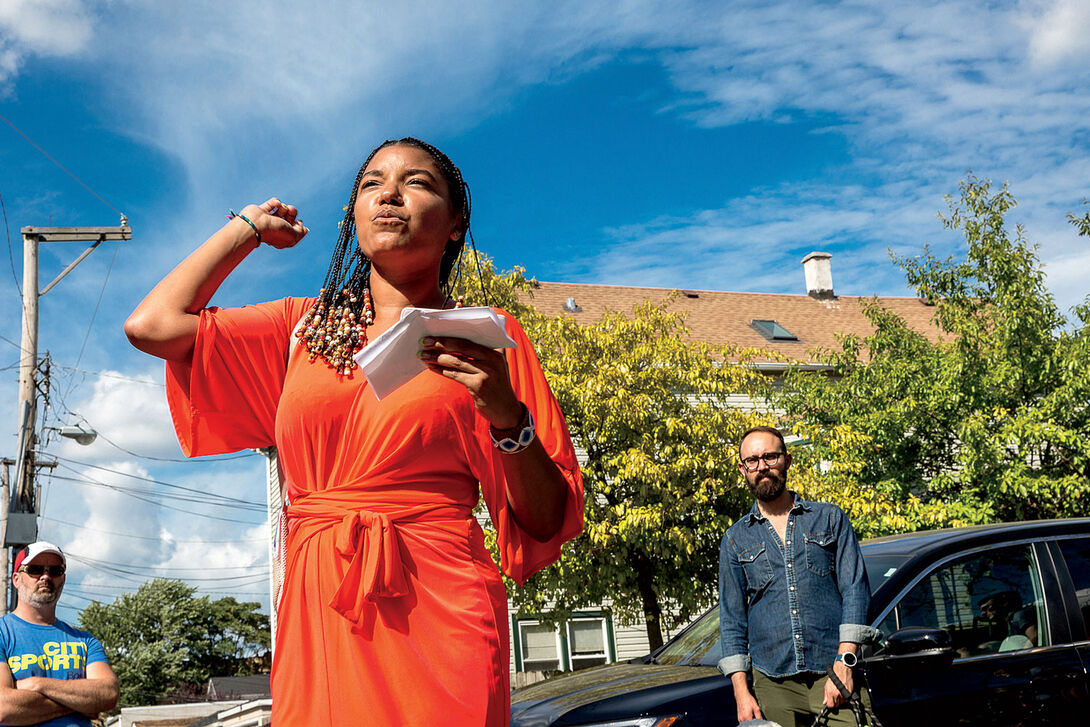 Isaac Facio (BFA 2001, MFA 2017) discussed the significant connection between astronomy and art in an interview with Time magazine.
Amber Ginsburg (MFA 2009), Adela Goldbard (MFA 2017), and Sonja Henderson (BFA 1992) were among artists in the exhibition, Envisioning Justice: New Visions Beyond Incarceration by Chicago Artists & Communities.
The Washington Post featured Rashid Johnson (SAIC 2003–04, HON 2018) in its What Are You Working On? series.
Martha Mulholland (BFA 2008) was featured in Architectural Digest discussing her project of styling a 3,600-square-foot home.
Brit Parks (BFA 2000, MFA 2014) has several new writings being published by New River Press: SMEAR and WHEN THEY START TO LOVE YOU AS A MACHINE YOU SHOULD RUN.
Darrell Roberts' (BFA 2000, MFA 2003) solo exhibition SUCCULENT was on display at Thomas McCormick Gallery in Chicago.
Felipe Smith (BFA 2000) created the Marvel character Ghost Rider, which will have its own live-action series, Ghost Rider, debut on Hulu in 2020.
Edra Soto (MFA 2000) was awarded the inaugural Foundwork Artist Prize, and her recently commissioned public project, Screenhouse, is on view for a two-year exhibition in Millennium Park's Boeing Gallery North.
Ni'Ja Whitson (MFA 2007) was awarded a Bessie for Outstanding Visual Design for the piece, Oba Qween Baba King Baba.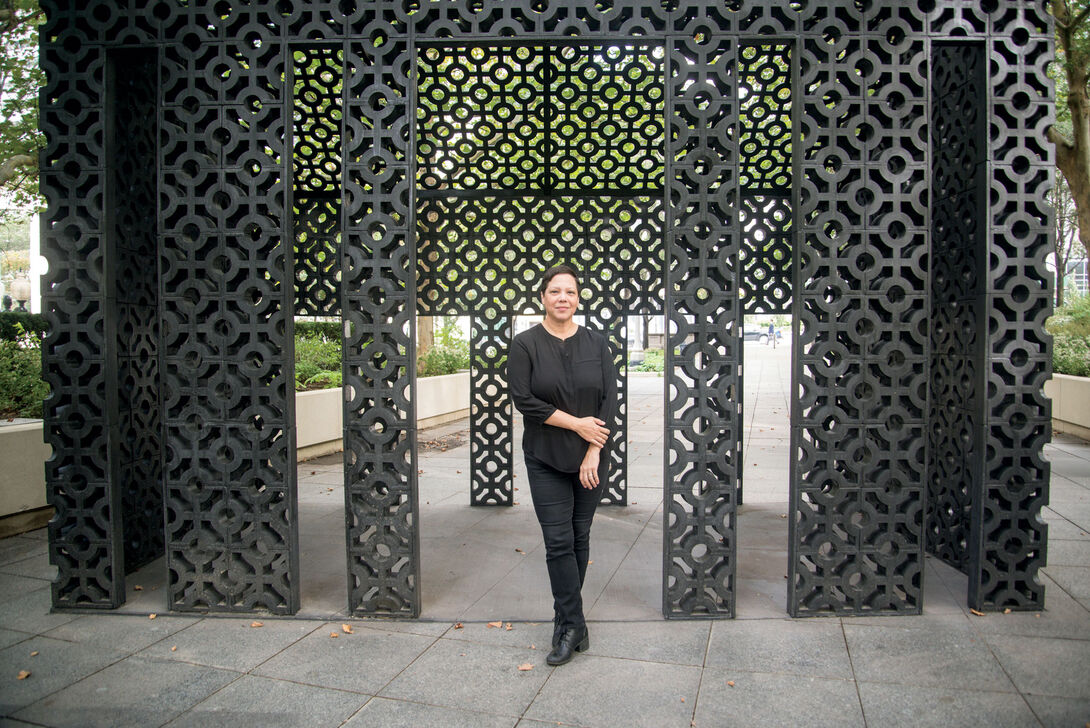 1990s
Petra Bachmaier (BFA 1999), Rodrigo Brum (MFA 2016), Assaf Evron (MFA 2013), Sean Gallero (SAIC 1993–98), and Samaa Waly (MFA 2017) were among the recipients of Graham Foundation grants.
Katherine Bernhardt (BFA 1997) was profiled in the article "Paint it Loud" in GQ.
Frank "Critz" Campbell III (BFA 1990) was promoted to head of the Department of Art at Mississippi State University.
Zurich Esposito (MS 1998) was appointed to the City of Chicago's Zoning Board of Appeals by Mayor Lori Lightfoot.
Jacob Hashimoto's (BFA 1996) installation, In the Heart of this Infinite Particle of Galactic Dust, 2019, at Chicago's Willis Tower was coordinated by Cortney Lederer (MA 2009).
Michelle LaFoe (Post-Bac 1992) was interviewed by Surface magazine about establishing OFFICE 52.
Damon Locks (BFA 1991), Norman Teague (MFA 2016), and Santiago X (MFA 2018) were announced as recipients of the 2019 3Arts Awards.
Geoffrey Mac (BFA 1999), who appears as a designer on the 18th season of Project Runway, was profiled by Entertainment Weekly.
Christine Tarkowski's (MFA 1992) public project, When we call the Earth by way of distinction a planet and the Moon a satellite, we should consider whether we do not, in a certain sense, mistake the matter. Perhaps–and not unlikely—the Moon is the planet and the Earth the satellite! Are we not a larger moon to the Moon, than she is to us?, is on view in Millennium Park's Boeing Gallery South.
Apichatpong Weerasethakul (MFA 1998, HON 2011) was highlighted in ARTnews for his ability as a Thai artist to reach audiences internationally.
The Chicago Tribune named DePaul Art Museum Director Julie Rodrigues Widholm (MA 1999) its Chicagoan of the Year in museums.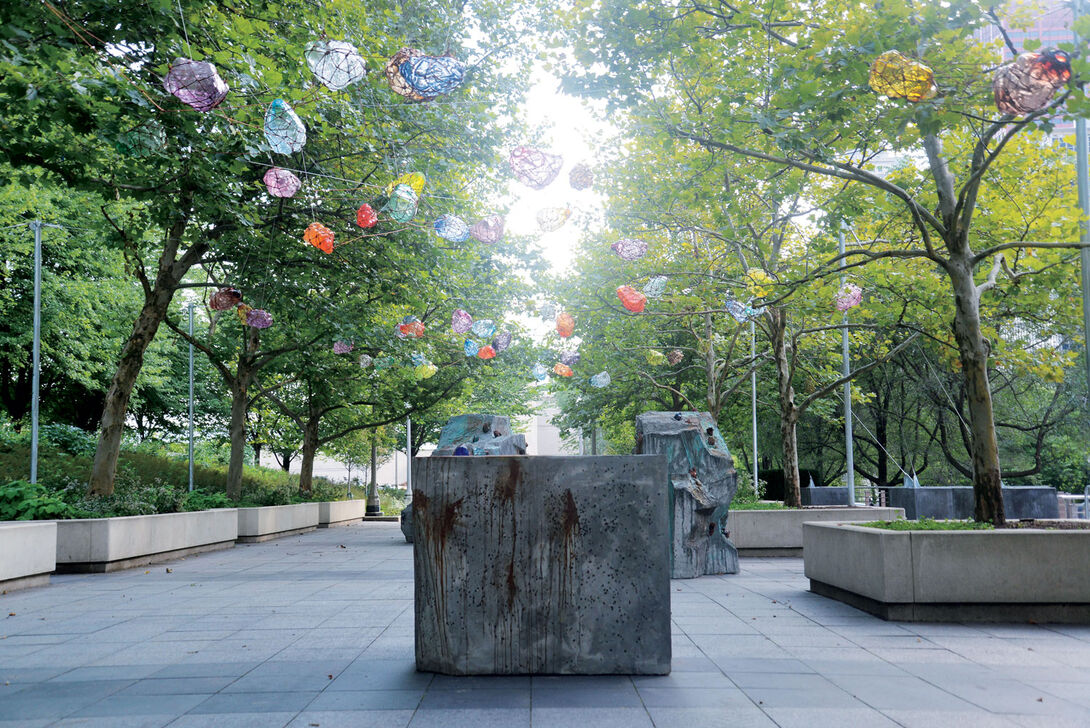 1980s
Catherine Edelman (MFA 1987), the owner of Catherine Edelman Gallery, was featured in Chicago Gallery News.
Jerry Brennan (BFA 1984), Donald G. Evans (BFA 2002), Eileen Favorite (MFA 1999), Eric Kirsammer (BFA 1986), and Elizabeth Metzger Sampson (MFA 2009) were included on Newcity's 2019 "Lit 50" list.
Dread Scott (BFA 1989) was awarded $100,000 by the Soros Equality Fellowship for his performance Slave Rebellion Reenactment.
Ann Wiens (BFA 1986) was appointed vice president for marketing and communications by the California College of the Arts.
1970s
Nancy Bowen (BFA 1978) participated in Open House New York at Brooklyn Navy Yard.
Phyllis Bramson (MFA 1974) was recently featured in the Chicago Sun-Times and Chicago Tonight for her organization of the exhibition, What Came After: Figurative Painting in Chicago 1978–1998, on display at the Elmhurst Art Museum. Alums included in the exhibition are Michiko Itatani (SAIC 1983–91), Robert Lostutter (SAIC 1958–62), Jim Lutes (MFA 1982), and Mary Lou Zelazny (BFA 1980).
Donald Sultan's (MFA 1975) retrospective, Dark Objects, Works 1977–2019, was at Huxley-Parlour Gallery in London.
1960s
Gladys Nilsson's (BFA 1962, HON 2016) solo exhibition Gladys Nilsson: New Work was on display at Chicago's Rhona Hoffman Gallery.
Newcity's review of EXPO CHICAGO 2019 featured six alums for their innovative use of materials and varying subject matter: Kay Rosen (SAIC 1967–71), as well as alums Julie Boldt (MFA 2019), Rosemary Hall (MFA 2019), Ed Oh (MFA 2019), Parvin Peivandi (MFA 2019), and Marie Ségolène (MFA 2019), whose work was featured in the SAIC Booth curated by Sarah Skaggs (MA 2016) and current graduate student Sophie Jenkins.
1950s
Kay Hofmann (DIP 1955) was featured in ArtNews discussing her work and exhibition pour toujours at Patron Gallery in Chicago.
Jim Zver (BFA 1957) had two pieces in the exhibition Ink and Clay 44, which was displayed at Kellogg Gallery in Pomona, California.
In Memoriam
Ed Clark (BA 1951) was a noted abstract painter who achieved his distinctive effect by using a push broom to sweep paint across the canvas. Clark, whose career spanned seven decades, was known for experimenting with vibrant colors, paint application, and medium—many of his works featured ovals and shaped canvases, a practice that he was credited with helping to pioneer.
Sharon Couzin (BFA 1976, MFA 1978) was a filmmaker, visionary artist, and educator who taught at SAIC for more than 30 years and served as chair of the Department of Film, Video, New Media, and Animation for 10 years. Couzin was influential in building the experimental film community in Chicago, and she helped found the Experimental Film Coalition, which launched the Onion City Film Festival, held regular screenings, and published several periodicals.
Dana Fradon (SAIC 1940–45) was a prolific cartoonist who contributed nearly 1,400 cartoons to the New Yorker, helping define its brand of satirical, wry, and sometimes ridiculous humor in a prolific magazine career.
Marilyn Madden's (SAIC 1986–88) home in Chicago featured a personal library of around 5,000 titles and a collection of antiques and outsider art. Her own artwork has been shown in several Chicago and regional galleries, and she continued work in painting and collage until the very end of her life.
James Uhlir (MFA 1966) conducted Thunderhead Creative for 40 years and created paintings, sculptures, pottery, ceramics, lithographs, and photographs.
Theresa DiCesare (BFA 2006) 
John Downs (SAIC 1955–58)
Sierra DuFault (SAIC 2006–09)
Nita Engle (SAIC 1944–47)
Martin Esteves (MFA 2003)
Thomas Fawell (SAIC 1948–50)
Robert "Jackson" Kennedy (BFA 2017)
Lydia McDonald (BFA 1976)
Ruth Muehlmeier (BFA 1948)
Carl Newlin (BFA 1959)
Barbara Prignano (MFA 1971)
Kade Schaffer (MFA 1999)
Franz Schulze (BFA 1949, MFA 1950, HON 2014)
Nancy Witek (SAIC 1996)
Faculty:
Dana Carter (Adjunct Associate Professor)
Barbara Crane (Professor Emeritus)
Thomas L. Sloan (Professor Emeritus)