2010s
Newcity released its annual "Design 50" list along with a special "Design Hall of Fame." Alums on the list include Sarah Azzouzi (BFA 2011), Sky Cubacub (BFA 2015), Zurich Esposito (MS 1998), Abigail Glaum-Lathbury (BFA 2006), Rachel Kaplan (MA 2015), Maria Pinto (BFA 1990, HON 2017), and Andrea Reynders (BFA 1971). Community members in the Hall of Fame include Jeanne Gang (HON 2013) and Theaster Gates (HON 2014).
Tyler Blackwell (BFA 2013) was announced as Blaffer Art Museum's Cynthia Woods Mitchell Curatorial Fellow.
Zoe Sua Cho (MFA 2014) coproduced and edited House of Hummingbird, which screened at the Tribeca Film Festival and won awards at the Berlin Film Festival, Busan International Film Festival, and the International Istanbul Film Festival.
Sky Cubacub (BFA 2015) was featured in the Chicago Tribune as "Chicagoan of the Year in the Arts 2018."
Isaac Facio (BFA 2001, MFA 2017) was announced as Fermilab's 2019 artist-in- residence.
Gordon Hall (MA 2011, MFA 2011) was featured on Art in America's December 2018 cover in addition to contributing a feature article to the publication on Bruce Nauman's work.
Newcity announced Cathy Hsiao (MFA 2017), Benjamin Larose (MDes 2016), Emilio Rojas (MFA 2017), Amina Ross (BFA 2015), Chanel Chiffon Thomas (BFA 2014), and Derrick Woods-Morrow (MFA 2016) as "2019 Breakout Artists."
Tamara Malas (BFA 2012) was featured in Fashionista's list of "13 New Plus Size and Size Inclusive Brands That Launched in 2018."
Colin Self's (SAIC 2009–10) second album Siblings was included in NPR's "50 Best Albums of 2018" and Pitchfork's "Top Experimental Album of the Year" lists.
Ayesha Singh (MFA 2018) was included in Forbes India "30 Under 30 Special Mentions" list.
Nyugen Smith (MFA 2016) was selected as one of seven recipients of the 2018 Franklin Furnace Fund, in support of his performance project Behold Your Horse.
2000s
Genesis Belanger (BFA 2004) was featured by the New York Times discussing her process and latest exhibition, A Strange Relative, on view at Perrotin gallery in New York.
Robert Bittenbender (SAIC 2006–07), Jeffrey Gibson (BFA 1995), Matthew Angelo Harrison (BFA 2012), Steffani Jemison (MFA 2009), Diane Simpson (BFA 1971, MFA 1978), Martine Syms (BFA 2007), and Derrick Woods- Morrow (MFA 2016) exhibited in the Whitney Museum of American Art's 2019 Whitney Biennial.
Halle Butler's (BFA 2008) second novel, The New Me, and her 2017 debut novel, Jillian, were the subject of an article in the Cut.
Lucy Knisley (BFA 2007) released her graphic novel, Kid Gloves: Nine Months of Careful Chaos, which she discussed with Chicago magazine and the Chicago Tribune.
Sara Ludy (BFA 2004) was one of three digital artists selected to design the packaging for LIFEWTR, a brand of premium bottled water distributed by PepsiCo.
Hyperallergic covered Jodie Mack's (MFA 2007) film The Grand Bizarre, which was screened at the New York Film Festival.
Sterling Ruby's (BFA 2002) exhibition, Sterling Ruby: Ceramics, was held at the Museum of Arts and Design in New York.
Barbara Koenen (Post-Bac 1986, MFA 1989), Angelique Power (MFA 1998), Ines Sommer (MFA 1988), and Edra Soto (MFA 2000) were among 33 visionaries included in the 33rd anniversary edition of Newcity magazine, alongside SAIC President Elissa Tenny and faculty members.
Holly Wherry (MA 2007) was acknowledged as one of Gambit's "40 Under 40" in New Orleans for her local work in art therapy during 2018.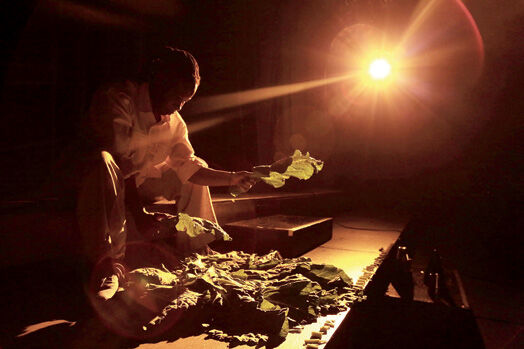 Ni'Ja Whitson (MFA 2007) was awarded the 2019 Creative Capital Award and was nominated for a 2019 Bessie award for outstanding production for Oba Qween Baba King Baba.
1990s
Petra Bachmaier (BFA 1999), Rodrigo Brum (MFA 2016), Assaf Evron (MFA 2013), Sean Gallero (SAIC 1993–98), and Sama Waly (MFA 2017) were among the recipients for the Graham Foundation for Advanced Studies in the Fine Arts 2019 individual grants.
Sanford Biggers (MFA 1999) was honored at New York Foundation for the Arts' (NYFA) 2019 Hall of Fame Benefit, which recognizes the sustained achievements of artists who received early career support from NYFA.
Yanira Collado (SAIC 1994–96) and william cordova (BFA 1996) collaborated on the show Penumbras: Sacred Geometries at Project Row Houses in Houston, Texas.
Yanira Collado (SAIC 1994–96), Elisabeth Condon (MFA 1988), Nyugen Smith (MFA 2016), and Brittney Leanne Williams (SAIC 2008–09) were among the recipients of the Joan Mitchell Foundation's Painters and Sculptors grants.
Astrid Guerra (MA 2003) self-published a book of poetry in Spanish titled Peregrina.
McDonald's new Chicago headquarters features a large Jacob Hashimoto (BFA 1996) installation comprising hundreds of his signature kites.
Laura Mosquera (BFA 1996, MFA 1999) was one of 30 artists from Latin America with work in The Latin American Contemporary Fine Art Competition at Agora Gallery in New York in December 2018.
Jennifer Reeder's (MFA 1996) new film Knives and Skin premiered at the 2019 Tribeca Film Festival.
Apichatpong Weerasethakul (MFA 1998, HON 2011) was selected as the winner of the Artes Mundi 8, the UK's leading prize for international and contemporary art.
1980s
Nancy Bechtol (MFA 1984), Jason Salavon (MFA 1997), Ellen Sandor (MFA 1975, HON 2014), and Siebren Versteeg (BFA 1995) were among 100 artists featured in Chicago-based Gallery 400's exhibition Chicago New Media 1973–1992.
Sang-soo Hong (MFA 1989) was featured in the Korea Times about his latest film Grass.
Deyana Mielke's (BFA 1984) piece She Showed Herself to Me was acquired by the Hawaii State Foundation on Culture and the Arts, and selected to be exhibited in Hawaii State Art Museum's show, State of Art: New Work, in Honolulu, through September 2019.
Melanie Parke (BFA 1989) was featured in Urban Milwaukee for her exhibition Dew which was held at Tory Folliard Gallery.
Rirkrit Tiravanija (MFA 1986) participated in a collaborative digital exhibition titled In Situ From Outside: Reconfiguring the Past in Between the Present, presented by Thailand's Ministry of Culture as a means of using contemporary artistic practices to reimagine the Thai cultural past.
1960s
Judie Anderson (BFA 1960) received a Lifetime Achievement Award from the Beverly Arts Center in Chicago.
Indira Freitas Johnson (MFA 1967) and Karl Johnson (BFA 1968) had their exhibition Intersections of Place and Time at Oakton Community College's Koehnline Museum of Art.
The exhibition The Hairy Who? 1966–1969 was held at the Art Institute of Chicago museum, representing the work of six SAIC alums: James Falconer (BFA 1965, HON 2016), Art Green (BFA 1965, HON 2016), Gladys Nilsson (BFA 1962, HON 2016), Jim Nutt (BFA 1967, HON 2016), Suellen Rocca (BFA 1964, HON 2016), and Karl Wirsum (BFA 1962, HON 2016).
Jimmy Wright (BFA 1967) was inducted as a 2018 National Academician by the National Academy of Design.
1950s
Amanda Crowe (DIP 1952) was honored on November 9, 2018, on Google Doodle as the figure who led a resurgence of Native American art.
Ruth Aizuss Migdal (BA 1954) was recently awarded an Honorary Doctorate of Humane Letters from the University of Illinois at Chicago.
In Memoriam
Donna Elbert (BFA 1974) was a research assistant to Nobel Prize-winning astrophysicist Subrahmanyan Chandrasekhar at Yerkes Observatory. She coauthored several books with Chandrasekhar, and her calculations were cited in countless scientific journals.
Charles Harrison (BFA 1954) was a celebrated designer and the first Black executive to work for Sears, Roebuck, and Co. He was credited with revamping the iconic View- Master among numerous other product improvements. In 2008, Harrison became the first African American to receive the Cooper Hewitt Smithsonian Design Museum's Lifetime Achievement National Design Award. Between 2016 and 2017, New York City's Museum of Modern Art added Harrison's 1959 View-Master to its collection. His work was recently on display as part of African American Designers in Chicago: Art, Commerce, and the Politics of Race at the Chicago Cultural Center.
William "Bill" Talsma (BFA 1996) was a musician and artist most known for his work in Lucky Pierre, a Chicago- based collaborative group. A gifted drummer, bassist, and guitarist, he played in various bands and was the senior art director at Leapfrog Online.
Terry Dixon (MFA 1995)
Frances Gander (MFA 1978)
Joyce Karamas (BA 1951)
Ruth Lewis (MA 1992)
John Steve Mancini (MFA 1994)
Patrick O'Hara (BFA 1992)
Judith Roth (SAIC 1961)
Marie Salwonchik (BA 1952, MA 1960)
Don Rodney Washington (BFA 2019)