2010s
Selva Aparicio (BFA 2015) was part of the two-person exhibition Open Mind at Crush Curatorial in New York.
Maria Beniaris' (BFA 2018) garments were included in Paper magazine's article, "How Deconstructing Fashion Is a Radical Queer Act."
Dave Bermingham's (MDes 2016) first solo show at Alpha Gallery was reviewed in Big Red and Shiny.
Shenequa Brooks (MDes 2017) was named the inaugural National YoungArts Fellow in Miami.
María Gabriela Burbano Tobar (BFA 2016, Post-Bac 2017), Michelle Carrasquilla (MFA 2017), Scott Easson (MFA 2017), and Patricia Rain Gianneschi (MA 2004, MFA 2017) were selected to participate in the National Wet Paint MFA Biennial, held in Chicago.
Richard Casper (BFA 2012) and his nonprofit organization CreatiVets were featured in Time.
Adam Chau (MDes 2013) received a 2018 Emerging Artist Award from the National Council on Education for the Ceramic Arts.
Hyegyeong Choi (Post-Bac 2013, MFA 2016), Darryl Terrell (MFA 2017), Orkideh Torabi (Post-Bac 2014, MFA 2017), and Gwendolyn Zabicki (BFA 2005) were in the group exhibition What Have You Got To Lose? at Slow Gallery in Chicago.
Sara Clugage (MA 2011), Christopher Lin (Post-Bac 2012), Alisha Wessler (BFA 2006), and Sarah Williams (Post–Bac 2012, MFA 2014) were part of the group exhibition Asterisms at the Hercules Art Studio Program.
Patty Yumi Cottrell (MFA 2012) was awarded a 2018 Whiting Award for her novel Sorry to Disrupt the Peace.
Matty Davis' (MFA 2016) dance project Boomerang performed a series of solo and duet works in association with the exhibition Rodin: Sculpture and Storyteller at the Art Institute of Chicago.
Alexandria Eregbu (BFA 2013) performed Untitled, (After Ralph and Louie) at the Museum of Contemporary Art Chicago.
Juan García Mosqueda (BFA 2011) curated the exhibition No-Thing at Friedman Benda in New York.
Katya Grokhovsky (MFA 2011) was appointed to the College Art Association Committee on Women in the Arts for the term 2018–21.
Magalie Guérin (MFA 2011), David Hartt (MFA 1994), Samantha Hill (MFA 2010), and Larry Janiak (SAIC 1956–58) exhibited work with Corbett vs. Dempsey at Art Basel Miami Beach.
Justus Harris (BA 2013) was named a 2018 Citizen Artist Fellow by the Kennedy Center. He was also featured in the Chicago Sun Times, discussing his work and the fellowship.
Benjamin Larose (MDes 2016) had a solo exhibition called Dot your i's with hearts at the Chicago Artist Coalition (CAC) where he was a BOLT Artist-in-Residence and was selected to present in CAC's EXPO CHICAGO booth this fall.
Melissa Leandro (BFA 2012, MFA 2017), Sherwin Ovid (BFA 2007), Ruby Thorkelson (MFA 2016), Darryl Terrell (MFA 2017), and Marcela Torres (MFA 2017) were included on Newcity's list of "Breakout Artists 2018."
Nick Mahshie (MDes 2017) was featured in the Miami New Times' April edition for his textile design studio, Tranqui Prints Inc.
Yang Mai (MDes 2016) was featured at Clio Art Fair in New York.
Yvette Mayorga (MFA 2016) and Martine Syms (BFA 2007) exhibited in Out of Easy Reach at Gallery 400 in Chicago, curated by Allison M. Glenn (Dual MA 2012).
A.J. McClenon (MFA 2014) and Amina Ross (BFA 2015) participated in Threewalls' In-Session 2018 program for the performative lecture Eclipsing—Migration, Movements and Desire.
Jeffly Gabriela Molina (BFA 2013) had a solo exhibition, Suspiro, at Kavi Gupta Gallery in Chicago.
Anna Orlikowska's (MFA 2016) Shapes was featured in Prospects & Concepts at Art Rotterdam.
Clare Rosean (BFA 2010) had a solo show, Middle West, at Zg Gallery in Chicago.
Justin Rosier (MFA 2018) received an Emerging Critics fellowship from the National Book Critics Circle.
Negin Sharifzadeh (BFA 2010) screened her short film, Inspector Sorrow, at Cube 37 during the Ventana Fiesta celebrating Latin American culture in Frankston, Australia.
Melis Simsek (MArch 2018) and Skye Taylor (MArch 2018) were selected as the French Heritage Society Architect-in-Residence for the fall 2018 session. The residency will take place at the Château de Chambord in Loir-et-Cher, France.
Jenn Smith (MFA 2016) showed work in The Chicago Show in Brooklyn, New York.
Nyugen Smith (MFA 2016) participated in a panel discussion and exhibition, Bordering the Imaginary: Art from the Dominican Republic, Haiti, and their Diasporas, at BRIC Arts Center in April. He also exhibited at Prizm Art Fair during Miami Art Week.
Skyler Sun's (BFA 2018) design was chosen in Rōti Modern Mediterranean's "Food That Loves You Back" design contest.
Olivia Valentine (MFA 2010) gave a visiting artist talk at SAIC's Fiber and Material Studies department about her Fulbright Fellowship for Installation Art in Turkey (2012–13).
Gibran Villalobos (Dual MA 2015) attended National Arts Advocacy Day in Washington, DC, as a representative of Arts Alliance Illinois.
Cameron Welch (BFA 2013) had a solo exhibition, RETROGRADE, at Rental Gallery in in East Hampton, New York.
Corianne Wells (BFA 2014) and Kristopher Wright (BFA 2014) were interviewed by 5280 about their return to Denver and the launch of Odessa, their online resource for local artists.
Zhiyuan Yang (MFA 2017) received the A.I.R. Fellowship for 2018–19.
Allison Zuckerman (Post-Bac 2013, MFA 2015) was called a "rising star at this year's Art Basel Miami Beach" in Artnet.
2000s
Brandon Alvendia (BFA 2003), Alex Chitty (MFA 2008), Jory Drew (BFA 2014), Danny Floyd (MA 2013, MFA 2014), Meg Nafziger (BFA 2006), Sherwin Ovid (BFA 2007), Josh Rios (MA 2013), and Allison Yasukawa (BFA 2007) were in a group exhibition, Heaven Is a Place, at Heaven Gallery in Chicago.
Amy Babinec (BFA 2005) had a solo exhibition, Golden Rule, at Riverside Arts Center's FlexSpace in Riverside, Illinois.
Melika Bass' (MFA 2007) Creature Companion garnered a special mention award at its premiere at the International Short Film Festival Oberhausen.
Maura Brewer (BFA 2006) and Abigail Glaum-Lathbury (BFA 2006) were highlighted in a recent article by the Paris Review for their subversive "counter-fashion" project JUMPSUIT.
Steven L. Bridges (Dual MA 2009) was recently promoted to associate curator at the Eli and Edythe Broad Art Museum at Michigan State University.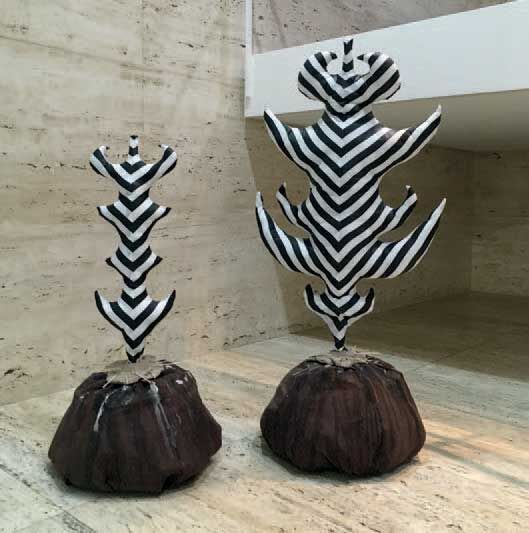 Tania Bruguera (MFA 2001, HON 2016) was selected to create the 2018 Hyundai commission for Tate Modern's 2018 Turbine Hall, which will open in October.
Elijah Burgher (MFA 2004) and Derrick Woods-Morrow (MFA 2016) had work in Love the Giver, a solo project by Dutes Miller at Edra Soto's (MFA 2000) artist-run outdoor space THE FRANKLIN.
Justin Cooper (MFA 2005) exhibited several lamps from his Garden Hose series with CasaCor Miami during Miami Art Week.
D. Denenge Duyst-Akpem (MFA 2004) created a site-specific interactive sound installation, Corpus Meum and participated in the panel "PLATFORMS: Architecture & Sound" at the Chicago Arts Club.
Jen Durbin's (BFA 2000) 90 moves in nine seconds (Jackie)was reviewed in the April issue of Sculpture Magazine.
Sabba S. Elahi (MFA 2006), Oscar Gonzalez Diaz (BFA 2014, MFA 2017), Samantha Hill (MFA 2010), Antonio Francisco Lopez (BFA 2017), and Mev Luna (MFA 2017) exhibited in CHICAGO 9 at Prizm Art Fair during Miami Art Week, curated by william cordova (BFA 1996).
Megan Euker (BFA 2005, MFA 2007) had an exhibition, Bodies, Ghosts, and Shadows, at Linda Warren Projects in Chicago.
Daniel Everett's (MFA 2009) photographs were profiled on Co. Design.
Sean Fader (MFA 2008) accepted a position as professor of practice at Tulane University in New Orleans.
Emil Ferris' (BFA 2008, MFA 2010) graphic novel My Favorite Thing is Monsters was included on the New York Times' "Critics' Top Books of 2017" and on the A.V. Club's list of "Best of 2017 Comics."
Gabriel Fowler (MFA 2002) and his comic book shop Desert Island were featured in the New York Times' "Neighborhood Joint" section.
Amanda Freund (BFA 2004) opened a new studio and gallery space, Amanda Evanston Freund Studio and Gallery, in Evanston, Illinois.
Newcity's 2018 "Design 50" issue recognized more than 20 members of the SAIC community as leading voices in Chicago design, including the designers taking part in the Dimensions of Citizenship exhibition at the 2018 Venice Architecture Biennale. SAIC alumni included on the list were exhibitors Jeanne Gang (HON 2013), Andres L. Hernandez (MA 2004), and curatorial advisor Theaster Gates (HON 2014). The cover story was written by Newcity Design Editor Vasia Rigou (MA 2015).
Andres L. Hernandez (MA 2004) and Norman Teague (MFA 2016) were featured in the March/April issue of Chicago Architect magazine for their contributions to the design and creation of the Obama Presidential Center.
Andrew Holmquist (BFA 2008, MFA 2014) had a solo exhibition, ALTER EGO, at Carrie Secrist Gallery.
Sung Jang (BFA 2000) was featured in Newcity's "Designed Objects Issue."
Rashid Johnson (SAIC 2003–04, HON 2018) began shooting his debut directorial film in Chicago in April. He also received an honorary doctorate at SAIC's Commencement Ceremony, along with alum Teresa Burga (MFA 1970, HON 2018).
Jason Karolak (MFA 2006) curated the exhibition Primary at the Korn Gallery at the Dorothy Young Center for the Arts at Drew University in Madison, New Jersey.
Nazafarin Lotfi (Post-Bac 2009, MFA 2011) had a solo exhibition, Negative Capability, at Regards Gallery in Chicago.
Matthew Lusk (SAIC 1998–2000) had an exhibition, No Room for Improvement, at Capsule Gallery in New York.
Eileen Jeng Lynch (MA 2008) was appointed curator of visual arts at Wave Hill Cultural Center in New York.
Charlie Masson (BFA 2009) assisted in developing La Vallonea, an artist-in-residence program in Capalbio, Italy, as the program's founding artistic director.
Liz Nielsen (BFA 2002) and Carolina Wheat-Nielsen (MFA 2009) were married on September 3, 2017, at the Knockdown Center in Queens, New York. Murray McKay (MFA 2000) officiated the ceremony.
Nicholas O'Brien's (BFA 2007) solo exhibition Treatment: The Plan for Rainwas at Knockdown Center in Maspeth, New York
Stephanie Pereira (MA 2005) was announced as the New Museum's director of NEW INC, its art and tech incubator.
Cheryl Pope (BFA 2003, MDes 2010) had a solo show, Willed Amnesia, at VOLTA NY contemporary art fair.
Elise Rasmussen (MFA 2007) was part of the exhibition With an instinct for justice at Doris McCarthy Gallery in Toronto and Blue State at Night Gallery in Los Angeles.
Britany Salsbury (MA 2007) was named associate curator of prints and drawings at the Cleveland Museum of Art.
Lisa Slominski (BA 2003) wrote an extensive article for Artsy on centers helping artists with disabilities break into the art market.
Kim Stringfellow (MFA 2000) received an honorary doctorate from Claremont Graduate University.
Karen Tam (MFA 2002) presented at the British Museum and Royal Anthropological Institute's conference "Art, Materiality, and Representation" as well as at the Global Asia/Pacific Art Exchange in London.
Ni'Ja Whitson (MFA 2007) received a 2018 Map Grant.
1990s
Michael C. Andrews (BFA 1999), Helen Maurene Cooper (MFA 2007), Meg Duguid (BFA 1999), and Jeroen Nelemans (MFA 2007) had work featured in Body Switchers at Satellite Art Show during Miami Art Week.
Petra Bachmaier (BFA 1999) and Sean Gallero (SAIC 1993–98) of Luftwerk created an installation, Art of the Wild: Eden Genesis, for Perrier-Jouët at Design Miami.
Sanford Biggers' (MFA 1999) Ooo Oui was acquired by the Museum of Arts and Design (MAD) in New York and was on display in MAD's exhibition Surface Depth: The Decorative Art of Miriam Schapiro.
Nyame Brown (BFA 1993), Yanira Collado (SAIC 1994–96), Luis Gispert (BFA 1995), and Arthur Polendo (Post-Bac 1996, MFA 1998) had their work featured in the transphysics we knew about . . . at Prizm Art Fair during Miami Art Week, curated by william cordova (BFA 1996).
william cordova's (BFA 1996) solo exhibition william cordova now's the time: narrative of southern alchemy opened in April at the Pérez Art Museum in Miami. He was also featured in an interview in Legacy Arts magazine, issue 14.
Luis Gispert (BFA 1995), Jacob Hashimoto (BFA 1996), and Jackie Saccoccio (MFA 1988) exhibited work with Rhona Hoffman Gallery at Art Basel Miami Beach.
Jessica Jackson Hutchins' (Post-Bac 1997, MFA 1999) new solo exhibition, The People's Cries, at Marianne Boesky Gallery in New York was highlighted in Frieze.
Laura Kina (BFA 1994) had work in Then and Now, an exhibition at the Asian Arts Initiative in Philadelphia.
Raha Raissnia's (BFA 1992) exhibition Alluvius was on display at the Drawing Center in New York City.
kate-hers RHEE (BFA 1999) had a solo exhibition, I like Korea and Korea Likes Me, at Gallery damdam in Berlin.
Rachel Selekman (MFA 1993) had an exhibition, Rock Paper Scissors, at the Plaxall Gallery in Long Island City, New York.
Stephen Winter (BFA 1991) was commissioned to create a music video for the song "Bad Friend" by the band Cheese on Bread.
1980s
Nancy Bechtol (MFA 1984) exhibited a selection of her photographs from the Women's March to the Polls in Chicago at Lost Artists Colony in Chicago.
Tom Buechele (BFA 1989, MFA 2017) was profiled in American Builders Quarterly for his work renovating SAIC's Columbus Drive Building.
Peggy Latiker Franklin (BFA 1986) had two pieces of art on display at the Museum of Science and Industry as a part of the Black Creativity exhibit.
Adele Friedman (MFA 1980) had a solo exhibition at Chicago Filmmakers in April.
Ellen Holtzblatt (BFA 1983) had a solo exhibition, As a Passing Day: Land and Light, at Fermilab Gallery in Batavia, Illinois.
Connie Noyes (MFA 1980) collaborated on a visual sound installation, Untied/United, at the Governors Island Building in New York.
Helen O'Leary (BFA 1988, MFA 1989) was announced as a recipient of the prestigious American Academy Rome Prize in Visual Arts for 2018–19.
Sam Prekop (SAIC 1984–86), guitarist and singer for the Chicago-native band The Sea and Cake, was interviewed on WBEZ's Morning Shift.
Dread Scott's (BFA 1989) Kickstarter campaign to fund a reenactment of the 1811 Louisiana slave rebellion was featured in Artforum and W magazine.
1970s
Elizabeth Atlas (MFA 1979) and Jeanne Tremel (MFA 1992) were in The BIG Small Show at Drawing Rooms in Jersey City, New Jersey.
Nancy Bowen (BFA 1978) and Jennie C. Jones (BFA 1991) were announced as recipients of the Anonymous Was A Woman Award, which provides winners with an unrestricted grant of $25,000 to enable women artists.
Mark Piucci (BFA 1977) was featured on a podcast for Arizona artists, The Arty Owl Show.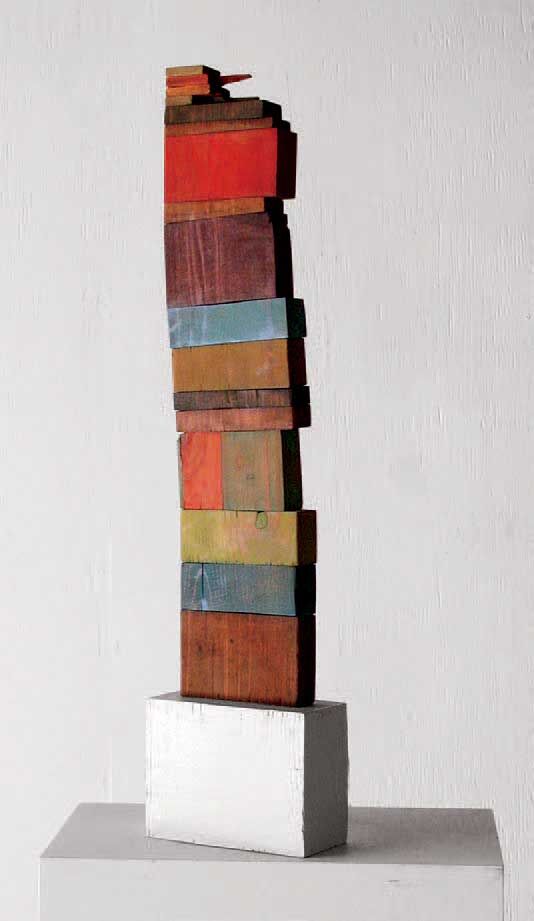 1960s
Sheila Elias (SAIC 1967–69) had a solo exhibition, Painted Pixels, at the University of Miami's Lowe Art Museum.
1950s
Robert Barnes (BFA 1956), Ethan Gill (MFA 2014), David Leggett (Post- Bac 2005), Cheryl Pope (BFA 2003, MDes 2010), Jacqueline Surdell (MFA 2017), and Karl Wirsum (BFA 1962, HON 2016) were part of the group exhibition, Hand-Eye Coordination: Sports and Art, at Western Exhibitions, curated by Abraham Ritchie (MA 2011).
Hyperallergic profiled Irving Petlin (BFA 1956) and his solo exhibition, A Tribute to Irving Petlin, at the National Arts Club in New York City.
Jim Zver's (BFA 1957) sculpture Nova Via #29 is currently being used on the set of ABC's political thriller Scandal. Nova Via #29 is also being used alongside Zver's sculpture Near Sunset #10 on the set of the Fox's comedy sitcom The Mick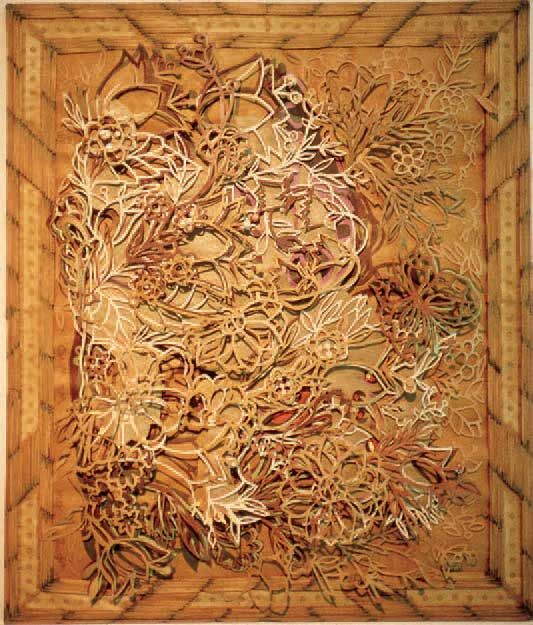 In Memoriam
Alice Shaddle Baum (BFA 1954, MFA 1972) taught children's painting and drawing at the Hyde Park Art Center for more than 50 years and was former chair and founding member of Artemisia Gallery. Her work has been exhibited at numerous venues, including the Art Institute of Chicago and the Smithsonian Institution.
Marc DeBose (BFA 1996) decided to serve the community that he loved by becoming a Chicago police officer after earning his bachelor and master of fine arts. His recent work explored his identity as a Black man and police officer and examined urban housing and the environment. DeBose will be remembered for his remarkable work ethic, his positive attitude, the gratitude he exhibited, his active service to the community he loved, and most of all for the respect he gave to people of all socioeconomic classes.
Robert Indiana's (BFA 1954) best known image is the word Love, in uppercase letters, arranged in a square with a tilted letter "O," which first appeared in poems written in 1958, followed by an image created for a Museum of Modern Art Christmas card in 1964, and in an eight-cent US Postal Service stamp in 1973. Indiana's works are in the permanent collections of many museums, including the Museum of Modern Art, the Whitney Museum of American Art, the Metropolitan Museum of Art, Stedelijk Museum, McNay Art Museum, Detroit Institute of Art, and the Institute of Contemporary Art.
Robert Towns (BFA 1998) was an artist, graphic designer, caricaturist, muralist, and educator. With his brothers, artists John and Darnell, he created and performed in Sketch N' Tyme, a creative platform showcasing the fundamental value of art in reading and learning. Towns' work has been featured in newspapers, galleries, and in private institutions.
If you would like to be included in Class Notes, send your professional or personal accomplishments such as exhibitions, publications, lectures, new additions to your family, or marriages to alumni@saic.edu. Use the hashtag #SAICalumni on public posts in your own social media channels to be featured on saic.edu/alumni.