1950s
Robert Indiana's (BFA 1954) Year of Meteors was featured in an article in the Wall Street Journal published on January 15.
Joe Sedelmaier (BFA 1955) was inducted into the Advertising Hall of Fame on April 11.
1970s
Laurie Fendrich (MFA 1978) was named a 2016 Guggenheim Fellow.
Diane Simpson (BFA 1971, MFA 1978) returned to SAIC on April 5 to give a lecture as part of the Visiting Artists Program's Distinguished Alumni Lecture Series.
Robert Storr (MFA 1978) was named a 2016 Guggenheim Fellow.
1980s
Henry O'Toole (MFA 1989) was named a 2016 Guggenheim Fellow.
Morgan Puett (BFA 1981, MFA 1984) was named a 2016 Guggenheim Fellow.
Dread Scott (BFA 1989) returned to SAIC on February 15 to give a lecture discussing "issues of race, incarceration, war, government, repression, and revolution."
1990s
Michael Ashkin (MFA 1993) exhibited his photography series Dismal Dreaming at Cathouse Proper in New York on April 22.
Charles Irvin (MFA 1997) was the subject of an article published May 5 from the special series "City of the Seekers" on The Creators Project.
James Marshall (BFA 1995), who paints under the name "Dalek," was the subject of a Crave profile published June 6.
Kori Newkirk (BFA 1993) was interviewed by the Los Angeles Times in an article printed on January 11.
Amanda Ross-Ho (BFA 1998) was featured in ARTnews on April 22, where her work was described as "deconstruction and a careful examination of myriad complexities."
2000s
Sebastian Alvarez (BFA 2009; MFA 2011), Yoni Goldstein (MFA 2009), and Meredith Zielke (MFA 2010) were the recipients of a Graham Foundation grant to create their documentary film A Machine to Live In.
Héctor Arce-Espasas (BFA 2005) ran his solo exhibition Bread and Circuses at Taymour Grahne Gallery in New York.
Joseph Belknap (MFA 2009) and Sarah Belknap (MFA 2010) this spring opened their exhibition, Slow Stretch, along with Eileen Rae Walsh at the Pilsen-based Mana Contemporary Chicago. The show was organized by Third Object, a curatorial collective consisting of Raven Falquez Munsell (Dual MA 2014) and Gan Uyeda (Dual MA 2014).
The Guardian profiled SAIC alum Maura Brewer (BFA 2006) on June 2. The article featured Brewer's artist collective, the Rational Dress Society, which includes Fashion, Body and Garment faculty member Abigail Glaum-Lathbury (BFA 2006), and their current project JUMPSUIT.
Tania Bruguera (MFA 2001, HON 2016) spoke to Public Radio International in March about President Obama's visit to Cuba, her detainment by the Cuban government in 2015, and her most recent project—the Institute of Activism—which she is currently funding through a Kickstarter campaign. This May, Bruguera talked about her recent work between arts and activism as SAIC's 2016 Commencement Speaker.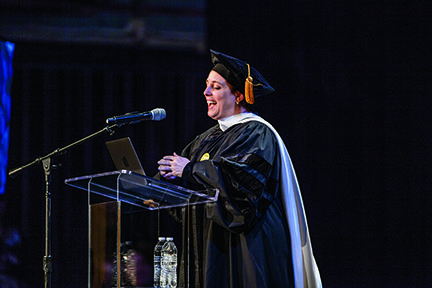 Paul Catanese's (MFA 2000) residency and exhibition, Visible From Space (2009–present), opened at the Chicago Cultural Center on July 8 and runs through September 27.
Alicia Chester (BFA 2003, MA 2010) was awarded a Mellon Digital Humanities Fellowship for 2016–18 at the University of Rochester, where she is a PhD student in Visual and Cultural Studies.
Leigh Cox's (BFA 2006) hip-hop illustrations were used throughout comedy duo Keegan-Michael Key and Jordan Peele's film Keanu, which premiered on March 13.
Chelsea Culprit (BFA 2007) and Ben Foch (SAIC 1995–99) received a grant from the Graham Foundation to curate the exhibition Cross-Sections: Four Views of Emerging Artists and Architects in collaboration with other artists.
Jason Foumberg (MFA 2006) published a piece in Chicago Magazine on April 6 about SAIC's Institute of Failure course. Foumberg also highlights the ways that SAIC alumni reimagine this coursework in their own teaching practices.
Sheree Hovsepian (MFA 2002) was featured in the Creators Project on June 6.
Athanasia Kyriakakos (MFA 2000) was named Baltimore City Schools 2016 Teacher of the Year.
Isaac Leung (BFA 2002) was featured in a Q&A with Time Out Hong Kong published March 25.
Margaret Overton (MFA 2002) and her second memoir Hope for a Cool Pillow were profiled in the Chicago Tribune on March 3.
Jaye Rhee's (MFA 2003) exhibition Making is Thinking is Making: la Corea a Milano ran at Triennale di Milano from April through September.
Julia Rhoads (MFA 2004) is the founder and Artistic Director of Lucky Plush Productions. Lucky Plush won the 2016 MacArthur Award for Creative and Effective Institutions, a $200,000 grant that positions organizations for long-term growth.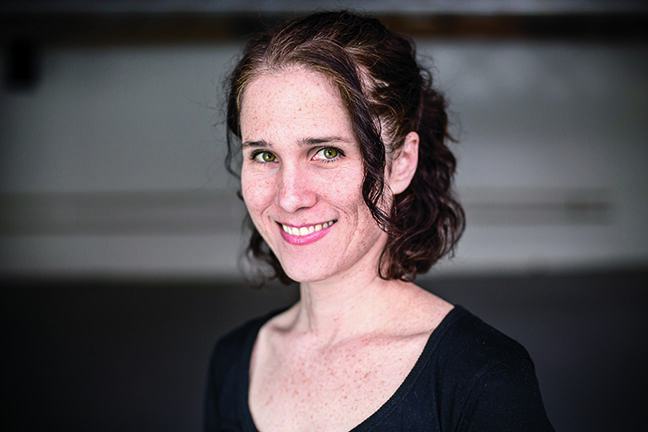 Abigail Satinsky (MA 2009) received the 2016 Art Journal Award for her text Movement Building for Beginners published in Art Journal last fall.
Ben Skinner (MFA 2003) was profiled in Crave, an online publication for men, on June 27.
Martine Syms's (BFA 2007) video piece She Mad: Laughing Gas was a part of the Hammer Museum's third biennial titled Made in L.A. Syms was also featured in Interview Magazine's "the 16 Faces of 2016."
Karen Tam (MFA 2002) was one of five finalists nominated on March 22 for the prestigious Contemporary Art Award offered by the Musée national des beaux-arts du Québec.
Garland Martin Taylor's (BA 2005, MA 2007) Conversation Piece was displayed in the Black Creativity Juried Art Exhibition at the Museum of Science and Industry in February.
Scheherazade Tillet (MA 2005) was named as SAIC's first Artist-in-Residence at Homan Square. As part of her residency, she produced the traveling exhibition Black Girlhood, which began at Columbia University in New York City in April and will end in Chicago in 2017.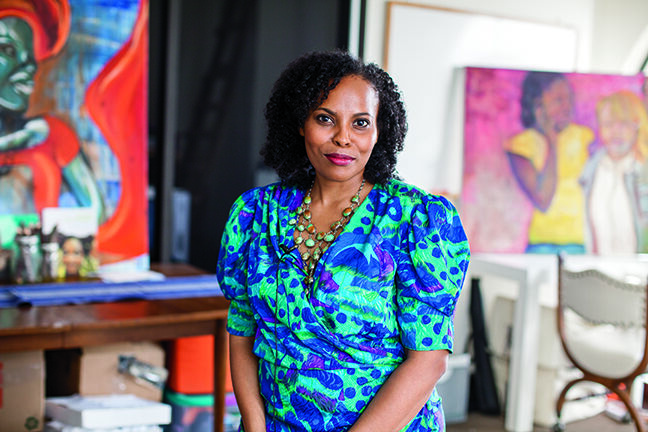 Wu Tsang (BFA 2004) was named a 2016 Guggenheim Fellow.
Sebastian Vallejo (MFA 2009) had his first solo museum exhibition Paramnesia at the Museo del Antiguo Arsenal de la Marina Española in San Juan, Puerto Rico.
Saya Woolfalk (MFA 2004) sat down with the Huffington Post for a Q&A interview published on June 10.
2010s
David Alekhuogie (BFA 2013) discussed his BOLT artist residency at the Chicago Artist Coalition and his solo exhibition A Thin Blue Line in an interview with Time Out magazine, published February 9.
Ben Thorp Brown (MFA 2012) received one of Creative Capital's $50,000 direct funding awards for Performing Arts.
Rashayla Marie Brown (BFA 2013) and South Side Community Art Center's (SSCAC) Executive Director Masequa Myers cocurated Shared History, an exhibition celebrating the shared past and collaborations between SSCAC and SAIC. The exhibition, which was open to the public from April 22 through June 19, displayed work by SAIC alumni and students at the historic center.
Paula Crown's (MFA 2012) April exhibition at the Goss- Michael Foundation was the subject of an article in the April 7 Dallas Morning News.
Anastasia Douka (MFA 2013) was selected by the Fondation d'entreprise Hermès for its residency program this summer at the John Lobb workshop in Northampton, England. This prestigious program supports artists through direct funding for the production of new works.
Ilan Gutin (MFA 2014) participated in the three-person show There Was No Joy in the Brilliance of Sunshine at Efrain Lopen Gallery on May 27.
David Harper's (MFA 2011) solo exhibition My Own Personal Ghost was on view at the John Michael Kohler Art Center in Sheboygan this summer.
Josh Reames (MFA 2012) collaborated with SAIC Associate Professor José Lerma on He Hath Founded It Upon the Seas, an exhibition of two large-scale paintings at Los Angeles' Luis De Jesus Gallery on January 30.
Anthony Romero (MFA 2011) was awarded a MAP Fund grant in collaboration with Mexico City-based dance company Teatro Línea de Sombra (TLS).
Michal Lynn Shumate's (MA 2016) article "Color as Concept: from International Klein Blue to Viktor & Rolf's 'Bluescreen'" is forthcoming in the book Colors in Fashion (Bloomsbury Academic, 2016).
Tina Tahir (MA 2015) was selected for the New Materiality artist-in-residence program at the Banff Centre (BAiR) in Canada.
Norman Teague (MFA 2016) was included in the Chicago Architecture Foundation's exhibition 50 Designers, 50 Ideas, 50 Wards.