Expert Advice from Erin Toale (Dual MA 2013)
by Ana Sekler (MA 2016)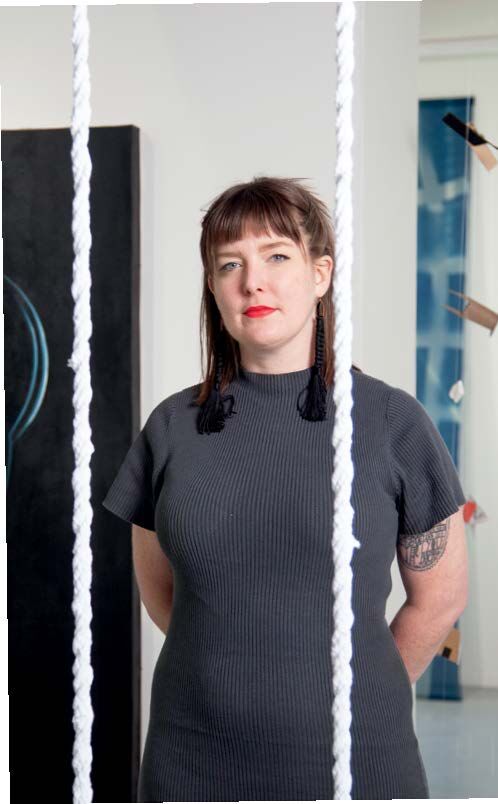 Expert Exchange, hosted by SAIC's Career and Professional Experience (CAPX) office, gives students a chance to engage individually with alums, creative professionals, and Chicago business leaders to gain industry insight and career advice. Erin Toale (Dual MA 2013) is a curator, writer, arts administrator, and artist who works to make contemporary art accessible to all audiences. She was the guest curator for the Hyde Park Art Center's Center Program, organizing The Art of Being Dangerous—an exhibition focused on Chicago artists who take risks and push boundaries. This is an excerpt from our conversation with her.
What did you study at SAIC?
I studied Art History, Theory, and Criticism and Arts Administration and Policy in the dual MA program. I had been organizing shows in Philadelphia and Seattle, and I decided I really wanted to take the next step with my writing and communications development to qualify me to work in museums and arts organizations.
Which skills are most necessary for arts professionals?
Writing in different contexts. I wrote and still write for Newcity, which is great because it's short-form pop culture versus writing a master's thesis in art history, another skill set that has served me in different ways. Writing is a muscle. You have to develop it, and you have to keep going to the writing gym, or it will atrophy.
Describe your latest curatorial project.
The Art of Being Dangerous was a unique show in that the artists were preselected by the Center Program, and then I organized the show. Normally a curator selects specific artists and creates the exhibition based on their work. It was a great challenge to work with 19 different artists. Over the course of six months, we spent a lot of time together as a group, and that's really where the show congealed—where the ideas came together and where our value systems and what we prioritize as makers started to align.
What is important about the work you do?
To work in the arts, to be given a voice, to be given a platform is a great gift. I value relationships, civic engagement, and social progress. I try to work with people regardless of age, gender, ability, sexual orientation. I choose to lift up and give voice and platform to queer artists, women, and people of color.
What advice can you give to aspiring curators?
Show up on time. Prepare. Don't have a narrow vision of what success can look like. Don't discount the smaller organizations and the work that they do. You get to do a lot more at the smaller places, not just for yourself, but for the artists you're working with.