Birds of a Feather Brew Together
Image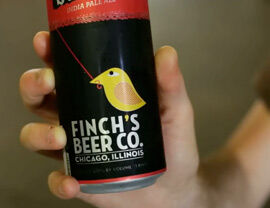 by Jeremy Ohmes

Scroll down for Richard Grant's Meat Helmet Hamburgers recipe.

So, a sculptor and a photographer start a brewery… 
What sounds like a bad joke is actually a story about two SAIC alumni who took circuitous paths to launching a successful business. Ben Finch (BFA 2002) and Richard Grant (BFA 2001) co-own and operate Finch's Beer Co., a craft brewery that concocts its microbrews in an unmarked, nondescript warehouse on Chicago's Northwest Side. As the creative director and head brewer respectively, neither Finch nor Grant knew each other while attending the School, but their mutual passion for craft beer and art brought them together almost a decade after graduating from SAIC.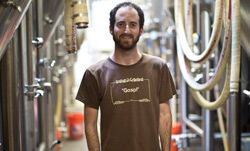 Grant began brewing while he was a photography student at SAIC. Tasked to come up with a project for a conceptual photography class, he decided to learn how to home-brew. 
"The idea was, what can I do that's not necessarily photography but still related to art and science?" He said.
Standing in front of a 930-gallon, stainless steel fermenter (one of fourteen at Finch's), the head brewer explains how he bought the basic equipment for his home-brewing project to make beer he "forced upon professors and friends." That led to buying more equipment, then taking classes, brewing professionally, winning awards, and eventually co-founding his own brewery.
That leap from photography to brewing is not as far-fetched as some might think. Holding up a can of Finch's Cut Throat Pale Ale, Grant talks about the connection between brewing a new beer and developing a photograph.
"Every time I fill a kettle, it may be of liquid, but it's a recipe, similar to making a photograph," He says. "If I don't expose the picture correctly, it turns out wrong. If I don't blend the ingredients correctly, you won't want to drink it. I see it as the art form of blending elements. Here I have to make sure the taste is right. It's not visuals, but actual taste."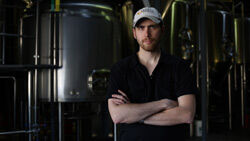 The visuals are left to Grant's business partner, Ben Finch. As the creative director and brand ambassador for his eponymous brewery, Finch similarly ended up in the beer business in an unconventional way. The Virginia native enrolled in SAIC as a sculpture student with an enthusiasm for hands-on, tactile artmaking. But after taking an Intro to Visual Communication course in SAIC's First Year Program, Finch fell in love with design. "VisCom is more technical, but I felt like it was an area where there are rules and regulations," he says. "I wanted to operate within that realm a little more." As he progressed with his Visual Communication studies, Finch started to carry graphic design and web design clients. Soon he cofounded his own design firm, the Killswitch Collective, which went from a three-person start-up to a thirty-five person company—with a client list including Disney and Comedy Central. 

After eight years, Finch decided that he wanted to develop his own product in order to combine his creative background with his love of craft beer. "Finch's is taking me to my roots with sculpture, creating the one tactile product," he says, ambling past pallets full of shiny, empty beer cans branded with the company's signature songbird. "Now I'm able to focus on something that has my name on it, that I've branded, and that doesn't leave until I'm 100 percent happy with it. At Killswitch, I solved everybody else's problems, and at Finch's, I solve my own."
Now Finch's has become part of Chicago's micro-brew renaissance, sold in bars and businesses across the city and expanding into eight states. As the company has grown—shipping out 10,000 barrels per year—the co-owners have also kept in mind their artistic roots, tapping into the local artist community for label art and packaging ideas. Each label for their 22-ounce specialty bottles features a different artist or designer. They've converted their brewery into an art gallery to benefit the local, independent screenprinting studio FugScreens. And, in what has been their most prominent collaboration to date, Finch's worked with Threadless, the Chicago-based T-shirt company whose designs are created and chosen by an online community.
Finch's initially brewed a special India Pale Ale for Threadless to serve at events. "It was supposed to be one and done, but we ended up doing a can," Finch says. "We actually crowdsourced the can design like Threadless crowdsources their T-shirt designs." Now the Threadless IPA—cobranded with a simple, bold finch unraveling a red thread—is Finch's most popular beer. 

Art, design, sculpture, photography, and beer—these seemingly unrelated concepts meld perfectly in the hop-tinged world of Finch's Beer Co. These two SAIC alumni have understood that from the get-go. And they hope their fans do too.
"The beer is our art in a way," says Finch. "It's a collaborative art project each time we make a beer."


Richard Grant's Meat Helmet Hamburgers

6–7 pounds of ground beef
4 eggs 
1 Tbsp Worcestershire sauce 
5 oz. Canadian steak seasoning
1/2 bag of croutons, beaten and crushed
1 oz. garlic powder
8–16 oz. can of Finch's Golden Wing Blonde Ale
salt and pepper to taste

Makes approx. 26 patties
Recipe can be scaled for smaller appetites.