Image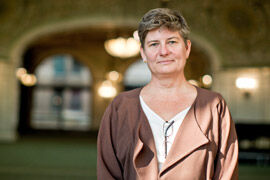 by Jeremy Ohmes
Barbara Koenen (Post-Bac 1986, MFA 1989) often introduces herself as "an artist and a bureaucrat." But a more apt title might be "the artist's artist." Working in, around, and outside of civic agencies, Koenen has dedicated her entire career to supporting and advocating for artists and finding or creating opportunities for arts programming.
Her résumé reads like a guide to building a cultural capital:
• Works for Chicago's Department of Cultural Affairs and Special Events, originally in public art programming and then in cultural planning
• Founded and directs the Chicago Artists Resource (CAR) website, which gives artists the tools and resources they need to develop their careers, their spaces, solve legal issues, and connect with other artists and opportunities
• Started the Creative Chicago Expo, an annual exposition that offers workshops, professional development activities, and services for artists in all disciplines
• Created the At Work Forums, a series which focuses on issues of interest and concern for artists, dancers, performers, musicians, and creatives
• Helped develop the artists' housing project, Switching Station Artist Lofts in East Garfield Park
• Serves on numerous arts advisory boards as well as maintains her own successful art practice
• Coordinates the annual Chicago Artists Month
Originally from Milwaukee, Koenen moved to Chicago to pursue a post-baccalaureate certificate and then a master's degree at SAIC. The school's supportive community and interdisciplinary freedom appealed to her desire to work in different media with diverse materials; however, SAIC's location was the real draw.
Standing in the ornately patterned hall of the Chicago Cultural Center, where she works, with Millennium Park in the background, Koenen talks about the city's lure. "Chicago has a lot of potential and it's also very approachable," she says. "There's space, room to experiment, and need…there's a lot that needs to happen."

That need is what led her to work for the City of Chicago and to seek out ways to create dialogue, collaboration, and resources for local artists. She says, "I was interested in seeing how the city could support artists and the art community, and how artists could impact the city."
Chicago Artists Month (CAM) is a new platform for Koenen to develop the relationship between city and artist. Occurring every October and now in its 17th year, the month-long celebration of visual arts and artists is an invitation from the city to art collectives, galleries, museums, and other organizations to propose an exhibit or event that features Chicago artists and reflects a chosen theme. This year the theme is Art Block by Block—showcasing work in neighborhoods across Chicago and highlighting the impact that artists make on every block of the city.

Koenen received more than 250 responses to that call, "an amazing amount of exhibitions, art walks, open studios, workshops, and events," of which 13 were selected to feature along with 19 corresponding artists. The programs reflect the diversity and creativity of the city and are bringing about new collaborations and conversations in each neighborhood.

CAM kicked off with the Bridgeport Block Party in which the Bridgeport Art Center, Zhou B. Art Center, and Co-Prosperity Sphere presented art, music, performances, food trucks, and craft brews to the community. All three of these organizations have been pioneering a wave of creative activity in the South Side neighborhood, and surprisingly, says Koenen, this block party was their first collaboration together.

A little ways north in the eclectic, art-centric Pilsen neighborhood, CAM featured The Installation Experiment, which asked artists to convert seven storefronts along Halsted Street into galleries. Including SAIC alumni Chelsea Culp (BFA 2007) and Ben Foch (1995–99), the invited Chicago-based artists transformed the vacant storefronts into active art spaces with installations like Culp and Foch's spinning totems and performances like Folded Terrain, a collaboration between artists Barbara Cooper, Petra Bachmaier, and the dance theater ensemble, Hedwig Dances.

And on the North Side in the unlikely arts enclave of Albany Park, CAM presented a community-building event courtesy of SAIC alum Regin Igloria's (BFA 1996) bookbinding space, North Branch Projects. Igloria worked with a number of businesses on Lawrence Avenue to collect materials, stories, thoughts, and images about Albany Park. North Branch Projects then brought the community together during a daylong open house where denizens bound handmade books that reflected and celebrated their neighborhood.

These types of programs further illustrate the role of artists as active citizens who contribute to civic dialogue, inspire conversations, and strengthen communities. Behind the scenes, art advocates like Koenen ensure that these opportunities flourish. The self-proclaimed "bureaucrat" says, "No matter if they're working with communities or in their studios…artists are people who look at the world slightly different. They are able to bring together different constituencies, ideas, and impacts and develop a new solution." Of course it helps to have someone as passionate and prudent as Koenen supporting them.