Beautiful/Work: The Campaign for SAIC
Image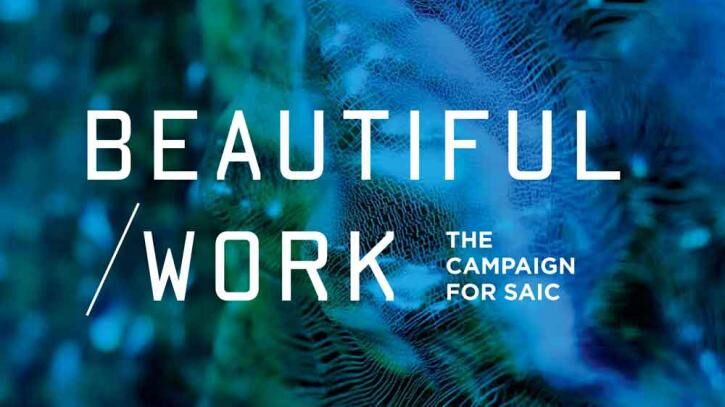 Transform the World
Throughout its more than 150-year history, SAIC's entire community—alumni, parents, faculty, staff, friends, foundations, and corporations—has established a strong tradition of support and giving. This support helps students attend and thrive at SAIC. It expands SAIC's academic reach and influence with new, innovative courses and collaborations. It provides SAIC faculty with opportunities for research and professional development as well as state-of-the-art teaching resources to enable them to stay ahead of the curve in the world of contemporary art and design.
Beautiful/Work: The Campaign for SAIC is a two-year, $50 million fundraising campaign that ensures SAIC attracts the most talented students and faculty, continues to offer innovative and creative programming, and remains a world leader in art and design education throughout the 21st century and beyond. On May 6, 2016, the campaign was launched at SAIC's 150th Anniversary Gala, where more than 400 attendees contributed toward the more than $1.2 million raised for the Walter and Shirley Massey Chicago Scholarship Fund. Read on for an update on the progress of the campaign.
Campaign Update
By the Numbers
Total Raised: $43.5 million
Goal: $50 million
Total Donors: 1,650
Who Gave?
Alumni: $9.6 million
Board Members: $19.5 million
Friends: $10.7 million
Parents: $3.7 million
Giving by Campaign Priority
Student Scholarships and Fellowships: $23.7 million
Faculty Professorships and Awards: $8.9 million
Programs and Departments: $7.3 million
Annual Fund: $3.6 million
Ways to Give
Cash and Securities
Outright gifts of cash and appreciated securities (stocks, bonds, and mutual funds) can easily be donated to fund student scholarships and fellowships, faculty professorships, departments, and programs, all of which support the campaign.
Annual Giving
SAIC's Annual Fund provides students with financial aid, academic programming, facility enhancements, technology acquisitions and upgrades, and many other initiatives crucial to their education.
Planned Giving 
Planned gifts today will sustain SAIC well into the future. From gifts of real estate to proceeds from bequests and trusts, there are many giving options that allow you to give during your lifetime and beyond.
1866 Founder's Circle
The 1866 Founder's Circle honors SAIC friends and alumni who have generously included the School in their estate plans.
Learn more at campaign.saic.edu.