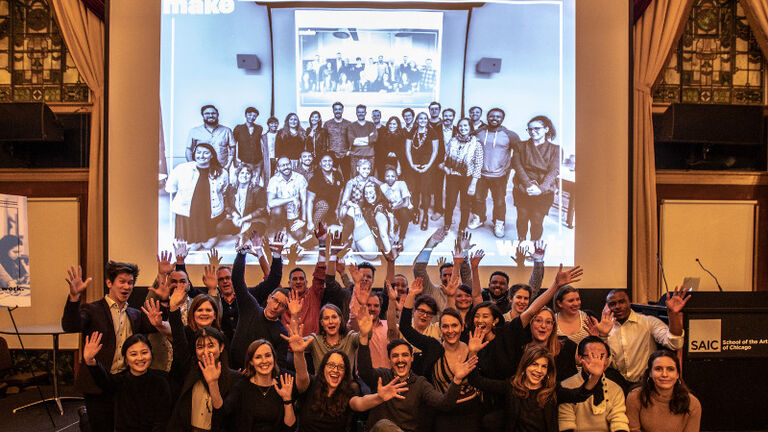 2018 MakeWork Challenge Winners Announced
The 2018 MakeWork Challenge winners have been announced. The annual MakeWork Challenge offers SAIC students and recent alumni an opportunity to present business pitches for a chance at winning up to $10,000 in start-up funding.
This year's winners are: McCoy Crawford (BFA 2018) for GRGS, a Chicago record label for Chicago artists, Chelsea Traynor (BFA 2015) for Cozy Falls, a line of paper toys and playsets, Nicky Ni (BA 2015) for LITHIUM, a Chicago-based art gallery dedicated to time-based art, Shannon Belock (BFA 2016) for Heart of an Astronaut, a mural business dedicated to creating healthy environments, Heather MacKenzie (MFA 2014) for Turquoise Loom Collective, a collective of fiber artists who work on the Jacquard loom, and Jessica Gorse (BFA 2017) for Fertile Design, a design lab that turns food waste into bioplastics that repair and enrich the soil.
The MakeWork Challenge is an extension of the MakeWork Council, a group of artists, designers, and entrepreneurs at SAIC working to further economic and cultural development in Chicago. To learn more about the MakeWork Council and other opportunities they provide, click here.