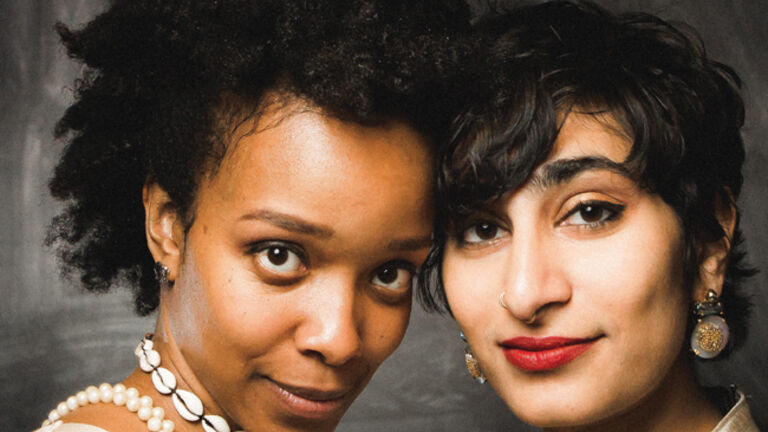 Newcity's Lit 50 issue is out, with several SAIC alumni and faculty members making the list.
Quraysh Ali Lansana, a member of SAIC's Writing faculty, was honored, along with Project Manager Fabiola Ramirez, for his work as artistic director for OMB100, a multi-event celebration commemorating the centenary of famed Chicago poet Gwendolyn Brooks. Daniel Borzutzky (MFA 2000), a lecturer in the School's Liberal Arts program, was praised for his most recent collection of poems, The Performance of Becoming Human, which won the National Book Award in 2016.
Elizabeth Metzger Sampson (MFA 2009) made the list for her work as Executive Director of the Poetry Center of Chicago, whose aim is to spread poetry throughout the city and support its local poet's careers. The Six Points Reading Series, a monthly poetry reading held at different locations around Chicago, is curated by Writing alum Natasha Mijares (MFA 2017).
Rebecca George (MFA 2011), who teaches in the School's Continuing Studies department, shared the the slot with her sister Kimberly; the pair own the Wicker Park bookstore Volumes. Eric Kirsammer (MFA 1986) was also credited for his ownership of two thriving independent stores—Quimby's and Chicago Comics—in a time where mom-and-pops are increasingly declining.
For tireless work as an artist, teacher, and activist, H. Melt (MFA 2014) was honored. The poet, whose debut book The Plural, The Burning was called "magnificent and daring" by American poet laureate Juan Felipe Herrera, works for the Poetry Foundation, Women and Children First, and leads the Queeriosity chapter of Young Chicago Authors.
Caroline Picard (MFA 2010) rounds out the list, and also wears multiple hats: she promotes non-commercial works of contemporary art and literature as Executive Director of Green Lantern Press, and co-directs Sector 2337, a gallery, bar, and bookstore in Logan Square. (She also just released the graphic novel The Chronicles of Fortune.)