Remixing New Possibilities
Sadie Woods' (MFA 2016) artistic practice blends curation, sound, and cultural exchange.
by Denny Mwaura (MA 2021)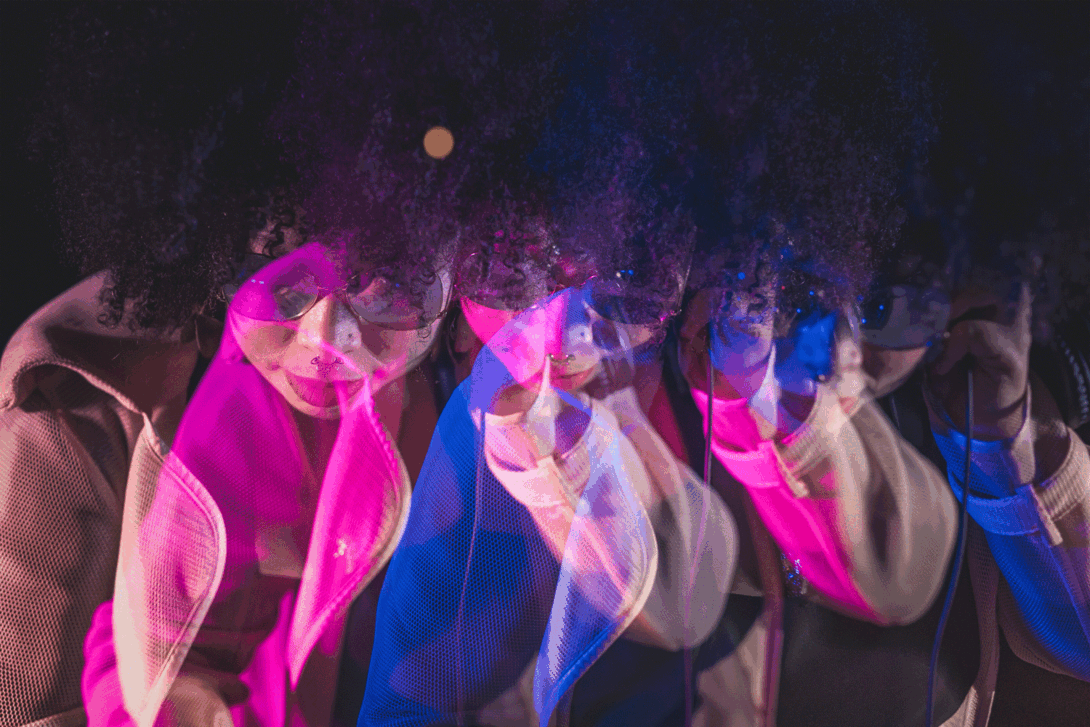 Walking through Chicago's downtown, we encounter a cacophony of sounds. From the screeching vibrations of the train, honking cars, valet whistles to the flapping of pigeon wings, sound dictates how we navigate the world. For Sadie Woods (MFA 2016), a lecturer in the Contemporary Practices department, sound is the medium to remix, transform, and synthesize lived experiences.
At the intersection of social life and the liberating qualities of sound, Woods centers engagement with local and global communities as significant to her practice. In her role as project manager for the Residents Orchestrate Project with the Chicago Sinfonietta, Woods has integrated classical music with existing cultures across the city. "I'm looking for a balance between those things in [Chicago's] neighborhoods," she notes. Since joining the program, laying a foundation for supporting marginalized communities in their training of classical music has been crucial.
Against the forces that hinder people of color from social mobility, Woods posits arts and culture to be forms of liberation. Among the series of events the Orchestrate Program offers are Melodic Lounge, Music Mondays, and Social Seminars. Most notably, in partnership with community partners, Social Seminars provides professional development, civil legal services, and job readiness to residents in Back of the Yards, Garfield Park, North Lawndale, and Austin. In the face of police brutality, immigration, and other systemic issues that these neighborhoods face, Woods informs me that the relevancy of arts and culture allows for the community to see themselves in the work they do.
Artistic engagement within a community is wary terrain and Woods emphasizes the necessity to empower communities based on their needs. She notes on this transactional process of cultural exchange as, "It's not what we want to produce there but really what the people want for programming and being able to co-curate and support that."
The underlying power of sound is its ability to construct and articulate our world. "It makes or breaks an atmosphere and the whole environment. It's something that innately is a part of everything that we do as a sensorial experience," Woods says. Within the arts, the acts of seeing and visual interpretation are widely privileged positions, yet sound ­– which Woods defines as "more abstract" than music – yields unexpected auditory results and reactions. 
This is characterized by her most recent collaboration with Seed Lynn. In November 2019, both artists presented Ghoema: When the Party is a Protest at the Museum of Contemporary Art Chicago. The transmedia project explores cultural exchanges between minstrel performers from America in Cape Town, South Africa. Conceived from her interactions with South African artists and curators, Woods traveled to Cape Town to document Tweede Nuwe Jaar through photo, video, and sound. Translating to "Second New Year," the parade commemorates when slaves in South Africa only had a day off from their masters. "They would get together just to play music and mock their masters. This grew into a larger celebration after emancipation and it became a national event," says Woods. In the upcoming year, the project will be materialized into a transmedia exhibition program.
Curating is another extension of Woods's artistic practice. Currently on view in the Glass Curtain Gallery at Columbia College Chicago is the second iteration of the Petty Biennial, which Woods and La Keisha Leek cofounded. Working with and against the traditional canon of biennials, the Petty Biennial is a curatorial investigation that disrupts respectability in the contemporary art world. The platform enables artists of color to produce work that responds to the intersections of classism, race, gender, and sexuality. Woods notes that curating provides the opportunity to briefly depart from her work and engage with her peers' artistic practice.
At the heart of Woods' commitment to Chicago's communities, intercultural exchanges pave way for endless possibilities in the field of sound.