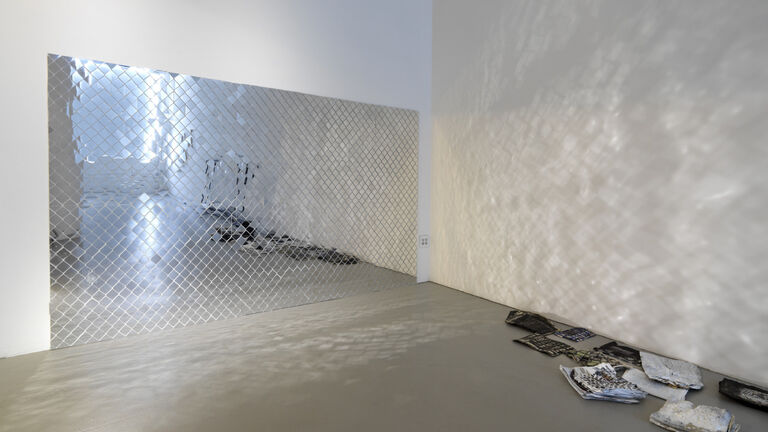 June 2021: Faculty and Staff Accomplishments
Professor and Chair of the Department of Visual Communication Design John Bowers has been selected as a juror of this year's Design Incubation Communication Design Awards.

On June 3, Professor David Getsy is hosting the symposium Lives: Biography and Autobiography in New Writing on American Art with the Terra Foundation.

Professor Michelle Grabner and Professor Diana Guerrero-Maciá were named as 2021 Guggenheim Fellows. Guerrero-Maciá's work is also featured in High Touch at the John Michael Kohler Arts Center. The exhibition will run through March 2022.

Director of Civic Engagement Jaclyn Jacunski's solo exhibition Burning Oneself Out opened at Tiger Strikes Asteroid Chicago at Mana Contemporary.

Professor Eduardo Kac's work is being featured in Print, Fold, Send at the Museum of Modern Art, DAM Projects: Digital Art at Sony Center in Berlin, Holobiont: Life is Other at Magazin 4 in Austria, and BLÜHSTREIFEN: zwischen Traum und Zaun at Kunsthalle Erfurt in Germany. The documentary Inner Telescope, a Space Artwork by Eduardo Kac will also be screened at various upcoming festivals. 

An essay about Associate Professor Adelheid Mers's work, titled "Performative Diagrammatics: An Artistic Exploration of the Relation Between Epistemic Diversity and Systemic Elasticity," was published in Global Performance Studies. An essay about their research project, The Braid, was also included in the book Exploring Dispositifs.

Interstate Projects is presenting a solo exhibition of new sculptures and installations by Lecturer Mindy Rose Schwartz. Rose Schwartz's work is also being featured in the exhibition CONSCIOUS BECOMING at Tatjana Pieters.

Lecturer Conor Stechschulte wrote a film adaptation of his graphic novel Generous Bosom called Ultrasound, which will have its world premiere at the Tribeca Film Festival on June 15.

Assistant Professor Anna Martine Whitehead is a 2021 recipient of one of The Foundation for Contemporary Arts Grants to Artist awards.