Have Passion. Will Travel.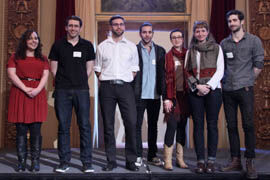 By Anjulie Rao (MA 2014)

Being an artist, writer, or scholar in the 21st century means conducting an increasingly global practice, one that is influenced by worldly research and varied opinions. Today's students are called into the international scene to explore new methodologies and terrains of aesthetics—they are called to travel.

John W. Kurtich saw this call to travel—and the ability to answer the call—as being an integral part of a student's education. Kurtich was a modern-day Renaissance man. According to Vicki Engonopolous, a longtime friend and Co-Director of the Career + Co-op Center, "John was an architect, a storyteller, a filmmaker, a writer, a painter, a passionate traveler, and an amazing cook and entertainer. He was fascinated with classical architecture and literature." This passion and fascination led him to found the Interior Architecture program alongside Garret Eakins, while also teaching film, art history, and performance in various other departments.

As a scholar, Kurtich himself was well-traveled. Between his time in the US Navy—studying Theater Arts at University of California, Los Angeles then Architecture at University of California, Berkeley—and obtaining his graduate degree at Columbia University, he had already seen much of the world before moving to Chicago in 1968. In his 35 years as a teacher at SAIC, he continued to travel and led numerous study trips around the globe. He was also considered the heart and soul of the infamous archaeological dig on the Greek island of Samothrace (where he worked ritualistically every summer), the spot where the Winged Victory was discovered.

After his untimely death in 2004, his closest colleagues, led by his lifelong friend Troy Underwood, decided that though his deep investment and involvement in SAIC would live on through the scholars he directly inspired, there needed to be a greater legacy left to future students. To ensure that Kurtich's legacy continued, Underwood and his wife DeAnn (Kurtich's cousin) created the John W. Kurtich Foundation. States Underwood, "At an altruistic level, my goal and my family's goal was to keep John Kurtich alive at the school for students of future generations."

The Foundation originally planned to build a small library and study room dedicated to Kurtich that would hold the more than 1,000,000 slides and 50,000 books in Kurtich's possession upon his passing. However, after facing legal and spatial challenges, they decided to tap into Kurtich's love for travel, creating the prestigious John W. Kurtich Foundation Travel Scholarship. "[John] believed that a core facet of a young person's education was travel; travel to study the area that they were pursuing. He believed that if you did not open your mind and heart up to what is going on in the rest of the world, you're missing a very important part of your education and development," says Underwood.

Courtney Mackedanz (BFA 2013) received the prestigious scholarship to attend the Abandoned Practices Institute in Prague.

"The Kurtich Scholarship," says Mackedanz, "enabled me to see a part of the world that I otherwise wouldn't have been able to, and what I learned while participating has really shaped the way that I approach art making."

For Dan Jick (MArch 2012), who traveled to Belgium and the Netherlands with the Kurtich Scholarship, the experience expanded his worldview and broadened his views of SAIC: "[With the Kurtich Scholarship] not only did I get to see artwork and meet artists whom I never would have otherwise, it opened SAIC to me and I met more of our excellent staff and students than ever before. It showed me the depth and excellence of our school in a way I'd never known about."

These stories, according to Underwood, are what the Foundation is looking to create and communicate. Kurtich himself was always excited by others' experiences. Engonopolous states, "He lit up a room and was always interested in what you were doing. He shared your stories with his."

It seems that everyone who knew John Kurtich has a story to tell—whether they learned from him during his life, or if they benefitted from his generosity after his death. Today, according to Underwood, they receive more scholarship applications than ever. It is a testament not only to the power and importance of travel in developing artistic practices, but also to how his legacy will continue to influence artists and scholars for years to come.