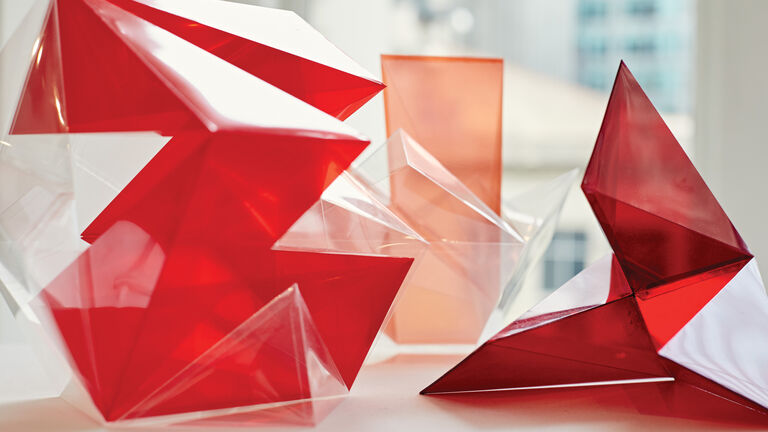 Li Han, DeBach–the Visualization of Bach's "Well-Tempered Clavichord," 2016–2017
Academic and Faculty Resources
Compiled by the Faculty Senate Diversity Committee, the research guide contains important writings on diversity issues. Use this resource to broaden your understanding and research of historically underrepresented ideas and communities. If you do not find a resource in our library's collection, request it to help create a more inclusive collection.

To promote inclusiveness in the classroom, SAIC faculty have submitted some suggestions for first day of class activities. The goal is to establish a respectful classroom community from the initial class meeting onward that promotes discussion of identity, difference, and diversity in our school community.

The Diversity Infusion Grant awards eligible faculty $1,000 to modify an existing course syllabus to include more diverse reading selections, a greater variety of global images, guest speakers on the topic, and diversity related project assignments. Grantees will be asked to participate in a public discussion about the modifications and syllabi will be posted publicly for the benefit of the whole SAIC community.
Health and Community Care
Howard Brown Health was founded in 1974 and is now one of the nation's largest lesbian, gay, bisexual, and transgender (LGBTQ) organizations. With an annual budget of over $59 million, the agency serves more than 27,000 adults and youth each year in its diverse health and social service delivery system focused around seven major programmatic divisions: primary medical care, behavioral health, research, HIV/STI prevention, youth services, elder services, and community initiatives. Howard Brown serves men, women, trans and gender non-conforming folks, infants, youth, and children through a multi-site operation based in Chicago that includes a main health and research center.

Chicago Women's Health Center facilitates the empowerment of women and trans people by providing access to health care and health education in a respectful environment where people pay what they can afford. CWHC provides care and services that people in Chicago need, but often cannot find anywhere else. Since we opened our doors in 1975, CWHC's programs have been shaped by our clients' needs for accessible, high-quality health care. We provide services to more than 6,000 clients through our programs annually.

Established in 1953, the American Indian Center of Chicago is one of the oldest Native centers in the United States. Its mission is to promote fellowship among Native people of all Tribes living in metropolitan Chicago and to create bonds of understanding and communication between Natives and non-Natives in the city through its workshops, programs, and services. 
Non-Binary and Transgender Support
SAIC is committed to transgender inclusivity. Specifically, our campus currently has gender-neutral restrooms in all of our buildings, numbering 27 in total. Gender-neutral restrooms are just one of the Transgender Resources offered at SAIC, which also include the ability to declare a preferred name, health benefits, and TransLife Center training for faculty and staff.
Undocumented Student Support
SAIC supports the Deferred Action for Childhood Arrivals (DACA) program, which provides certain protections for eligible undocumented immigrants who arrived in the United States as children. President Elissa Tenny joined more than 575 other college and university presidents as a signatory of a petition calling for DACA's continuation and for leaders in other sectors to show their support for the vulnerable among us. As part of the School's commitment to Undocumented Students, SAIC:
Does not and will not voluntarily provide information regarding citizenship status to federal authorities
Does not allow immigration enforcement activities on our campus unless compelled to do so by law
Know Your Rights-English: This document shares recommendations on what to do should you or your family have an encounter with Immigration and Customs Enforcement. These resources are written and provided by CASA of Maryland, Detention Watch Network, National Immigration Project of the National Lawyers Guild. Other resources include Illinois Coalition for Immigrant and Refugee Rights, National Immigrant Justice Center and the Resurrection Project. SAIC is not providing legal advice and the contents of this booklet do not constitute as legal advice. Readers are highly encouraged to consult an immigration attorney for legal support.
Policies and Procedures
The Discrimination, Harassment, and Retaliation Policy can be found on pages 17–22 of the Student Handbook. This section outlines the definitions and procedures for resolution of any student claim.
Restroom Inclusion Policy
SAIC recognizes the human dignity of all its students, faculty, staff, and visitors and is committed to providing equitable access to campus restrooms. SAIC values gender as being broader than a female/male binary and is inclusive of multiple gender identities. Individuals are allowed to access restrooms in alignment with their gender identity. In addition, gender-neutral restrooms are open for people of all identities and expressions, as well as people who have ability, sensory, and privacy needs.

Human Resources
Employees seeking assistance with claims or harassment, discrimination, or retaliation are encouraged to contact Human Resources at 312.629.9420 to speak to the Director of Employee Relations.

Non-Discrimination Statement
The Art Institute of Chicago, including both the School and the Museum, is committed to providing an inclusive and welcoming environment for its students, visitors, faculty, and staff, and to ensuring that educational and employment decisions are based on an individual's abilities and qualifications. The Art Institute of Chicago does not tolerate unlawful discrimination based on race, color, sex, religion, national origin, disability, age, sexual orientation, gender identity, military or former military status, or any other status protected by federal, state or local law, in its programs and activities, public accommodations or employment practices.
Events
Upcoming
There are no upcoming events at this time. 
Previous
Toward an Anti-Racist Art Ecosystem in Chicago  
Wednesday, April 28, 12:00 p.m. CT  
Click here to watch.