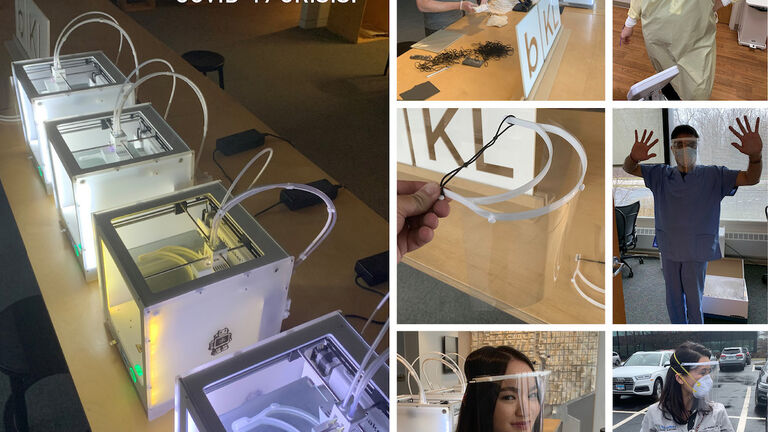 SAIC Community Members Band Together to Create 3D Printed Face Shields
In the midst of growing reports of personal protective equipment (PPE) shortages, the SAIC community is doing its part to help frontline workers.
Eric Fuertes, manager of the Columbus Digital Fabrication Studio, knew 3D printing could provide essential supplies during the pandemic. He leaned on his previous experience using 3D printers to print ultrasound scans of children's hearts. After thinking through what was needed, "I hunkered down to produce a variety of open source files that the maker community had been uploading to the online community," Fuertes said.  
One such site, the NIH 3D Print Exchange—a collaboration from the National Institute of Allergy and Infectious Diseases, the Eunice Kennedy Shriver National Institute, and the National Library of Medicine—provides biomedical models. Among these files, free for anyone to download and modify as they see fit, was a design for headgear called the "Swedish Face Shield" from Limitless Studios. 
Meanwhile, at bKL Architecture, Andrew Tyson (BFA 2012), an SAIC lecturer who teaches machining classes and oversees the firm's model shop, was looking to use bKL's 3D printers to make PPE and, in turn, reached out to Fuertes to coordinate design files.
After settling on the Swedish Face Shield, Tyson experimented with the settings to print as efficiently as possible. The finished product was a face shield that fits around the head like a visor, uses an acetate transparency sheet—the kind used for report covers and found at any office supply store—as the shield itself, and features an elastic hair-tie for the head strap. The best part—the materials only cost 75 cents per shield, so they could produce a large volume to keep medical workers safe.  
The turnaround time was surprisingly fast. As Tyson said, "We had four printers in the model shop, so we brought those out and started cranking away. We delivered the first 25 that Saturday [March 28] to the NorthShore Testing Facility in Skokie."
Since then, bKL launched a GoFundMe campaign to purchase additional 3D printers. They raised over $40,000 and now have 13 printers, which can produce 200-225 face shields a day. As Tyson told Curbed, "We're prepared to keep working until hospitals have what they need or the pandemic goes away." bKL plans to donate the extra printers from the GoFundMe to Chicago Public Schools and Chicago Public Libraries afterwards. bKL has also partnered with #GetMePPE Chicago, an organization of medical students in the greater Chicago metropolitan area who mobilized to deliver PPE to medical workers in need.
Fuertes is currently running the "Loop Hub" for Get Illinois PPE, printing thousands of head brackets per week. He also submitted his own bracket prototype on NIH 3D Print Exchange, which can be made using a laser cutter or CNC machine. "It's been an overwhelming sense of support and gratitude," Tyson said, "the medical community we deliver these to are just so thankful. It's not just the equipment; it's the fact that people are thinking of them and want to help."