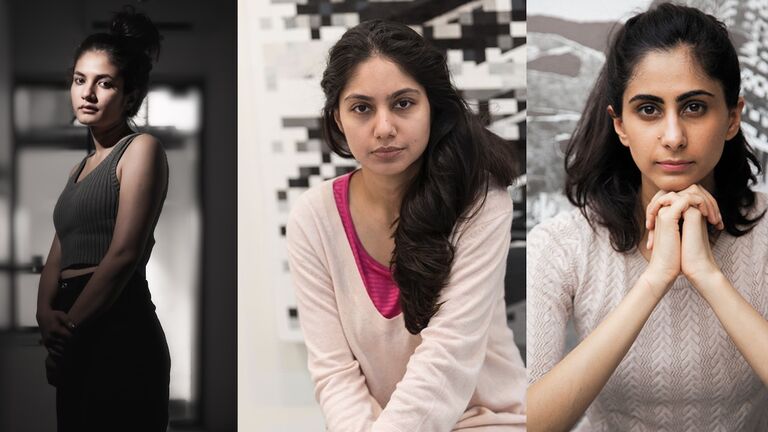 Three SAIC Alums Featured in "Mumbai Mirror" List of Innovative Young Artists
Biraaj Dodiya (BFA 2015), Tanya Goel (Post-Bac 2008), and Ayesha Singh (MFA 2018), were recently included as "Young Artists to Watch Out For" by the Mumbai Mirror.
Dodiya's debut exhibition Stone is a Forehead at Experimenter Gallery in Kolkata, India, runs until June 30. Featuring both paintings and sculptures, Stone is a Forehead explores abstract representations of memory and loss. The title itself is a nod to "Lament for Ignacio Sánchez Mejías" by Spanish poet Federico García Lorca, and in a recent interview with Vogue, Dodiya explained that the reference connects, "the weight of a body, the absence of a body, a body in action, or a body laid out… there is simultaneously a sense of beauty and discomfort in those words, with a material taking on another's character." 
A self-described "color chemist," Goel creates her own pigments from charcoal, aluminum, concrete, glass, soil, mica, graphite, and foils. Goel's compositions — which reflect studies of repeated patterns in light, texture, and mathematics — have been shown around the world, recently featured at the 12th Gwangju Biennale (2018), the 21st Biennale of Sydney (2018), and her solo exhibition This, the Sublime, and its Double was shown at Nature Morte in New Delhi (2017-2018) and Highline Nine Galleries in New York City (2019).
In September 2019, Singh's solo exhibit It Was Never Concrete was featured at Shrine Empire Gallery in New Delhi. Her exhibition investigated how social, political, and historical influences are embedded in New Delhi's cityscape through ornamentation and design. Curator Anushka Rajendran described it at the time, "The city's architecture emerges as a metaphor to critique lofty desires for enduring power and privilege. Singh reminds us that reinforced concrete is far from 'concrete,' vulnerable to time."