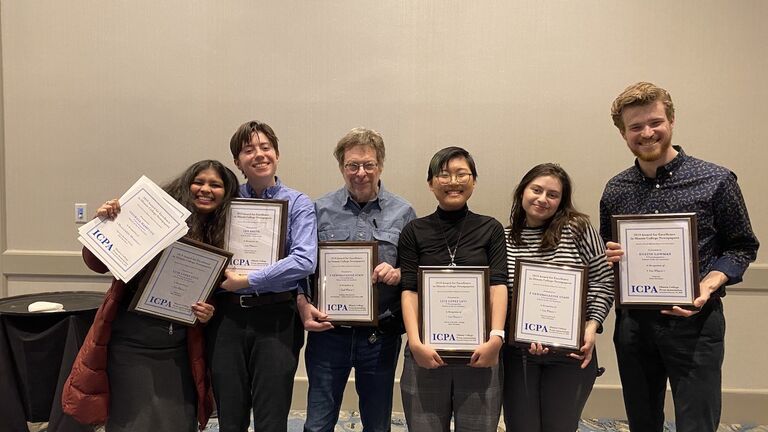 F News Honored at the 2020 Illinois College Publishers Association (ICPA) Awards
F Newsmagazine, SAIC's student-run journal of arts, culture, and politics, was honored at this year's 2020 Illinois College Press Association (ICPA) Awards. On February 22, the publication and numerous contributors were recognized for their achievements across design, photography, writing, and multimedia. F News was awarded first place for both Online News Site and Podcast, as well as second place for General Excellence. 
"We have a great team this year at F. I'm proud of our editors for their concise criticism, and of our design team for their beautiful layouts and covers. The award I'm most proud of is our team award for General Excellence. Collaboration and support is what makes F a cohesive publication, and one that is always growing," said Leo Smith, managing editor of F News.
The full list of awards includes:
1st Place: Front Page Layout

—

Reilly Branson, Cat Cao, and Raven Mo (September 2019)

1st Place: Critical Review Other Than Film

—

Luis López Levi

1st Place: Opinion Page

—

Leah Gallant, design by Nura Husseini ("Murals Monuments and Morals," November 2019, p. 16)

2nd Place: Feature Page Design

—

Raven Mo ("Put Your Money Where Your Mouth Is," November 2019, p. 6)

2nd Place: Comic Strip

—

Sofia Diaz (Dentures in the Sink)

2nd Place: Spot News Photo

—

Bastian York (A Global Strike for Our Global Future)

2nd Place: Headline Writing

—

Georgia Hampton ("Thou Shalt Not Pill" from the special issue Reproductive Rights)

3rd Place: Opinion Page

—

Georgia Hampton, illustration by Katie Wittenberg ("Be Still, My Beating Heart," March 2019, p. 12)

3rd Place: Multimedia Reporting

—

Dustin Lowman ("Student Feature: Ricardo Partida")

3rd Place: Photo Essay

—

Jesse Bond (The Sandy City)

Honorable Mention: Photo Essay

—

Sofía A. Rosales Juárez (The Chicago Rally for Reproductive Justice)
Read everything on their award-winning site.