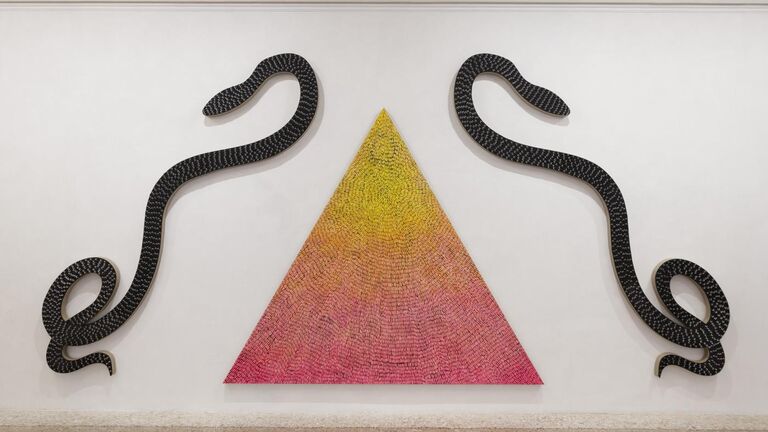 Garage Interviews Jennifer Guidi About Her New Solo Exhibition
Garage recently interviewed Jennifer Guidi (MFA 1998) about her upcoming solo exhibition at New York's Gagosian Gallery. The show, titled Gemini, features paintings of astrological imagery such as the phases of the moon, zodiac signs, and serpents with the sun. "I'm interested in the symbolism of light and dark, night and day, the moon and the sun," Guidi says. "I'm interested in cyclical movement and how interconnected we all are." Her paintings also hearken back to the natural world, often using sand as a textural element. 
Guidi's time at SAIC was hugely influential, and helped make her practice more interdisciplinary. She spent a lot of time with the Art Institute of Chicago museum's surrealist collection, and painted, collaged, and sewed. "A combination of working on those projects and having Jim Nutt (DIP 1965, BFA 1967) as my advisor for two years greatly influenced my work at the time," Guidi says. 
Gemini will run through April 4.