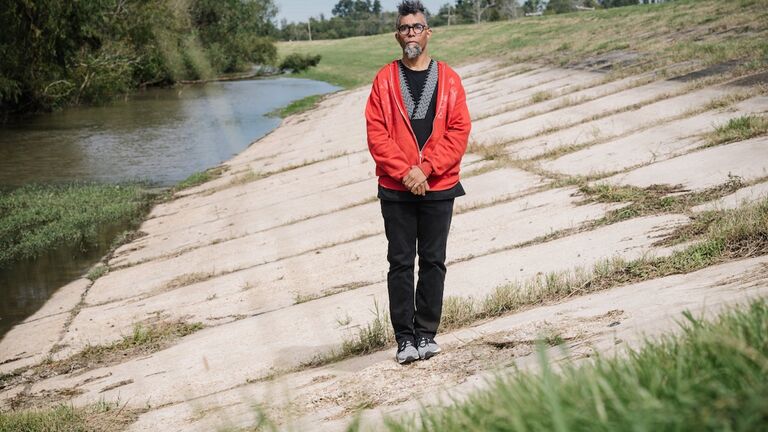 Hundreds Join Alum Dread Scott for Slave Rebellion Reenactment
Dread Scott (BFA 1989) was featured in a New York Times article focusing on his slave rebellion reenactment performance piece. The reenactment took place on November 8 and 9, and was "a large-scale re-enactment of the 1811 German Coast Uprising, in which as many as 500 enslaved people of African descent marched from LaPlace, Louisiana, toward New Orleans from the surrounding sugar plantations in an inspiring, but eventually doomed, effort to win their freedom," the article explains.
Dread Scott's reenactment of a slave rebellion in Louisiana drew on hundreds of participants and ideas of freedom. Scott has also been planning this project for more than six years. Focusing on concepts of self-emancipation rather than slavery, Scott believes that this history and these people need to be known in contemporary society. "Organizers expect 300 or more people of color—teachers, lawyers, artists, students, activists—to participate. Over two days, they will march 26 miles in period costumes, armed with prop machetes and muskets and chanting for their freedom", the article says. Scott believes these heroes' stories need to be heard. The article describes, "He hopes the march will push the state, and the country, to debate how to properly memorialize and remember the history of the South."
Hyperallergic also featured Scott in a recent article on this project stating that "Scott's vision of his work is about drawing on the past to help people realize how it connects to the present." Scott hopes to encourage viewers to reevaluate history, especially aspects of oppression and crisis. Hoping for others to meditate on who the real heroes of history are. "Scott said he wanted people to walk away understanding 'a liberating vision of enslaved people from the past that had self-determination and agency. And that can inspire us in the present,'" states the publication.