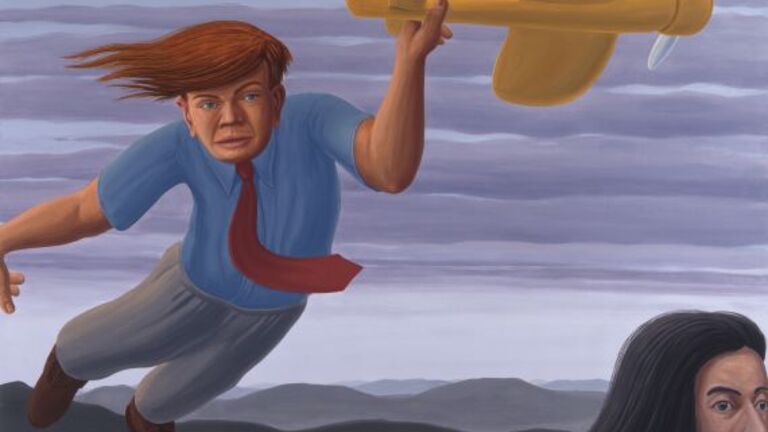 Chicago Sun-Times, Chicago Magazine, and Chicago Tonight Feature Phyllis Bramson's Exhibit, What Came After
Phyllis Bramson (MFA 1974), lecturer in the Painting and Drawing department, was featured in the Chicago Sun-Times, Chicago magazine, and on WTTW's Chicago Tonight for her organization of the current exhibit, What Came After: Figurative Painting in Chicago 1978–98, at the Elmhurst Art Museum. The exhibit examines the group of artists who came after the Chicago Imagists, often dubbed the Chicago School or Post-Imagists, and is in honor of the late art critic and SAIC faculty member James Yood, with whom Bramson began work on the exhibit. In addition to Bramson, artists represented in What Came After include Nicholas Africano, Professor Emeritus Susanne Doremus (Painting and Drawing), Eleanor Spiess-Ferris, Adjunct Professor Richard Hull (Painting and Drawing), Professor Emeritus Michiko Itatani (SAIC 1983–91, Painting and Drawing), Paul Lamantia, Robert Lostutter (SAIC 1958–62), Professor Jim Lutes (MFA 1982, Painting and Drawing), Professor Emeritus Tony Phillips (Painting and Drawing), David Sharpe, Hollis Sigler, Ken Warneke, Margaret Wharton, and Adjunct Professor Mary Lou Zelazny (BFA 1980, Painting and Drawing). "They all share kind of a common interest in figuration and emotion and painterliness to a certain degree. And that's what separates them from the original Imagists, and the Hairy Who. There's just that difference in visual thinking," says Bramson to Chicago Tonight. Executive Director of Elmhurst Art Museum John McKinnonn (MA 2008) was also interviewed about the exhibit. "What if the term 'Imagism' was removed from Chicago's history? What would we do, and how would we deal with that?" he says to Chicago Tonight.
"The choices were not always easy, Bramson said, because boundaries between this group and others like the Imagists can be blurry," reports the Sun-Times. The exhibit runs through January 12, 2020.