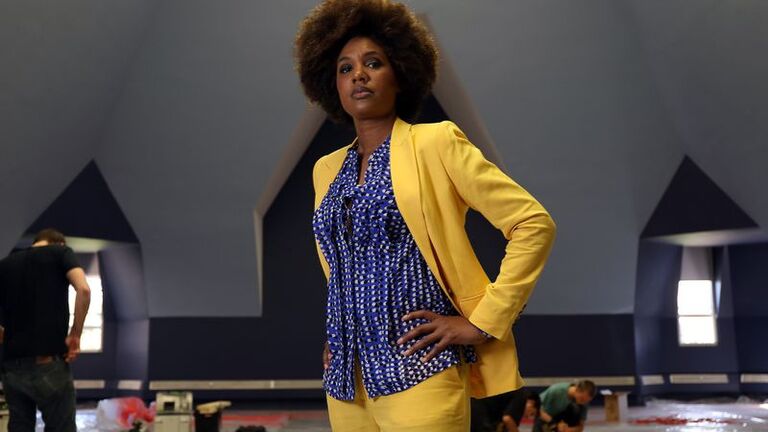 LaToya Ruby Frazier Featured in Chicago Tribune and Chicago Magazine
"My life isn't my own. My work is in service to making sure that working class people in this country are seen and heard. I think that their lives are much more valuable and precious than CEOs' and politicians'. And it's about time that kind of power dynamic changes," says Associate Professor LaToya Ruby Frazier (Photography) in a recent article in the Chicago Tribune. Frazier's work is on view at her first solo show in Chicago at the Renaissance Society at the University of Chicago. The Last Cruze is "an achingly close look at workers who rolled the final Chevrolet Cruze off the Lordstown, Ohio, assembly line before General Motors quit producing the compact car, closed Lordstown and relocated those workers who wanted to move to other factories," reports the Tribune.
The exhibit was also featured in the September issue of Chicago magazine, which notes that the exhibit opens the same day the current United Automobile Workers contract with General Motors expires. "Though the last Cruze may have rolled off the line, she says: 'This isn't the end. This is the beginning of the battle,'" says Frazier to Chicago magazine. The exhibit was also featured in ARTnews, which calls the exhibition, "an intimate and unflinching representation of working-class Americans that signals the roiling effects of the factory's halt through their images and their own words." The Hyde Park Herald also reported on the exhibit and Frazier's discussion at Cobb Lecture Hall. "We need more human connection," she continued. "It should be less about race, class and all this divisiveness, and it should be more about the human connection, the willing capacity to have empathy and listen to others," reports Hyde Park Herald. "This is about memory, art and education," said Frazier. "The reason I want it to go to Detroit is because that's where we got our middle class. The reason I want this show to travel is because it teaches the importance of unions. This exhibit is a call to action for all people to unite," says Frazier to the Detroit Free Press. The Last Cruze opens on September 14 and runs through December 1.