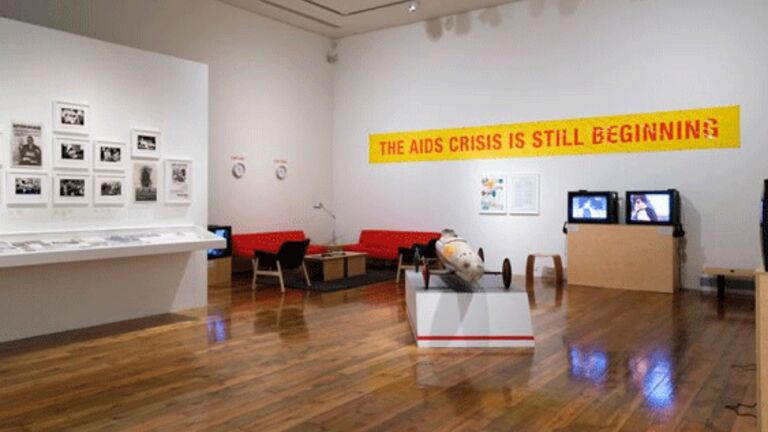 SAIC Professor Gregg Bordowitz Reflects on His Career Retrospective
by Micco Caporale (MA 2018)
Artist and SAIC Low-Residency Master of Fine Arts Program Director Gregg Bordowitz believes art can change the world—or at least he did, when he first started producing art in the 1980s. After more than 30 years, his work as an artist and activist are collected in his first retrospective, I Wanna Be Well, which is on view at the Art Institute of Chicago from April 4 to July 14, 2019, after a run at the Douglas F. Cooley Memorial Art Gallery at Reed College in Portland, Oregon.
Borrowing a line from the Ramones song "Rocket to Russia," the exhibition gathers objects from 1985 to present that document Bordowitz's work as an artist living with AIDS. In the early '80s, Bordowitz was an art student caught up in the New York City club scene. As his artwork shifted toward duration, the AIDS crisis started to emerge.
"I realized I could play a role in [AIDS] activism by being an activist-artist with a video camera," he explains. Not only was Bordowitz able to use his camera to protect fellow organizers by documenting police conflicts, but he was also able to make educational videos for the cable access show Living with Aids. Bordowitz was a co-founder of the video collective Testing the Limits, which filmed and edited AIDS-related activism through consensus; as well as Damned Interfering Video Artists (DIVA TV), the loosely-organized video arm of ACT UP, a 32-year-old AIDS activist organization that embraced the motto "silence = death."
While perhaps best known for his video work, Bordowitz pulls from multiple disciplines: sculpture, performance art, and above all, writing. "All of my work starts with writing," he insists. "It's my central commitment."
Seeing his life's output gathered, Bordowitz reflects on where he thinks his future as an artist and AIDS activist lies. He says the fight for HIV treatment options isn't over; it's only just beginning—and art can influence that.
"Art is political because it takes the viewer's attention, allows them to question their reality, then returns the viewer to the world," he says. "But when they turn their back on the artwork, they're seeing the world differently. In that sense, it changes the world."