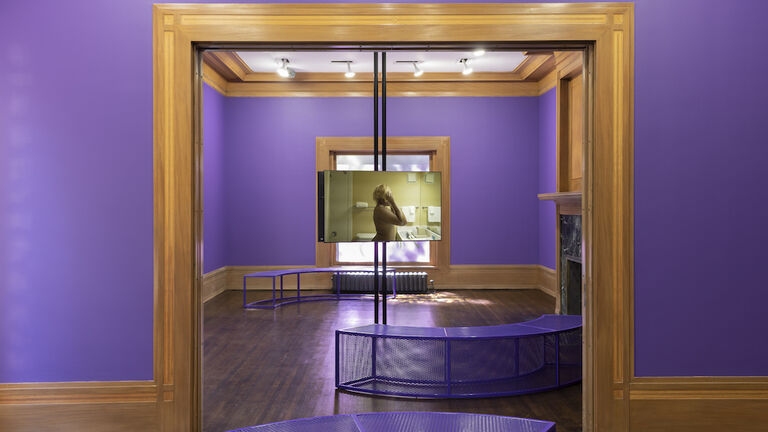 Martine Syms Displays Solo Show at Graham Foundation
Los Angeles-based artist Martine Syms (BFA 2007) recently mounted a solo show featuring her debut feature-length film, Incense Sweaters & Ice at the Graham Foundation in Chicago following a string of successful exhibitions in New York and London.
Syms' film parallels the Great Migration which saw millions of African Americans leave the rural South for the urban North between 1915 and 1970. Hers is the story of Girl, a young woman in search of opportunity as a nurse in Clarksdale, Mississippi, and Mrs. Queen Esther Bernetta White, an older Black woman who speaks directly to the viewer. The exhibition is on display through January 12 and features purple walls that purposely bring to mind Alice Walker's The Color Purple. Twelve photographic stills from the film's production are displayed in the style of classic Black film posters for movies like The Slender Thread and Shaft. Viewers are able to take part in an augmented reality experience where they can access images from Syms' family archive. Through the use of a handheld camera, GoPro, and smartphone Syms creates the effect of surveillance which speak to the artist's own anxieties about modern-day surveillance. According to Artnews magazine, Girl is loosely based on Syms' mother, and Queen Esther is a fusion between the artist's ultra-poised great-aunt Bernetta and Maxine Powell, the Motown etiquette instructor who trained the label's talent in techniques for mainstream success.