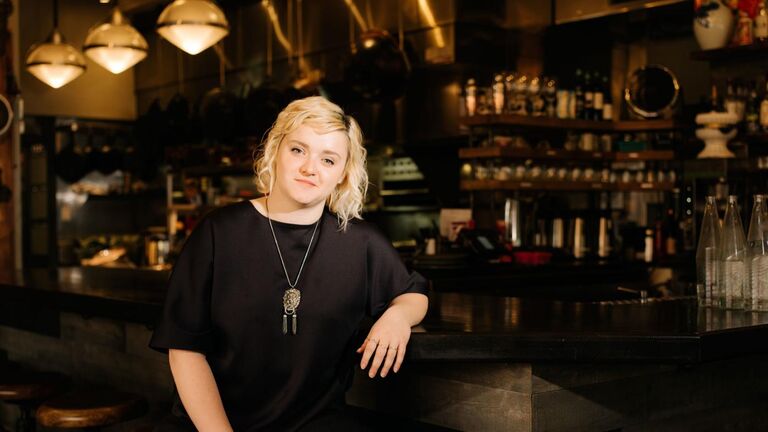 SAIC Alum Annie Beebe-Tron Featured in Bon Appétit
Annie Beebe-Tron (MFA 2015) was recently featured in Bon Appétit magazine for their one-of-a-kind cocktails, which are inspired by ingredients like avocado leaf tincture and served up at local Macanese restaurant Fat Rice. Their curated collection of drinks has led them to a role as a collaborator and leader at the beloved restaurant that explores cuisines inspired by Portuguese explorers.
"I figured out midway through my art career that I wasn't a visual person, but a kinesthetic person—a texture person," Beebe-Tron told Bon Appétit magazine. Those textures have made their way into many of Beebe-Tron's cocktail recipes including the cardoon amora they keep behind the bar that was salvaged from one of Fat Rice Chef Abe Conlon's infusion recipes. Beebe-Tron currently has an estimated 150 bottles being prepped to eventually make their way into various drinks and tinctures, handcrafted by the best. The details are what make their drinks stand out from the crowd. Beebe-Tron's cocktails are meant to be experienced. "They are some of the most boundary-defying drinks in a city celebrated for its bars," says Bon Appétit.