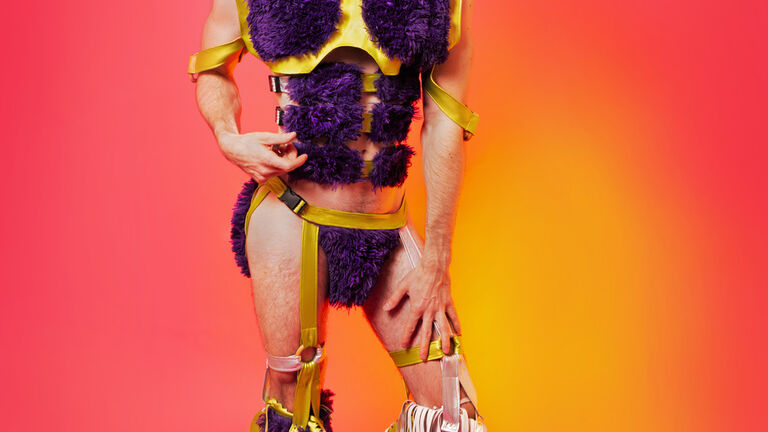 SAIC Alum Jake Vogds Featured in Paper Magazine
Jake Vogds (BFA 2014) known simply as Vogds, is pushing the boundaries of pop-art and pop music with their latest work, an evolution of their solo EP in collaboration with the Radical Visibility Collective. They were recently featured in Paper magazine about their latest work, Pocket Monster, a reference to Pokémon and a three-song collection released this year that draws inspiration from some of Vogds favorite artists including Missy Elliott, Bjork, Janet Jackson, Mariah Carey, FKA Twigs, and Sophie Xeon.
Vogds was also recently awarded a 2018 Propeller Fund grant along with artists Sky Cubacub (BFA 2015) and Compton Q (BFA 2015) as part of the Radical Visibility Collective. The immersive and accessible fashion performance group is focused on queer disabled futurism and multicollaborative live performance. Shark Weak, the video that accompanies Vogds latest release and song of the same name is self directed and features costumes and set design crafted by Vogds. The video, like their music, rejects traditional musical trends and focuses on experimentation. "The three songs on Pocket Monster are a sort of haunting prelude to the coming and current disasters and dystopias of online social platforms, capitalism, and our current political climate," Vogds told Paper Magazine. Vogds credits the queer community and Chicago's burgeoning DIY art scene as the reason they continue to push the envelope creatively.