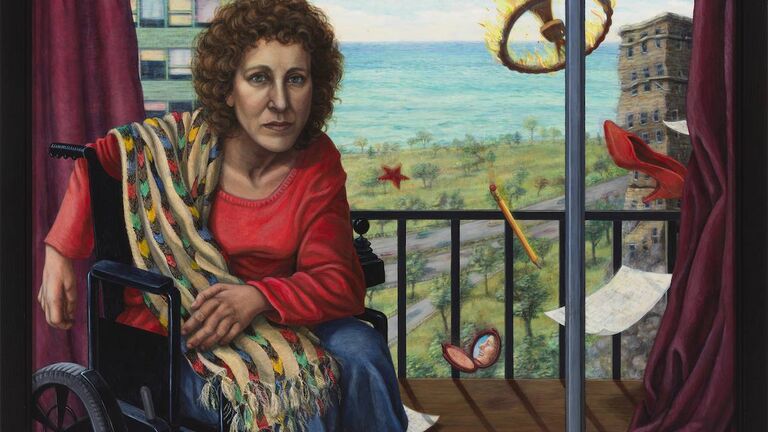 Chicago Disability Activism, Arts, and Design Exhibit Features SAIC Alums and Faculty
Notable SAIC alums and faculty have participated in the University of Illinois at Chicago's Gallery 400's current exhibition, Chicago Disability Activism, Arts, and Design: 1970s to Today. The exhibit was applauded in both Chicago magazine and Sixty Inches From Center for featuring  "disability art 'informed by the disability' and centered on the narrative around that perspective," reports Sixty.
Displaying works from the past 50 years, Gallery 400 brought in artists key to developing not only an intersectional understanding of disability but also spearheading disability rights groups likes Access Living and Americans Disabled for Attendant Programs Today, as well as championing change at the SAIC.
Among them were Adjunct Assistant Professor in the Painting and Drawing department Riva Lehrer (SAIC 1993–95), Jude Conlon Martin (BFA 1993, MFA 1998), and Bill Shannon (BFA 1996) who were at the forefront of SAIC's disability community. They organized student shows around impairment and worked closely with curators to promote awareness and accessibility. "I made a lot of noise while I was there," Lehrer told Chicago magazine, "I think people who came in after me had an easier time because I had been so vocal."
Bri Beck (MA 2019), artist and art therapy graduate was featured in Sixty Inches From Center for her artwork, Negotiating Space: Othered by Design. Beck's work engages with the societal structures that generate the divide between abled and disabled in a way that's more disparaging than diagnosed conditions. "By experiencing the installation, an able-bodied or average height viewer is put in the position of 'feeling othered by a space' and 'aims to invite the viewer to engage in play while remaining hyper-aware of their body,'" reports Sixty.
Sky Cubacub (BFA 2015), Andy Slater (BFA 2015), and Sandie Yi (SAIC 1996) were also featured in Chicago magazine for their work in the show. "We want to make clear how short the history of disability culture is, because the '70s is not so long ago," says Gallery 400's director Lorelei Stewart to Chicago magazine, "And that this work is not necessarily as widely recognized as it could be. We feel the work is not complete. What we are presenting is what we are able to do at this point. We are asking people to come with contributions for what is missing."
Chicago Disability Activism, Arts, and Design: 1970s to Today runs through October 20 at Gallery 400.