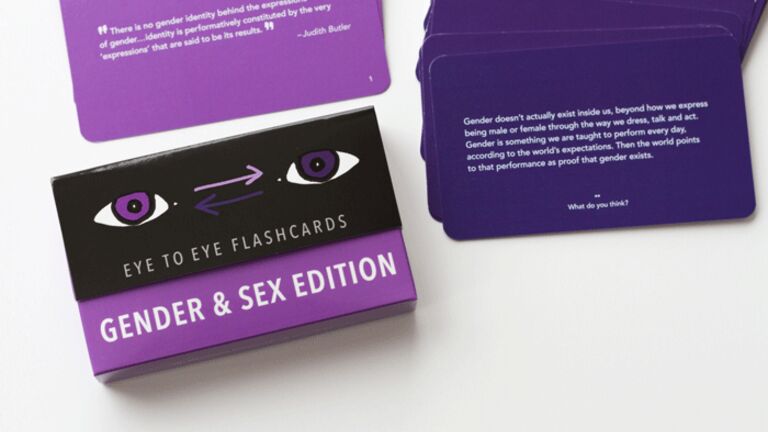 EYE to EYE Flashcards is an innovative new educational tool created by New Arts Journalism student Noël Jones (MA 2019), which aims to bring dense academic theories into the public sphere. The deck of cards closes the gap between those with PhDs and those without degrees in higher education by translating complex ideas into language that is simple and accessible.
Jones first conceived of the project to fulfill an assignment in Dushko Petrovich's Publishing as Creative Practice course. Realizing that the potential scope of the project exceeded the bounds of the course, Jones took to Kickstarter to fund her idea and bring it to the market. After receiving strong support, Jones was able to successfully produce the first iteration—a deck focused specifically on issues of gender and sexuality. Every box contains quotes by prominent thinkers like Judith Butler and Audre Lorde, with the key concepts distilled into layperson language and printed on the reverse. There are also questions on the bottom of each card that provoke further consideration, and tips for possible uses on a removable insert. 
Feedback to Jones' project has been exceedingly positive. The cards have been implemented in Kamilah Rashied's Public Engagement in Museums and Exhibitions course at University of Illinois at Chicago, where students have utilized them to help facilitate critical engagement in a museum environment. The students have blogged about their experience using the cards to foster inclusivity and open access to what might otherwise remain impenetrable concepts. More information about Jones' project can be found on the EYE to EYE Flashcards website.