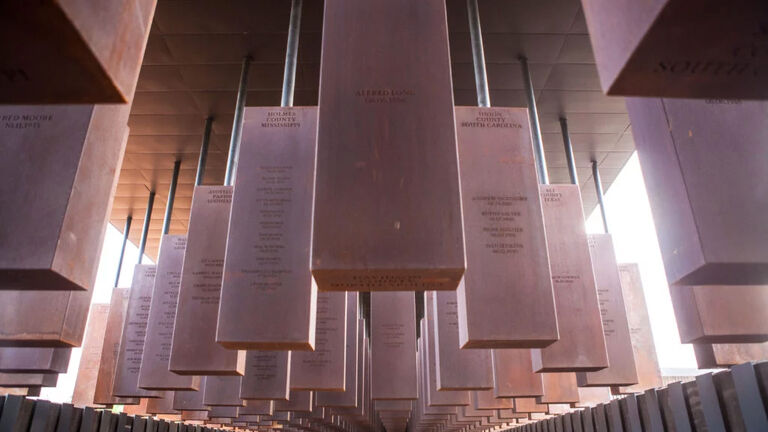 The Legacy Museum Features Work of SAIC Alumni
On April 26, the Legacy Museum: From Enslavement to Mass Incarceration in Montgomery, Alabama, is slated to open along with the National Memorial for Peace and Justice which is the first memorial dedicated to the legacy of enslaved Black people, people terrorized by lynching, African Americans humiliated by racial segregation and Jim Crow, and people of color burdened with contemporary presumptions of guilt and police violence. 
Confronting the darkest chapters in history (slavery; Jim Crow; mass incarceration), the museum will feature oral history, interactive technology, and data-heavy exhibits combining a variety of media and archival materials. The museum and memorial were conceived of by MacArthur Fellow Bryan Stevenson. "Artists help us understand aspects of the human struggle that are difficult to articulate with mere description," says Stevenson in an article in Artnews. Several artists from the School of the Art Institute of Chicago (SAIC) are featured in both the museum and its opening.
Sanford Biggers (MFA 1999), Elizabeth Catlett, (SAIC 1941, HON 2006), and Anna Deavere Smith (HON 2013) are all participating. Biggers and Catlett will both have art in the museum, while Smith will take part in the opening ceremonies, along with Michelle Alexander, Sherrilyn Ifill, Gloria Steinem, Marian Wright Edelman, Rev. William Barber, Ava DuVernay, Elizabeth Alexander, former Vice President Al Gore, The Roots, Common, and Piper Kerman.
"Great art can illuminate history and interpret our hopes and fears in ways that can be powerful, beautiful and unforgettable," Stevenson says. "At the Legacy Museum, we want to employ every narrative tool that can deepen our commitment to human rights and human dignity."