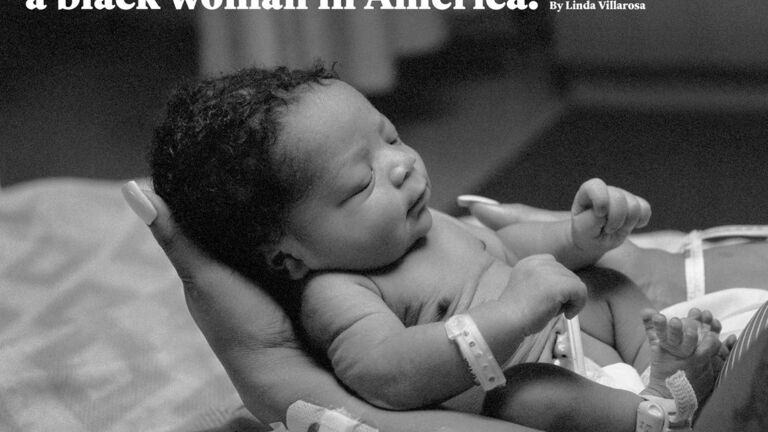 LaToya Ruby Frazier's Photographs Appear in the New York Times Magazine
Critic Jerry Saltz (SAIC 1970–75, HON 2008)  describes the photographs of LaToya Ruby Frazier, associate professor in the Photography department, like "Goya turning his eye toward the struggles and triumphs of Black America." In a cover story for the New York Times Magazine, Frazier points her camera at the health crisis facing Black mothers. Following pregnant mother Simone Landrum and her birth doula, Latonia Giwa, Frazier helps document the experiences of a woman who lost her last child to overlooked pre-eclempsia—dangerously high blood pressure during pregnancy.
The story—"Why America's Black Mothers and Babies Are in a Life-or-Death Crisis"—highlights a staggering disparity in birth outcomes for Black and White mothers. Black mothers and infants are twice as likely to die as their White counterparts regardless of age, health, education, or income. Research points to the internalized stress of racism, as well as racist assumptions on the part of healthcare providers, as the culprit. In fact, across class lines, Black women consistently test higher than White women or Black men for stress-associated body chemicals. 
Kathy Ryan, the Times' director of photography, said of Frazier's cover: "LaToya Ruby Frazier, renowned for her work documenting her own family as well as families in Flint, Michigan, chose to portray Simone Landrum cradling her son Kingston because she wanted to convey the feeling of protectiveness felt by the mother of a Black boy born in these turbulent times. We decided that nothing could convey more powerfully the critical issues of Black infant and maternal mortality in America than this tender portrait of a child in his first day of life."