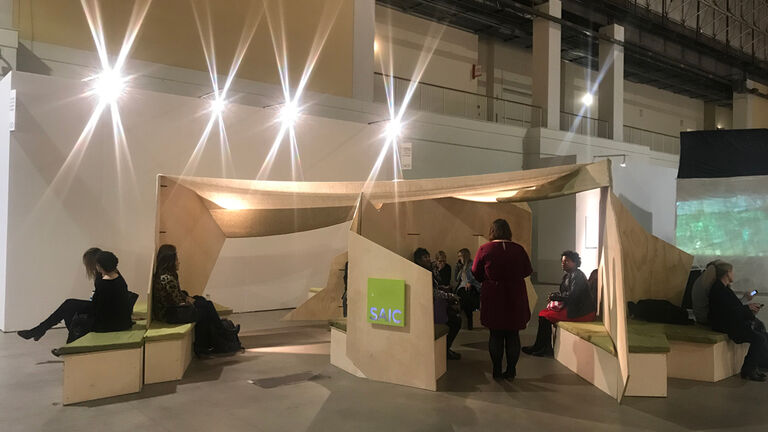 SAIC Students Contribute to SOFA
A contest is an unlikely place to connect with new people, but that's the exact goal of SOFA CONNECT, an annual competition at SOFA CHICAGO where top design schools create environments that encourage interaction at the exhibition hall of Navy Pier. This year, the School of the Art Institute of Chicago (SAIC) was one of six finalists selected to produce an installation for the fair, which takes place from November 2–5.
Graduate Admissions Director Nicole Hall assembled the design team from Student Ambassadors, and Site Manager for Exhibitions and Exhibition Studies Michael Powell (MFA 2017) served as fabrication advisor. Drawing from her background in fine arts, sculpture, and sustainable architecture, Hall guided the students as they prepared their CONNECT proposal and began work. Led by Molly Rademacher (MArch 2020), other participants included Annie Chang (MA 2019), Aimee Martinez (MDes 2019), Tri Ngo (BFA 2013, MFA 2018), Lina Alsharif (MArch 2019), Kaycie Surrell (MFA 2019), Adrien Logeay (MArch 2018), Deborah Garcia (MA 2018), Salim Moore (MFA 2019), Sujit Joshi ( MDes 2019), and Martha Poggioli (MDes 2019).
Their project —titled GEOSCAPE —was designed to offer SOFA visitors a brief respite from the fair. Felt and wood are combined to absorb sound and offer comfort while hinting at nature—a stark contrast to the industrial, utilitarian aesthetic of Navy Pier's interior. Geometric facets act as both walls and lighting elements to give the installation a glowing effect. GEOSCAPE provides a sense of calm and semi-privacy without totally removing people from SOFA. During SOFA's opening night, GEOSCAPE was the most heavily visited installation space, with a range of visitors settling into the intimate spaces it provided. Congratulations to the SAIC team for such an original idea!