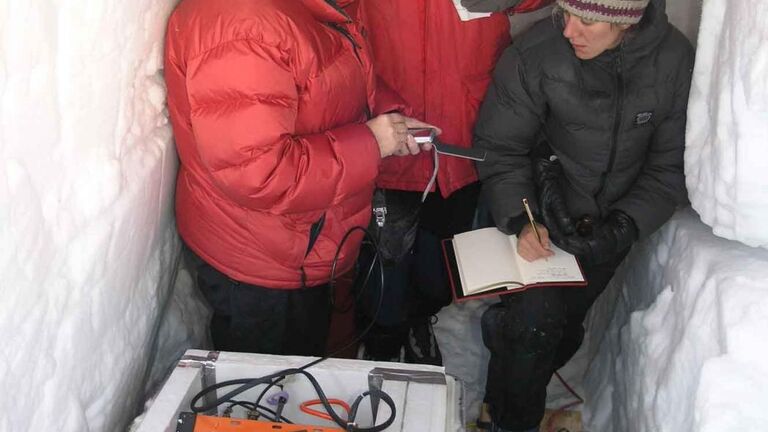 Luftwerk's Latest Project Creates Sounds of Cracked Glaciers
SAIC alumni Petra Bachmaier (BFA 1999) and Sean Gallero (SAIC 1993–98) are collectively known as Luftwerk, and they aren't strangers to ambitious projects; their multidisiplinary installations have adorned Millenium Park and the Chicago Cultural Center, among other places. Now, the duo is training their focus on an broader topic: global climate change.
White Wanderer, Luftwerk's latest project, is on display at Riverside Plaza through October 1, and uses data collected from seismic recordings of glaciers in Antarctica to render a seemingly disparate subject—the melting of the polar ice caps—more tangible.
Inspired by the Larsen C ice shelf, which broke off into the Wendell Sea this past July, White Wanderer was conceptualized in collaboration with Doug MacAyeal, a geophysical sciences professor at the University of Chicago, and Elizabeth Corr, the manager of art partnerships at the Natural Resources Defense Council.
The sounds—remixed by Luftwerk into a sometimes layered composition—are played over four giant speakers. Signage is provided to explain the mysterious sounds, and the aural experience is paired with a giant replica of the 120-mile-long crack in Larsen C—made into a graphic and applied to Riverside Plaza's facade.
Of the decision to focus on climate change as a topic, Bachmaier said that "[i]n urban life we get lost in our daily activities and don't look at the larger picture of what's happening to our planet and how it will impact our lives in the city."