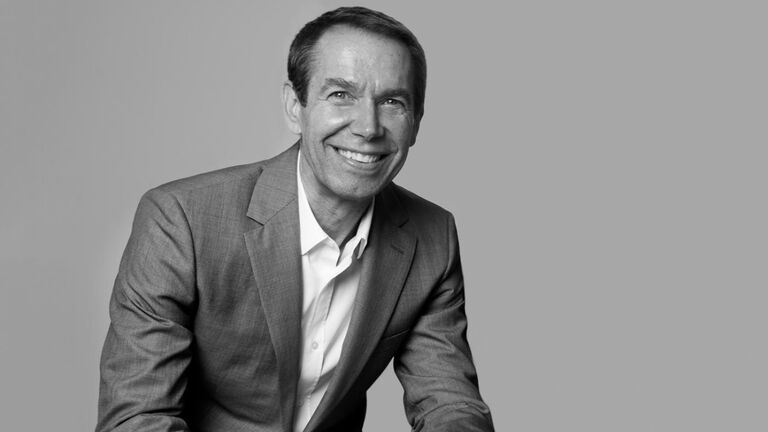 Despite a Picasso at Daley Plaza, a Calder in front of the Federal Building, and a Miro in the plaza of the Brunswick Building, Chicago Sun-Times columnist Neil Steinberg doesn't immediately think artists living and working in the city when he pictures it in his mind. In a recent article for the Sun-Times, Steinberg sets out to explore whether or not Chicago is important as an art town. Fortunately, Steinberg got the chance to meet with renowned artist Jeff Koons (SAIC 1975–76, HON 2008) at the 50th anniversary of the Picasso sculpture this year and Koons explained some of Chicago's art history to him—much of which was created by artists and scholars at SAIC.
Koons spoke about studying with Ed Paschke (BFA 1961, MFA 1970) at SAIC and working as his assistant on the weekends. Koons also mentioned Whitney Halstead (BFA 1949, MFA 1954) and Jim Nutt (BFA 1967, HON 2016) as influences. He saw a retrospective of Nutt's at the Whitney in New York, which introduced him to the off-kilter style of the Hairy Who and the Chicago Imagists. "Then I came across Ed's work, Karl Wirsum's work—I also studied with Karl Wirsum—Art Green, Suellen Rocca, H.C. Westermann's work. It just opened up whole opportunities of how art could function with a sense of power."
Ultimately, what Koons learned from Chicago artists is "the only thing you have to do is focus on your own interests. You'll be aware; you're surrounded by it everywhere."
Or, as Steinberg put it, "[Y]ou come to Chicago, the city holds a mirror up to you, you discover who you are, then build your own mirror that the world, if you're lucky, sees itself in."