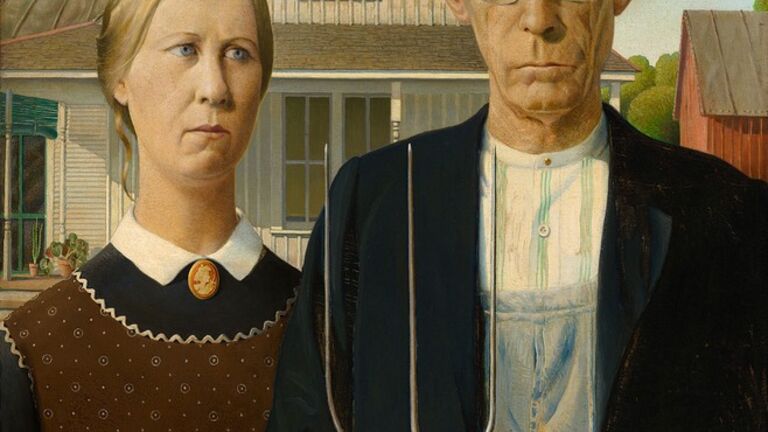 Gothic Goads Art Swap with Whitney
With a retrospective of alum Grant Wood (SAIC 1913–16) to end all Grant Wood retrospectives planned for this upcoming March, the Whitney Museum of American Art has been busy compiling murals, book illustrations, and decorated objects to accompany the artist's oil paintings, reports the New York Times.
Still, one thing is missing.
American Gothic, Wood's most famous piece, is part of the Art Institute of Chicago's permanent collection. However, thanks to a relationship started by the Whitney, which sent Ben Shahn's The Passion of Sacco and Vanzetti for its America after the Fall: Painting in the 1930s exhibit last year, the Art Institute is returning the favor by lending Gothic to the Whitney for the duration of their Wood exhibition.
Grant Wood: American Gothic and Other Fables, seeks to look at the artist through the lens of modernity. The topics of anxiety, estrangement, and isolation that are on the minds of Americans today were also important to Wood, a closeted gay man painting during the Great Depression.
American Gothic, whose pastoral man-and-woman portraiture has been frequently homaged by other artists and satirized in pop culture, fits squarely into the conversation. It features a wife or sister figure staring glumly to the side while her brother or husband—blazer over his overalls and holding a pitchfork—stares grim-faced, but resolutely, ahead. Interpretations of the painting have ranged widely, from considering the piece as a mourning painting, to a send-up of the pioneer spirit, to a satire of midwestern life itself.
American Gothic and Other Fables is scheduled to appear March 2 through June 10.